Side Job Lures Mr. Campbell to Classroom
March 11, 2019
Have you seen the man in the suit on your walk from class to class?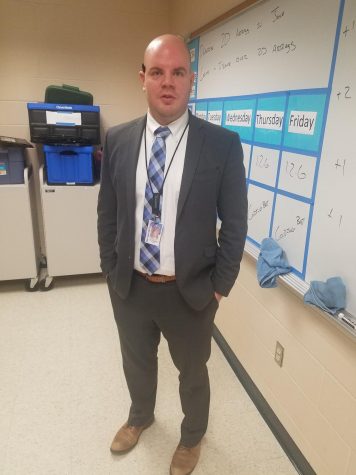 That man is Jeb Campbell. He wears a suit every single day as part of his professional nature.
Campbell used to work as a technology specialist in the tech department back in the fall of 2011 until summer of 2015, but now he teaches it here at Carroll.
At first, the work was only something he did on the side, as he was attending college to become a pricing analyst. He soon fell in love with repairing broken technology and continued to work throughout the rest of his time in college.
"I liked working on the hardware of computers and technology. Being able to setup a system or repair one was probably my favorite parts of the job," he said.
Going into the job not knowing too much, through much time day in and day out, he learned many of the necessary skills required of a technology specialist.
When asked how he managed to adapt, he said, "like anything If you do it over and over enough you'll become better at it."
After finishing college, Jeb went off to Cleveland, Ohio to work as a pricing analyst for a manufacturing company. His love of crunching numbers allowed him to hold a job doing something he loved.
The corporation he worked for decided they no longer needed the position he held. So, they wanted to transfer him into one of two other positions. Positions that he wasn't interested in really doing. The option given was for him to either take the position or to leave. It was his choice to leave that led him back to Fort Wayne.
Carroll had talked to Mr. Campbell about possibly teaching a computer science course. He accepted, and during his first-year teaching, he taught computer science 1 and geometry. His second year, he moved to teaching only computer science and a new course, computer tech support. If there was ever a perfect teacher for the position, it was Campbell.
Now in his third year of teaching, Campbell faces yet another problem. His official college degree is not in teaching, rather it is in mathematics. For him to become a teacher, he was forced to use what is known as an "emergency teacher certification".
This certification was created to help solve the problem of shortages in teachers. Since the area of technology and computer science is a new course to Carroll, Campbell was brought in to teach it. He has used three of these emergency certifications and cannot be granted another. However, during his time teaching he has been taking college classes online and is now almost a certified teacher. Campbell expects to finish his courses by the end of this year.
If he for some reason is unable to finish his classes by the end of this year, then he would technically not be allowed to teach such courses. But such a problem is no matter for Jeb Campbell. The man in the suit hopes to be around to teach many more student's and help give people a better understanding of the evolving world of technology.