Goats, Grades, Sticks
Sophomore Casey Bane balances academics, lacrosse and friends
February 11, 2019
It's 5:30 a.m., and while most people are still be sleeping, Casey Bane is already up feeding the goats he annually shows in the summer at the 4H fair. He makes sure to do this quickly because afterwards, he goes back to bed, and sleeps a little bit more.
Until 6 a.m.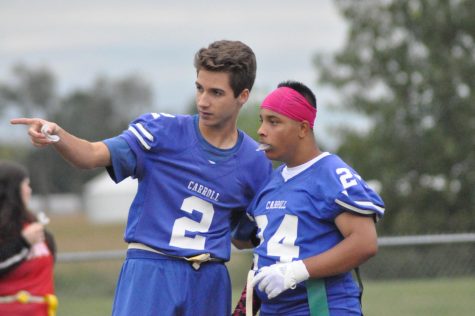 After that, he wakes up again, and does more chores, this time with the horses and pigs he has. Once this is done, he goes back to sleep a third time.
Until 7 a.m.
This is an average school morning for Casey, and crazy as it may sound, he actually enjoys it, with the exception of having to do chores.
In school, he's a good student, getting A's and B's for the most part but after school, it's a different story. Casey's involved in Champions Together and the Carroll Lacrosse team. He is also busy with lacrosse outside of school, which is one of America's fastest growing pastimes, and Casey says there's a good reason for that.
"I really like the team, everyone likes each other, and it's very competitive and extremely fast. [It] doesn't get boring and nobody is ever sitting, even if they're not playing." he said.
He discovered lacrosse by watching a college game on TV and later attended a local clinic.
"It was fun, so I got in touch with some of the players and got hooked," he said.
Last year, Casey's first, the team finished the season with a record of 9-6.
In Champions Together he gets to play sports, specifically basketball right now, with the special needs students who want to participate. They play games outside of school, and even in tournaments. Last semester, when they played flag football, and won regionals.
Casey got involved in Champions Together through a leader of it, Coach Bodenstein, who asked him and his siblings, Bridget and AJ, if they wanted to join. They couldn't pass up the chance and have loved it ever since they've gotten involved.
On the rare day that Casey isn't busy with extracurricular activities, he gets home and does more for the animals, goes to any practices he has to go to, and does some of his homework. After dinner, which is around 7:30, he finishes his homework, plays video games, (mostly Fortnite) and watches The Goldbergs with his family.
"My after school isn't very routine, it just kind of happens," Casey said.
Over the weekend and in his spare time, he says that he, (among other things), forges blades, hangs out with friends, jogs, learns to drive, volunteers at Pathway Community Church, and goes to youth group at Pine Hills.
Casey makes friends easily and has a way of making people feel comfortable. His sister Bridget says Casey is at his best being a fun person to be around.
His friend sophomore Jadon Boyce agrees.
"It's really awesome. Casey was the first friend I made at Carroll High School," said Jadon Boyce, who came to Carroll from St. Vincent's Catholic School.