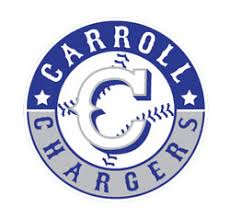 Carroll Baseball Off to Hot Start After Losing Key Seniors
Boys Having Yet Another Solid Season
April 19, 2019
After striking out in the regional finals to eventual state champion fishers last season, the baseball team is looking to retool this season, having lost many key seniors, like catcher Hayden Jones, at important positions and they are off to a good start, owning a record of 7-3.
Leading the charge back to the state finals will be Micah Fretz. The senior first baseman finished last season with more RBIs than any returning player and also hit one home run. So far this season he has only added to those numbers, sending home seven runners and hitting one home run in a game against Bishop Dwenger over the weekend.
After appearing in nine games last year and striking out 41 batters, Jake Shirk is set to become the teams number one pitcher following the graduation of ace Riley Perlich from last years team. In seven starts last season, Shirk had a record of 4-2 and an ERA of 2.65. This year Shirk is 2-0 in three starts.
"Jake who is only a junior but will be one of the best pitchers in the state i believe and definitely one of the top in our area," said Head Coach Dave Ginder.
However numbers wise, Conner Miller is locking it down for the Chargers on the mound. The Sophomore has yet to give up a run in 17.1 innings and has only allowed seven hits in that span.
But after losing three players to Division One college baseball, the Chargers are still learning about themselves early in the season, but see promise in the fact that they still have players leftover from last seasons postseason run.
"I think last year, we had a couple of returning players played in that sectional and regional game last year, so i think that we have a little bit of experience in positions that we need it, in our middle infield and our outfield we're gonna have experience so we have a lot of young guys but that's alright" said First Baseman Micah Fretz.
The young players on the team, like Shirk and fellow Junior Sebastian Kuhns, will be expected to contribute big plays this year as the team has still set high standards for this season, coming the teams first Sectional championship since 2014.
"I think any goal, any season, is to win championships and advance in the postseason play," said Ginder. "So we'll start with the first thing is just to win a Sectional Championship come June."
The Chargers will also rely on other young returning players to take up leadership roles this season, something they may not have had to do in the past.
"I think we have better leadership this year, last year we had good leaders, but we have more guys returning this year that are also juniors, so like Lincoln Lantz is going to be playing again, Jake Shirk, Eddie Bransfield, so younger guys are going to be taking up leadership roles" added Fretz, "I think that's different than we had last year, last year we only had senior leaders and we'll have leaders throughout our lineup this year"
Note: All stats accurate as of April 16 at 11:40 a.m.