48 Questions with Gracie Conner
Faith guides senior through life, high school
May 17, 2019
Humans like to get to know people. It's only our curiosity that gets the best of us. As people have came to realize this, we continuously watch comedians, YouTubers, and celebrities to get to know someone different. On YouTube, Vogue has a segment called "72 Questions" where they rapid fire questions to celebrities to get them to share more portions of their lives with the public.
So here's a more personal, more in depth look into one of the lives of a senior. Gracie Conner is a strong woman, who lives and loves fiercely, and is a advocate for equality, love, and God. As she spreads her love for Christ to her everyday life, and to all people around her, it is not hard to see how her passion for others shines through every aspect of her life.
So here is a look into a Christian-advice-giving-love-filled student whose compassion can be felt in every conversation, and every question, she answers. 48 questions, starting now.
1. What is one quality about yourself that you wish everyone could see and why?
"How much I love kids. I think that that's something that I try to show, and just that I'm gentle."
2. What is the most important thing you have learned in high school?
"Grades are not my worth, they're not my life. I've especially learned that this year, with Mrs. Wisehart saying, 'Grades are not you, you are not you're grades.' I think it's something that I've had to realize, academically."
3. One piece of advice for up-and-coming freshmen?
"You will go through cycles of friends. I think that the less heartbroken you are about losing your friends freshman year, the happier you will be."
4. What was the most useful class you took in high school, and why?
"Both theater arts classes. They have taught me to go outside of my comfort zone and just go for new things. I think Mr. Pearson has created an environment where people are able to do that, and not being judged on my capabilities has allowed me to experience this class a lot better."
5. Do you do any school extracurriculars?
"I help with worship for Enlightened."
6. What is one regret you have in high school that you wish you could fix?
"Getting help when I know I need it. I think I would get too scared and not want help, because I thought I could handle it on my own. But looking back now I know to totally can't."
7. What inspires you to stay motivated in tough situations?
"The fact that if I press through a situation harder, the faster I'll get through it. Kind like running through a strong instead of around it."
8. How did you choose the right internship for senior year?
"I originally was planning on interning at Pathway, but with a completely different department, so instead of worship, where I am now, I was going to work with women's or youth ministry, and I was also going to do a Physical therapy internship second semester. I was approached by our youth pastor who organizes all of the interns and he said 'I totally forgot to talk to you about what you wanted to intern with.' and I was told both sections I wanted to intern with were full, and asked where I wanted to go. I always thought it would be cool to intern with the worship pastor, so I decided to try it out and I ended up turning it into a full year internship because I loved it so much."
9. When did your relationship with Christ start?
"I grew up in a Christian home, but didn't really have that fire in me until probably the summer before my freshman year when I was back at Pathway and attended youth group for the first time, and just fell in love with it."
10. How do you stay focused on God in hard times?
"Anytime that I'm going through something hard, that as much as I don't want to, I can't turn away and take the easy route. I have to remember that God doesn't promise an easy life, but He promises to be with us through life."
11. What is one Bible verse that you live by and why?
Exodus 14:14 "The Lord will fight for you, you need only be still". This has been a verse that have really helped me because I'm one of those people who think they can fight everything on their own, but this explains that I don't have to, that God is the one that can fight the battle."
12. What is one thing that you enjoy the most about being involved in your church?
"I'd have the say the community. Through my internship, I have gained so many people who are willing to walk through this season I'm in with me. I have so many amazing people surrounding me and supporting me consistently."
13. Have you ever been on a mission trip? Where?
"In Fort Wayne, I did one called 'Week of Hope' where we just serve a church downtown and we stay there for the entire week. The other one was this past summer, I went to the Dominican Republic, where we served at a boarding school, and they are run from a place in Fort Wayne called Crosswinds."
14. What is one takeaway from a mission trip that you think everyone should know?
"It's not about the feeling you get out of it, it's about being servants, being God's hands and feet in the moment. It's not about what we feel, it's more about what God wants. Be prepared to serve, prepare to be selfless."
15. What is the best memory you've experienced in life with Christ?
"I've seen a lot of prayers answered that I was able to easily recognize. Maybe not in ways I wanted them to be answered, but just in ways where God reveals himself working behind the scenes."
16. How do you find unique ways to incorporate God into your everyday life?
"Through worship. That's one of my biggest ones. I am a huge worship music fanatic, and through interning with the worship pastor, we get to talk about that a lot, like where we want the church to go and how we're going to get it there. Just listening to music."
17. Who is one person you admire most in your personal life, and why?
"I have two, my internship supervisor, Issac, and my best friend Ana. They just lead by example and I haven't been involved with people who have loved me so fiercely just for coming as I am, and they don't want to change me unless it's to better who I am."
18. How did you get to know Ana?
"We actually have a crazy story. She was my small group leader when I was younger, and we kinda got distanced for awhile. Then when I went on Week of Hope, she was one of the small group leaders and people kept saying, 'oh my goodness, you guys look like sisters', and we just started talking more and more and figuring out how similar we are, and how we have some of the same passions, love a lot of the same things. We aren't identical, but we are very close to each other. IT's one of those friendships where you didn't need to know the other's story, we just got to know each other so well"
19. Who is a celebrity or well known figurehead that you admire?
"Michelle Obama or Beyonce. I am a huge fan of powerhouse women. Looking at these tow and how much they've accomplished, in spite of hatred they've gotten it just so cool."
20. If you could travel anywhere in the world, where would it be and why?
"Probably Hawaii or Europe. Europe because of all the architecture. I mean, when you go to Europe you have to be there for a few weeks just to experience it all. Hawaii because I just love pretty landscapes."
21. If you could live in a different country, what country would it be?
"I think it would be cool to live in Italy."
22. What made you decide to join your church's worship team?
"I was reached out to by the worship leader. He was having a call out. I just started to walk out the door and he asked me why I hadn't signed up. Eventually he persuaded me to sign up. I was terrified to do it, but now I'm so happy that I did."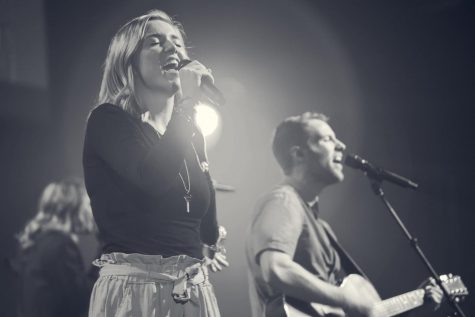 23. What is you favorite part of being on this team?
"The community. It's a rare things to have on a team that is as big as ours it. People just love each other fiercely."
24. What is one song that you will always sing along to when it comes on?
"Anything Beyonce. I also really like Train. I've probably seen them six times in concert. I actually sang with the lead singer before. I was like second row, and a duet song came on and so he was having people go up and sing female parts, and I was one of them."
25. What is one song that you listen to when you need inspiration?
"Any worship music. I've been trying to listen to more worship music because some of the mainstream worship songs are repetitive, so I'm trying to listen to more diverse music."
26. If you were on a desert island and only had three books with you, which ones would you choose?
"It's Not Supposed to be This Way" by Lysa TerKeurst, my Bible, and Narnia."
27. What about three movies you would have?
"Any of the Hunger Games movies and Avengers movies."
28. Who is your favorite person you follow on social media?
"I love my friend Ana's Instagram. There's also a woman named Rebecca Ryans and she posts a lot of motivational quotes, and I love seeing her family. She adopted one child with Down syndrome and has a second child of her own with Down syndrome. Just the way her and her husband love her kids is amazing."
29. What is your "spirit animal", why?
"Okay, so if it was an animal character from a movie, I would have to day Pua the pig, from Moana. But real life animal, I would say a tiger."
30. What is your ideal Friday night?
"Just a low-key hang out with my friends, oh and maybe a face mask. I love face masks."
31. What are your plans for future careers?
"I am probably going to be a physical therapist or a pediatrician. I want to help people."
32. Have you decided on college yet?
"I'm staying in Fort Wayne for my first year, getting gen-ed out of the way, get everything else figured out."
33. How did you decide what colleges to apply to?
"I applied to Liberty College simply because I felt like God was calling me there. I applied to IU because I've just always loved it there. The campus is beautiful. And PFW because it was in town."
34. What is your dream school and why?
"Liberty. The community there is like a retreat with homework."
35. If you were to run for president someday, what would be your campaign slogan?
"Vote smarter, not harder."
36. What is one thing you can't live without?
"My dog. She's very lovable. We got her from a shelter. She's a very sweet dog, and she's been with me through a lot."
37. What is one food you could eat every day?
"I'm a sucker for a good salad or avocado toast."
38. What is one habit you've developed that you couldn't imagine living without now?
"Playing my guitar, it's just become an outlet for me, playing anything. Or boxing, I love boxing. When I get a chance to box, it's just a great release of energy."
39. What is your favorite Disney movie?
"Hercules or Moana. Hercules is so slept on. If I had the seven muses following me around every day, my life would be great. Moana because I'm such a huge fan or powerful women. Having a character that's so fierce and lovable at the same time, it's so cool."
40. If money wasn't a problem, what would your dream car be?
"Any really nice SUV would be really awesome, like a 2019 or 2020. Or a Tesla."
41. If you could start a YouTube channel, what would your main focus be?
"Life advice. I get asked for that a lot. I like to talk about it. I'm not a huge fan of people who vlog their everyday lives because that's too personal."
42. If you started your own business, what would your services be?
"Probably a boutique. Or a coffee shop. Those are two things I really love. I love cute clothes and jewelry and coffee.
43. What is your favorite store to shop in?
"Either Target or Francesca's."
44. If you could spend a day shadowing a teacher, who would it be?
"Probably Mrs. Wisehart. I think it's incredible how fiercely she loves over a hundred people. I used to hate it freshman year, I was like 'This woman is crazy' but it kinda hit me this year. I almost considered becoming a teacher because I see how much she impacts the students she has. I think everyone needs a teacher like her."
45. If you would be a prodigy, what would you want to excel in?
"Music. I think that would be so cool. I would love to play all instruments, like work at Sweetwater level."
46. What is one thing you're incredibly confident in?
"My ability to love others. I love people even when they don't think they deserve it, I've even had times like that where I didn't think I deserved to be loved. But I've had to step over that wall and day, I'm gonna love you anyway."
47. If you could only watch one TV show for one year, what show would it be?
"Queer Eye, I love that show. I used to think it was dumb but then I realized how helpful it was for people and how proud these guys were of the ways they could help people, and how they weren't just changing the exterior of people, but their interior too."
48. What is one philosophy you think everyone should try and adopt into their lives?
"Lead by the posture of your heart. I think if you have a happy and grateful heart, I think that that shows more of your character than anything else would."