Which Sport is Carroll's Best (Part Two)
May 29, 2019
It's time for part two of our four part series looking at which sport is Carroll's best.
In part one we covered the format for how we will answer this question and took a look at how the baseball, basketball, cross country, and football teams stack up.
This time around we will be covering golf, gymnastics, soccer, and softball.
Golf
Championship Pedigree: Carroll's golf program has had its moments in the past few years. The boys have had the most recent success, winning sectional titles in the 2016 and 2017 seasons. The boys also appeared in the state finals in 2017 but placed last at the event. The boys have a chance to reclaim the sectional crown this year, and very well could have by the time this piece is published. The girls won their pair of sectionals in 2014 and 2015 but that is all that is recorded in the official Charger record book online. This category gets a 2.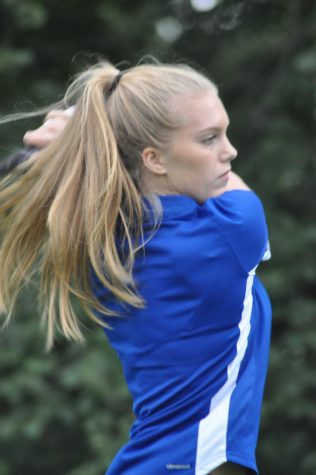 College Commitments: The only golf commit I could find, at least for this year, was Tina Kindler who will be playing at Lourdes University in Ohio. This category gets a 1.
Three-Year Outlook: For the boys the outlook isn't too bad. After last seasons down year, they yet again have a formidable squad this year and could make it back to state and should at least contend for a high regional placement. Only four members of the team are Seniors and usually a mix of three of them play varsity with the odd man out being the top JV players most nights, so the youth is strong there, "We've got some good, good young talent. (We've) got two Freshman that really have some potential and gaining experience this year is, number one going to help them down the road. (Our) Sophomore group, (we've) got a couple really good talented Sophomores, that, like I said, with experience we'll be able to rely on (those) guys next year" said Boys coach Justin Shippy. The girls haven't been as successful the last two years and there isn't much that I know about their future. Just to be safe, this category gets a 2 ½.
Avg. Points: 1.83
Gymnastics
Championship Pedigree: It's been quite the stretch for the gymnastics team. After winning sectionals and regionals last year, the team followed that up by doing the same thing this year and adding to it by placing second at the state finals. If that wasn't enough, Ashelynn Steinke won the individual all-around championship by .025, which looks to be the first such title at Carroll. But as mentioned in part one, this article is looking mostly at team titles. This category gets a 3 ½.
College Commitments: As far as I know there aren't any Chargers going on to college in gymnastics which sadly means, this category gets a one. Note: The only reason this isn't a zero is because Steinke could obviously go on to college should she choose to go that route.
Three-Year Outlook: The first and second year of this timeline have already been covered so now looking to the future. Steinke, Alex Alderice, and Lauren Dorsey all participated in the state finals this year and will be moving on next year, leaving plenty of youth and now experience behind for next year's squad to build on. Granted, Steinke was a massive part of the success the past two seasons, and that one loss on its own will knock the Chargers down a tier. Ella Smith is next up on the Chargers all-around depth chart and if Mckinley Carroll can take the next step that will help the Chargers out that much more. This category gets a 4.
Avg. Points: 2.83
Soccer
Championship Pedigree: The boys made an incredible rebound this season as compared to last year. After setting a school record for losses, they came back this year to tie the record for wins and reach Semi-State, taking the game to penalty kicks before falling to eventual state champion Chesterton. The girls team won Sectionals this year have done so two other times in the past four years. That's it for the past few years but going back a little further there have been a good mix of regional titles and one appearance in the state finals. This category gets a 3.
College Commitments: The soccer programs have a combined five college commits this year, three for the boys and two for the girls. Cali Geiger and Aubrey Vince will remain teammates next year at Saint Francis. Furman also has a Charger commit in the form of Kaitlyn Sagan from the girls team. Jacob Chaffee will be playing for Manchester, Tim LaRue at Johnson University, and Patryk Olczyk at UIndy. This category gets a 3.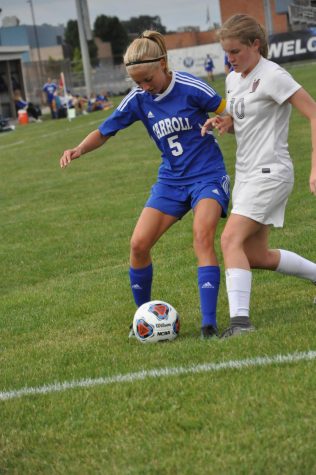 Three-Year Outlook: I've already covered the boys past two seasons and going into next year they'll likely take a step back after losing two of their top five scorers but the remaining talent, led by Peyton Fosnough should give the Chargers a chance to make it back to the final four, "It's just up to the leaders of the team if they can get everyone committed and motivated enough to get there" said LaRue. Cali Geiger carried the girls offense this year but like the boys, plenty of top scorers will be back next year and Olivia Sloffer will return to become the team's number one goaltender after the graduation of Kaitlyn Sagan. That will keep the girls consistency going so bottom line here is that there shouldn't be much change for either team. This category gets a 3.
Avg. Points: 3
Softball
Championship Pedigree: The softball team has four sectional titles to their name with three of those coming this decade. All three of those came in a row, starting in 2012 and ending in 2014. The fourth title was won in 2006. This category gets a 2.
College Commitments: Outside of Nicole Brown's commitment to Bethel, we got nada. This category gets a 1.
Three-Year Outlook: All that I'll say about last year was that their run differential was -105. As of this writing there are still five days until sectionals open for the Chargers and with a few games unreported on MaxPreps, the girls are five games above .500 which is a huge improvement from last season. A sectional title is unlikely but the girls will only have to win two games for it as opposed to three so it is possible. Next season could be somewhere between this year and last year as the Chargers will be losing six seniors, just under half the team so the jury is still out for next year with my knowledge of the team. This category gets a 2.
Avg. Points: 1.66
That's it for part two. Coming up in part three will be the last five sports at Carroll followed up by part four the final results will be discussed.