Which Sports is Carroll's Best? (Part Three)
June 12, 2019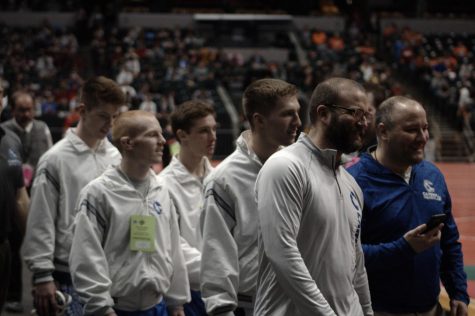 It's time to cover the last four varsity sports at Carroll. So far we've looked at the baseball, basketball, cross country, football, golf, gymnastics, soccer, and softball teams. That leaves us with swim/dive, track/field, wrestling, and volleyball.
Swim and Dive
Championship Pedigree: It was a great year for the Carroll swim program on both the boys and girls side of things. The girls placed in a tie for third overall at the State Finals and Mallory Jackson was the 100 yard backstroke state champion, the first to win an individual state title in swimming. Oddly, the girls didn't win their sectional this year, placing second to Homestead. However they did win a sectional title in 2015, 2016, and 2017. The boys won sectionals this year, their first since the 2014-15 season. A member of the boys team also won an individual championship this year. Tristan DeWitt won the state championship in the 100 yard butterfly en route to solo third finish for the team. This category gets a 3 ½.
College Commitments: Five swimmers for the Class of 2019 will be swimming in college next year. Noah Yarian and Jack McCurdy are the most notable of the group given that they will be going onto to swim in the Big Ten at Michigan. Avery Brooks will be going to IUPUI with teammates Delanee Grier and Gretchen Kraus swimming at the University of Wisconsin – Milwaukee and Northern State University respectively. This category gets a 4.
Three Year Outlook: The programs two state champions will both be back next year, meaning the teams will still be competitive. The boys will probably be hurt more though with Yarian and McCurdy's departure. The girls will also return all four members of the 400 yard free relay team that finished second in that event at the state finals. This category gets a 3 ½.
Avg. Points: 3.67
Track and Field
Championship Pedigree: The last time the boys team didn't win their sectional was 2011. They won regionals at least the past two years. They won the 4×100 state title in 2017 and Justin Becker won the 200m state title last year. I'd say they have a winning culture. The girls haven't been as good, not winning a sectional title since 2008, but Meagan Hathaway was the state runner up in the 3200m last year. This category gets a 3.
College Commitments: This is basically the same as it was in the cross country section with Connor West being the lone difference. He will run at PFW for the next four years. This category gets a 4 ½.
Three Year Outlook: I don't expect a whole lot to change on either side of things here. The girls team is similar to cross country in that they are losing people but most of those voids will just be filled by more top talent. As for the boys, when a team is so consistent for so long, it's hard to imagine that suddenly changing. If there was anytime to expect significant regression it would have been this year after the loss of Becker but they actually opened up a bigger gap between them and the other schools in their sectional. This category gets a 3 ½.
Avg. Points: 3.5
Wrestling
Championship Pedigree: This score comes down to how much we value streaks and sectionals/regionals, because the wrestling team has won eight straight sectionals and seven straight regionals but no semi state titles or state titles. Those streaks have to be respected especially given that those titles alone are more than plenty of sports at Carroll have in their history. However the lack of success at the higher levels outside of one individual state runner up in 2013 will cost them a little. This category gets a 4.
College Commitments: The recent commitments of AC Eberle and Justin Davis to Trine are the only that I could find for the team. This category gets a 1 ½.
Three Year Outlook: I see no reason the sectional and regional streaks would come to an end next year with plenty of the Chargers varsity wrestlers being underclassmen. How many of them will make it to state? That's the real question as only Scottie Saylor made it to state this year and will be back next year. The Chargers have plenty of candidates to make it that far next year, namely Saylor and Reeve Muncie. This category gets a 3 ½.
Avg. Points: 3
Volleyball
Championship Pedigree: The volleyball team has no shortage of Sectional titles in the last few years with the championship celebration becoming as close to a yearly tradition as you can get in high school sports if your school name doesn't rhyme with Carmel. The girls have won seven sectionals this decade, 2016 and 2011 being the lone years without a title. Of those seven teams that won, five of them went on to win the regional title that year with the 2015 version of Carroll Volleyball making an appearance in the state finals. This category gets a 4.
College Commitments: Three of the teams six seniors have committed to play volleyball in college. Anna Frey and Jordan Martin will be staying in Indiana, playing at Grace College and Southern Indiana University respectively. Rachel Jacquay will be heading north to play at Grand Valley State in Michigan. This category gets a 2.
Three Year Outlook: The last two season have produced sectional titles which lines up with many of the other sports at Carroll. Next year could be a different story though as this years volleyball team was stacked with six seniors. In terms of sets played, those seniors played 583 sets combined, the seven other members of the team played just 372, with 99 of those coming from Taya Haffner. For context, there are seven underclassmen on the team and Haffner's 99 sets played are tied for third most on the team with the next underclassmen being tied for eighth in sets played, with 59. The next highest above 59 SP is 93. This likely isn't a talent issue but more of an experience problem. This category gets a 3.
Avg. Points: 3
Make sure to check back here for part four, where the results are compiled and discussed as we answer, which sport is Carroll's best?