Bleeding Blue: The Real Heart of Carroll
June 5, 2019
Heart. The word bears many meanings.
The heart is regarded as the organ that pumps blood through the circulatory system, a suit in a deck of playing cards, and even an expression of someone's mood or feelings. The heart is also known as the central or innermost part of something–a vital part or essence.
When this definition is applied to Carroll, it's easy and stereotypical to answer who is at the heart of the school: teachers. With over 3.6 million teachers in the United States alone, it's clear that they play an essential role in educating and impacting students. But while teachers are the breath that breathes life into each school day, there is much more going on behind the scenes. Hundreds of other staff members in an array of departments work day in and day out to keep the day flowing smoothly, thus providing teachers with a safe environment to nurture students.
The beating heart of Carroll is in its librarians, in its lunch ladies and school nurses, in its custodians and secretaries.
The Librarian
When your laptop crashes, teachers send you straight to the library. You tell the librarian the problem and she has you fill out a form, gives you a loaner, and a day or two later it's back and better than ever.
But who is that librarian who helps you find the perfect book for your research project? Who recommends the most spellbinding story that keeps you up far past your bedtime? Who attempts to fix even the most unfix-able, troublesome laptops?
As a library assistant, Penny Shilling helps students in a variety of areas. Whether it's checking out their book selections, helping them with a broken laptop, or giving them research advice, she's there to help. Her day also consists of re-arranging bookshelves, helping with book orders, and yes, even reading.
"I've always read," said Shilling. "I started getting into it in high school and I went to college, got a few degrees, moved around a lot and figured it's just a nice job to interact with students and share my love of reading."
Her love of reading is a driving force in helping her to connect with students, opening up door after door of topics for discussion.
"I read some obscure authors so when you find someone that likes them too it's really fun connecting with favorite authors and even genres," she said.
Of course, there are libraries all over Allen County where she could've worked–libraries that are much larger, featuring much more stories inside. Even so, her literary-loving heart couldn't pull away from the connections only a school can bring.
"I did it more for the students who are unsure of themselves that just need to find stories to connect with over books and to watch them find the confidence within themselves," she said.
A few years ago, Shilling noticed a student, about 6' 3", who would walk into the library hunched over, as if hiding from everybody outside, insecure about people seeing him coming into the library to read.
"He found out that we read some of the same stuff and about a month later he'd come in all tall saying 'Oh, hi, how are you doing? Have you read this one?'" Shilling said. "Suddenly the change in him was just wonderful."
That was the first time she saw a student grow into his confidence through reading, and–although she won't admit it–the first time she made an impact on someone within the walls of Carroll.
Shilling has enjoyed watching the same story play out year after year, "letting students know that this [the library] is a safe place in here, you can talk about books and no one's going to judge you for what you're reading or what you want to read."
Between her warm personality and welcoming spirit, it's no wonder students enjoy seeing her from day to day.
"I see some [students] now that will come in and ask how I'm doing or they'll notice that my hours are different…and they'll come in and ask 'why are you here?'" she said. "It's nice that students like the library and will come and tell me about their day. I really enjoy that."
The Lunch Lady
In a recent study from The Washington Post, about 77 percent of the 1,300 high school students surveyed said they did not like school lunch. Even at Carroll, where lines for Italian food, American food, and even a salad bar give students more options for lunch, it's not uncommon to hear someone complaining about the day's meal. School lunch gets a bad rap. Especially considering all the hard work that goes into each lunch tray.
Karen Stromberg, Assistant Kitchen Manager of the school's cafeteria staff, gets up bright and early to start her day. By 6:15 a.m., she's already at school and hard at work to serve both first and second breakfast. She then puts away stock and begins preparing lunch for the day. Once the bell for lunch rings, serving is next, quickly followed by breaking down the kitchen and getting it ready for the day to come.
While her job isn't for the faint of heart, Stromberg is able to find enjoyment through her passion for cooking and preparation of meals.
"I love trying new recipes and cooking food that the kids love," she said.
Throughout her day serving students, she sees hundreds of faces through the lunch lines; some smiling and some in need of one themselves. Stromberg makes an effort each day to be that person offering a smile on days where there seem to be few.
"I try to smile at everyone I interact with," she said. "You never know what someone else is going through and you might just be the only smile they see that day, and sometimes it matters."
So, regardless of if yesterday's lunch was world class quality, know that there is world class love behind it, in the form of long hours and hard work.
The Nurse
It's the middle of winter: the flu is spreading like wildfire and every student seems to have some form of a cough. Everyone knows school is a breeding ground for sickness. Luckily, students can rest easy knowing their health is in good hands.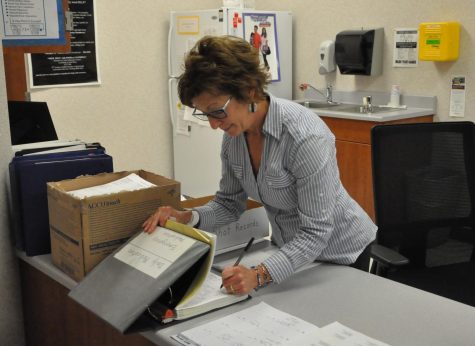 Ann Kline, the 10-12 school nurse, spends the majority of the school day taking care of whatever the day brings. Whether it's an illness, upset stomach, or even medical emergency she's right there with students working to help them feel better.
While she generally only sees a particular student once or twice a year, Kline has formed bonds with those she helps daily. Most of these students suffer from a chronic illness and are therefore in her office frequently.
"You get to know them and have daily conversations with them through the three years they're here," she said about students with chronic illnesses.
Although in a typical day Kline is in her office treating illnesses, there are times when she's radioed in and needed in the classroom: emergency situations.
"Usually I am one of the first ones called, but it is very much a group effort," she said. "If I am on the run with my radio, my emergency box, and the wheelchair, then also an administrator is usually running right alongside me to join me in the situation."
Moments like these might seem like the most challenging aspect of her job, but for Kline, the real challenge comes in the problem-solving of helping students through their pain, especially in cases where there's not always a solution.
"Things that aren't fixable–like broken hearts or maybe a situation at home, things that aren't easily fixed–those are hard," she said. "They're the hardest to deal with."
Kline finds the most joy in helping students to solve whatever problem they might be struggling with. One student, in particular, helped her recognize the impact she leaves on the student body.
"I had a student the other day who I gave a tip to about nosebleeds and he said 'wow that really worked' and he was glad to get a better way to make it stop," she said. "That was just great to know that I helped him to figure that out and that he acknowledged it."
Before working as a school nurse, Kline worked at an office similar to Redi-Med. She also worked at an Ears, Nose and Throat doctor's office allowing her to assist in surgery cases. Despite the draw of working in the operating room, her heart is in schools working with students.
"It gives you more of a relationship with the kids and a fun environment of kids growing up and going on with life," she said. "Just getting to be a part of that is really fun."
The Custodian
Every day you walk by the same bathroom. Every day you see the same custodian hard at work to keep the school clean. But have you ever started a conversation, said hello, or even thanked that custodian for all he or she does?
Sara Snyder, a part-time custodian of the school, starts her day in the laundry room cleaning whatever the previous day brought in. After that, she's onto scrubbing walls, cleaning the bathrooms, and picking up trash off the floor. Snyder is also responsible for calls she receives throughout the day, such as a spill in the cafeteria.
"Sometimes it's just really busy and you get a lot of calls when you're trying to get stuff done, especially when you're filling in for other people," she said. "It's a big school so there's a lot of running."
Although Snyder doesn't work directly with students, she still strives to have some sort of impact on their daily comings and goings. Whether it's a quick hello or a simple smile, Snyder hopes to shine a bit more light on the passerby's day.
From her time working here, she has formed bonds with both staff members and students. Her own children attend the school, allowing her to better get to know the faces of Carroll.
"I get a lot of smiles and hugs from my kids' friends, especially the ones that are getting ready to graduate," Snyder said. "I'm going to miss those faces when they're not going to be here anymore."
Whether it's a student who just got sick or an accident in the chemistry lab, custodians are the ones they call. The job isn't always the easiest, but its impact doesn't go unnoticed.
"People tell me thank you all the time," she said. "I'll just be washing a mirror…and they'll say thanks."
In addition to the frequent appreciation she receives from students, Snyder also finds joy in the people she works with who help her to be better at her job each day.
"I work with a lot of great people and everybody just kind of does what they need to do and helps each other out," she said. "If you need help with something, we're here."
The Secretary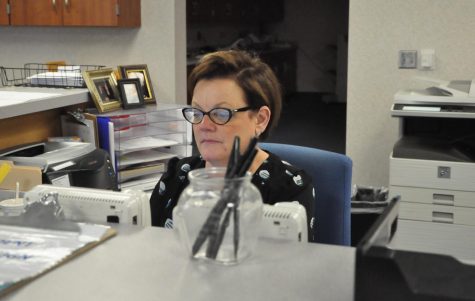 They're the voice on the other end of the line. The ones you go to for an early dismissal. The gatekeepers of the school.
For Shelly Roberson, attendance and discipline secretary at the freshman center, no two days look alike. Being in charge of attendance, she keeps a close eye on unverified absences and calls parents when students haven't yet been reported. She is also in charge of late to school and tardy letters when needed.
In the 10-12 office, there are different positions for different jobs, but at CFC this isn't the case, causing each day to bring something new.
"It makes us a little different over here at CFC because we don't have somebody that orders the supplies, that does guidance, that does treasury," said Roberson. "At the CFC we do all of those things, so the day can really vary."
Daily tasks aren't the only differences between working in the freshman center versus the 10-12 building. When summer break ends and a new school year begins, the freshman secretaries are greeted with brand new faces each year.
"We get a break and then start fresh with a new class which is the beauty of being at the freshman center," Roberson said. "We get a new class every year."
With each new year, new faces come in; some excited for the year to come and some nervous and unsure. Roberson tries to ease those first day nerves and comfort students through all the freshman year unknowns.
"When they come in, they're intimidated, they're scared, they're nervous, but then you get to see them blossom as the year goes on," she said. "I can think of a couple of students in particular that when they came through the doors, you could tell by the way their year started out that this was not going to go well. But you try to start to get more on a personal level with a conversation just to make them feel like it's a safe place."
One such student she bonded with happened to have a love for bugs of all things. When Roberson was working at her computer one day, a grasshopper hopped onto her keyboard, leaving her in a panic.
"He [the student] comes running around my desk saying, 'I got your back, Mrs. Roberson, I got your back!' It was so cute and so funny. He's one of our SPED students and I just loved him to pieces," she said.
Through these close bonds and the kind of words of students, Roberson feels the Carroll love.
"A few years back, Mrs. Wisehart would come through. She would bring a class at a time and they would leave sticky notes all over our desks with different compliments," Roberson said. "And every now and then kids will make a comment that's a sincere compliment that makes us feel appreciated by the students."
The Heart
The librarian. The lunch lady. The nurse. The custodian. The secretary.
The heart.
Behind the scenes of yesterday's school lunch, today's announcements, and tomorrow's passing periods are these five people working day in and day out to keep the school thriving. With early hours, long days, and sometimes tedious tasks, their job isn't always the easiest, but nevertheless, they're always there.
So the next time you see one of them in the hallways, office, or cafeteria, give them an appreciative smile or extend a quick thank you. It's the least we can do.