Which Sport is Carroll's Best? (Final Results)
June 13, 2019
Well here we are.
Part four. I have to say it's been a long time coming.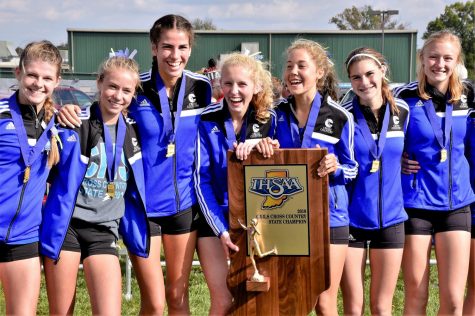 The sometimes tedious work that went in to some of this has been well worth it though as this has been a question I have been pondering since the beginning of my high school career. Now finally, about a month after I started putting the whole thing together and four years after I walked into the CFC for the first time, I have an answer.
Here are the final results, from twelfth to first (scores are in prior articles; ties listed alphabetically).
12. Softball
11. Golf
10. Gymnastics
T-6. Football, Soccer, Wrestling, Volleyball
5. Basketball
4. Track and Field
T-2. Baseball, Swim and Dive
1. Cross Country
Obviously the first thing that stands out is the winner, which is the cross country program. While I think this result won't surprise many people, the gap between them and second place (.50) is wider than I imagined. Looking back the thing that really separated these two sports was the number of college commits. Being totally honest, that gap could have even been wider as most of the points the baseball team got were due to last years studs, not to take anything away from Bryce Ginder. That said, the baseball team has certainly earned their keep in second place, picking up a sectional title this season and positioned to have possibly played in semi state by the time this article is published, assuming they win the upcoming regional. Swim and Dive also are in the top three which is a bit of a surprise and yet again it seems like college commitments  was key here if putting this group higher up on the list. The only program on this list to have a higher score in that category is track and field who gets a boost from the many cross country runners also running track.
Speaking of track, they're next up on our list and are followed up by the basketball program to round out the top five. Football, Soccer, Wrestling, and Volleyball make up the cluster of teams in a tie for sixth place which is about right however football might be just a slot too high when stacking up results with the other three.
Gymnastics is next up, sitting in tenth place and this is probably the only team that is actually hurt, not helped by college commitments. Unless I missed one, which is very possible, not one of the girls will be moving on to college gymnastics next year but given that Ashelynn Steinke was the all-around state champion, I still gave a point in that category because she could clearly have taken her career to the next level. But unfortunately rules are rules and I didn't want to break them anymore than that. The next two (Golf and Softball) aren't entirely surprising and are at the bottom more because of how good Carroll's other sports are than because they're bad.
So there you have it. All of the varsity sports at Carroll ranked to determine which is the best. While this exercise wasn't a perfect science, it did render fairly accurate results which when it comes down to it is what really matters. Do you agree or disagree with the results? Feel free to share in the comments down below along with your pick for Carroll's best sport.