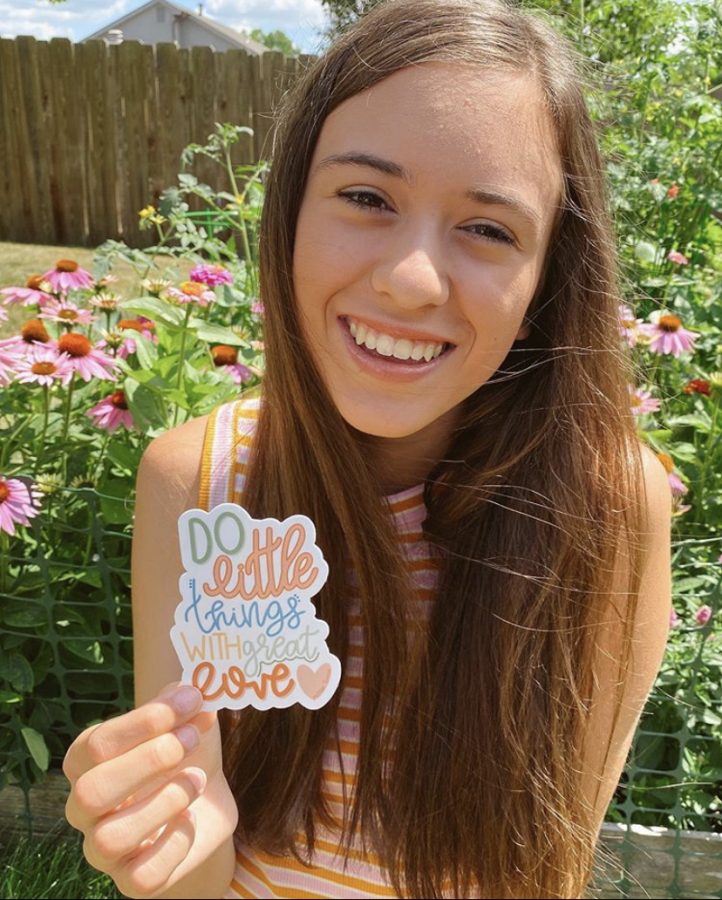 Ambitious, creative, and clever are three words that describe many of the students are Carroll, but especially those who are operating their own small businesses.
One of them is Junior Mackenzie Hathaway who runs a sewing company called Kindly Kenny, a name she came up with by combining a nickname of hers with a randomly generated word.
"I have loved to sew ever since I learned when I was around eight," said Hathaway. "I had always wanted to start a business, but this way seemed like a great way to combine what I love to do and fill some extra time."
Another student business owner is Sophomore Kayden Wisehart who runs Kayden & Carrie with her mom, Carrie Wisehart, an English teacher here at Carroll.
"It wasn't really a hobby before," said Wisehart. "We found a product idea and we made some prototypes and we got started."
One other student business owner at Carroll is Sophomore Jill Yoder with her company, Lavender & Craft, named for her love of the color and the fact that she makes crafts, specifically stickers.
"I have always enjoyed hand lettering and bullet journaling," said Yoder. "Starting my sticker business was more of a spontaneous decision when I simply decided one day that I wanted to sell my art as stickers; I had no clue what I was doing, or if the process I had in mind would even work as a business."
Getting sales and maintaining them is no easy task, but that is part of what makes getting sales so thrilling. When a customer supports a small business, they are supporting that creator who appreciates every sale.
"It was definitely tough to get sales," said Hathaway. "Getting the first Etsy order was so exciting and I've been super grateful to everyone who has supported me."
"There were lots of people within and Carroll and parts of Indiana that seemed interested, but sales were hard at first," said Yoder. "I had to make sure to post often in order for people to get familiar with my account."
The local sales are often very important, at least in the beginning for a new business, and they often bring the most support since those customers care about the person as well as the product.
"Around 80-90% of my sales are local or within Indiana," said Yoder. "I have sold to several other states within the U.S. as well."
Both Wisehart and Hathaway reported around 95% of their sales being local.
All of these owners hope to continue to and expand their brands as time goes on, but the future is unpredictable so the outcome of their businesses are not known for certain.
"I would love to continue this business further on, and eventually create it into a clothing boutique," Wisehart said.
"When I first started, I didn't want to continue my business past summer," said Yoder. "Now I would love to continue a small business in the future, and I want to be a teacher after college, so this is something that I could see continuing in the long run."
Hathaway also said she would hopefully like to continue her business into the future.
Customer service is valued greatly in a small business because part of what makes buying local so great is to see how much love is put into it by the owner.
They focus on…
Feedback: "I hope to provide customer service that is customer focused and reliant on feedback," said Hathaway. "I want to create an individualized experience for each person."
Love: "The goals for our business are for everyone to feel pretty and know their worth in Christ," said Wisehart. "If you look on the packaging, every item is stamped with 'Made with Love' and is prayed over."
& Happiness: "I want to make sure that all of my customers are satisfied with their experience and happy with their order," said Yoder. "I want to make a quality product that people get excited about."
But through it all, these business owners are still students that need to balance their company and their schoolwork to make sure that they are successful in both which is no easy task.
"Running this business has taught me so much about time management," said Yoder, "It's been very difficult trying to meet business deadlines and homework due dates; I have learned my lesson after several late nights, but it's still tough to juggle everything."
"Recently I have not had much time to work on my business with the start of school but typically it takes a lot of time effort and energy," said Hathaway. "It is all worth it though and is very rewarding when the customer receives their pouch and it brings joy."
To check out any of the shops discussed, click the links below.
Kindly Kenny
Kayden & Carrie
Lavender & Craft