Seniors leave permanent mark
March 30, 2022
As many seniors cross into adulthood, they gain many new freedoms. Whether it be buying a lottery ticket or buying fireworks without your parents, there is a sense of liberation. It all depends on what you choose to do. For some, that decision was getting a tattoo. Or tattoos, plural in senior Jack Denny's case.
"I have three tattoos. I would definitely consider getting more," said Denny.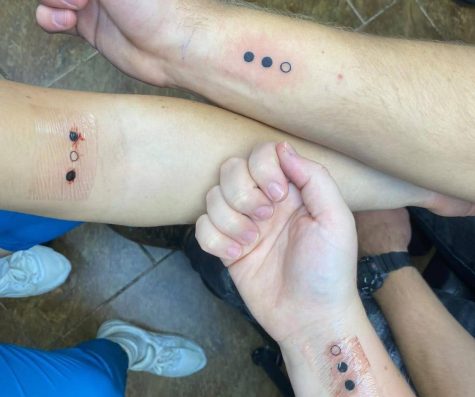 Many parents argue that when their child gets their tattoo it will hold no meaning, and that they will regret it all their life. Jack disagrees.
"I think that all of those come from more conventional and, like, traditionalists," said Denny, "I do think there is such thing as a trashy tattoo. There is tasteful tattoos. Like I don't think getting a huge skull on your neck is the most tasteful thing. I would have concerns hiring somebody like that. I think it's all about what you get. I have multiple on my arms that are visible with short sleeves, so I would say you just have to think about how you can defend it and justify why you got it."
Each of Denny's tattoos have a meaning. He took us on the grand tour.
"The first one I got is on my chest," said Denny, "It says 'Buddy' and it's in my grandpa's handwriting because that's what he calls me. I got it on my chest just because he's always been close to my heart. He's still alive but he's always been my best friend."
The connection to his family continues in the symbolism of his next tattoo.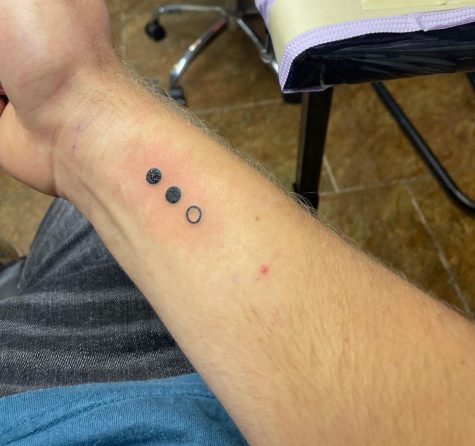 "I got my two other tattoos on my right forearm and one is on my inner wrist," said Denny, "It's three dots, I got it with my sisters. Each of the dots are filled in differently, so mine is the right-most dot that's unfilled and then my other sisters is the middle and the other the left-most. I'm the third born. We are all very close, so we just kind of wanted to get one as a sibling thing."
His third and final tattoo, a symbol of his faith.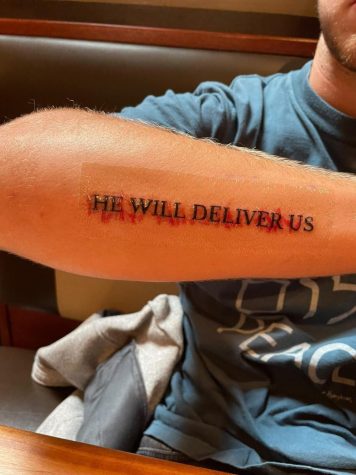 "On the back of my forearm I have the words 'he will deliver us' which is a biblical reference from Daniel chapter 3 verse 17," said Denny, "That was more of a personal thing for trials of faith. The background of it was three Hebrew men that were threatened of their lives and they were given time to choose whether they would bow down and worship the idols of that age or stand firm in their faith. I think that applies to a lot things that I go through personally in my faith, you know. We have a lot of decisions to make, whether we are going to bow or if we will stand firm."
Jack, however, is not the only senior with ink. Seniors Megan Wendt and Halle Hudson went together, each getting a tattoo behind their ear.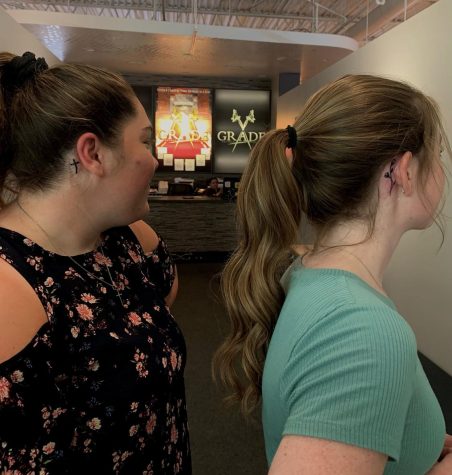 "My tattoo is of a peony flower. It doesn't have a definitive meaning, but more of a connection. I've always felt connected to flowers, and they remind me of my late Grandma," said Wendt.
Hudson's tattoo's meaning is more concrete.
"My tattoo is the symbol of the cross. This tattoo means so much to me as it keeps me grounded in my faith," said Hudson, "As a high schooler I always struggled with anxiety and overall just feeling like I was enough. I knew for two years that I wanted to get this tattoo as it is a constant reminder that there is always someone who is on my side and watching over me. It is a good reminder that my faith is my top priority and it brings me relief knowing it's there."
Even though she knew she wanted her tattoo, Hudson still had some nerves going into it. It turned out well in the end.
"My experience getting my first tattoo was amazing!" said Hudson, "I went to get my tattoo for my birthday and one of my closest friends took up this adventure with me. The actual process of getting the tattoo was something I was super nervous about because I have a very low pain tolerance but I managed to get through just fine. No tears were shed, which was a surprise to me. It was such a good experience and I am super grateful that I ultimately made this decision."
Wendt also talks about her experience, the pain scale, and what it was like to have her best friend by her side.
"It [Getting the tattoo] was really good. There was little to no pain because I got it behind my ear, which is the area that would probably hurt the least. I was just a walk in appointment and I got it with my best friend so I felt really comfortable," said Wendt.
There are so many options as well as so many places to get a tattoo done. Here is the suggestion and advice from the more experienced on what to ask for to get exactly what you want because- well- it is permanent.
"I would definitely say when you start to think about it [getting a tattoo], I would think about what you want very specifically. And then research a ton about what you want it to look like," said Denny, "I would not recommend a portrait or anything very artistic for the first tattoo."
Denny also recommends cross-checking multiple parlors to make sure you are getting good work done for a reasonable price.