Email Chains Take Over Carroll
Hang on for a minute...we're trying to find some more stories you might like.
    Over the last week and a half, students in the junior and senior classes have been getting their emails bombarded by multiple mass group emails involving all or most of both classes.
    Junior Cooper Young started the first email chain, which only included Juniors, saying he got the idea to start the massive email chains when Junior class counselor, Tracy Cross sent out an email to all of his approximately 280 students with guidance updates, and some of the students started a conversation in that email group on September 26th.
    According to Cooper, Cross then essentially asked the students to "keep me out of (the email conversation)". This led to Cooper creating the group email containing all of the Junior class, which all in all took him about two and a half hours to create as he had to individually type each Junior students name into the email, using the 2016 school yearbook to make sure everyone in the class was included.
    While the email chain started on a Sunday night, the school administration didn't find out about the chain until last Thursday when a teacher that had Junior students let Assistant Principal Courtney Veith know that some of her students were becoming frustrated with the large amounts of emails they were getting during class. The school also became increasingly aware of the emails the next day when Veith was added to some of the chains and began receiving lots of emails from students in the chain.
    While the school's internet speed was not slowed because of the email chains, Ms. Veith said that "students are saying their inbox for their emails are lagging" due to all the emails coming in.
    According to Ms. Veith, Cooper could face disciplinary action since the emails were creating disruptions to the educational environment during the first week of the email chain when emails were being spammed all day. "[Students] were missing important emails from teachers or other students because they were having to sort through the multiple emails" said Veith.
    However while Cooper has had no discipline assigned as of now and the situation seems to be under control in regards to the email chain having died down to only a few messages sent a day, possible disciplinary actions that could still be assessed include, shortage of computer privileges, loss of school email or suspension.
    "Everything is under control, no one is really spamming (the email chain) anymore and it's pretty smooth sailing right now" Cooper said.
About the Writer
Joe Hacker, Sports Editor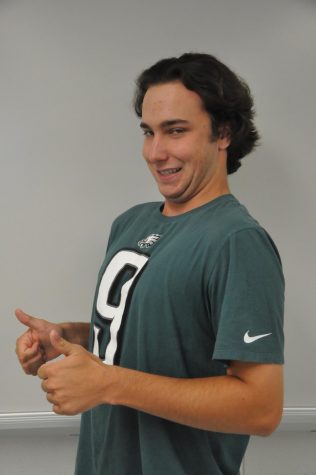 Joe Hacker in one of two returning members of The Charger Online staff. As Sports Editor last year, Joe wrote a piece called "Not Everyone Starts" which won a Superior Sports Story award from Ball State. In his personal life, Joe admires Super Bowl MVP Nick Foles for his work on and off the field as well as his determination to succeed after nearly falling out of the NFL. A big hockey fan, Joe is a die hard fan of the Tampa Bay Lightning and his sports goal is to one day cover the team for The Athletic. Joe is also a Captain for the Snider hockey club, which won a State Championship last season. Joe hopes to attend Ball State next fall and major in Journalism. As a longtime sports fan, Joe was immediately drawn into a life around sports. While a stellar athlete, Joe decided that he is better fit for a life in the press box than on the field. Joe's ambition to become a top level journalist pushed him to take a job with SummitCitySports.com starting this fall working on Carroll football and basketball broadcasts. However Joe has also always had an interest in politics and uncovering the truth, leading him to set a goal of being a contributor for InfoWars.com if Sports Writing doesn't work out.