In-Season Success Built on Off-Season Workouts
Jonny Becker, Staff Reporter
February 28, 2018
  Carroll High School is known around the state for their strong athletic programs. Coaches and players alike, continue to impress by winning numerous sectionals, regionals and qualifying for state. Many believe it is because of the tough off-season conditioning program this school offers which is designed to build strength as well as the team bond necessary to meet the high level of expectation of Carroll athletics.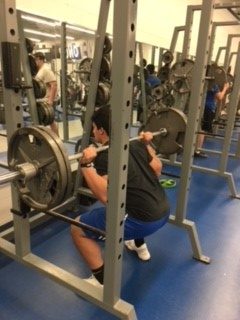 Heading the strength program is Dan Jones, known to his students as "Danimal." Mr. Jones is also a performance coach for Optimum Performance Sports.
He says that an off-season conditioning program is important and "vital for preparation."
  "It can prevent risk of injury and over training and burning out and, you know, all that kind of stuff that comes with over training and stress," Jones said.
  Jones tries to create his workouts to satisfy every athlete type while staying true to his three core concepts strength, speed, and power.
  "There's these three concepts that are important for every sport," Mr. Jones said. "Track athletes don't move laterally they only move linearly, so you want to train them to the event that they're going to do."
  Jones also described how his training methods change from off-season to pre-season to in-season. For football he says that in the off-season they work on "strictly size." He continues to say that when they get closer to season he incorporates "more agility training, more speed training, more sports specific training and weight lifting." Then in-season he focuses on "maintenance and maintaining"
  Junior Terell Griffin says this class has helped him a lot.
  "I had a big jump my sophomore year to this year with my speed and agility and all that," he said. 
  In addition to the strength program, some athletes choose to do extra work outside of school. These other outlets include AWP (Athletes with Purpose) and OPS (Optimum Performance Sports). Junior football player Gaven Vogt, who attends AWP, says that he enjoys the in-school strength and conditioning class and he feels he is getting better, but states that AWP "is more for my skill work and position stuff."
Terell attends AWP with Gaven and believes it can be beneficial to go to another outlet to enhance their sport specific talents.
  "I think this is such a general workout for all different sports that it wouldn't hurt to go train somewhere else individually for a certain position that you play," Terell said.
   Mr. Jones says that these extra workouts could be beneficial to the athlete but also says that his workouts are all an athlete need.