A Call for Change
Students protest recent school shootings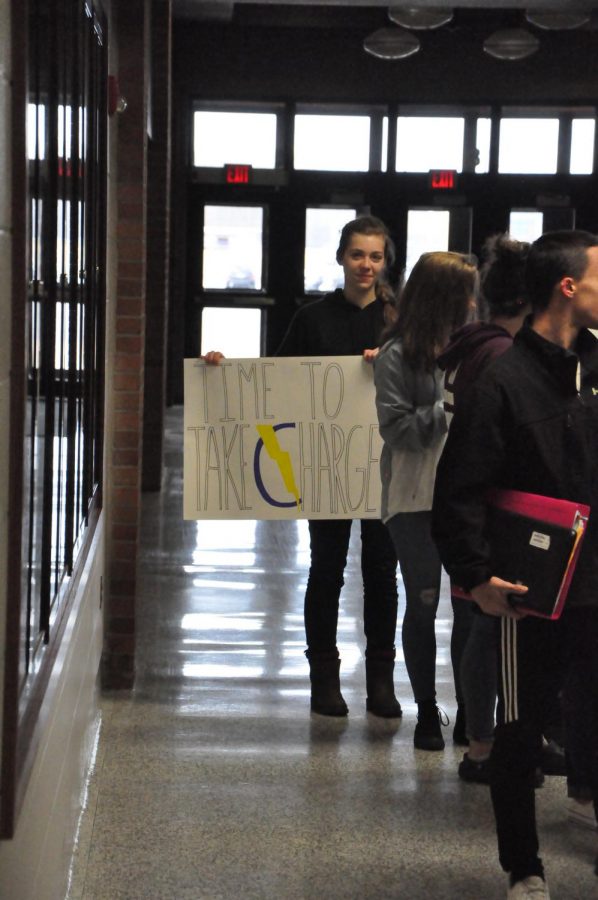 Approximately 30 Carroll students were given truancies after walking out of the building on March 14 to protest the recent Feb. 14 school shooting in Parkland, Fla.
The students marched out of Door 13 at 10 a.m. to show solidarity with students from Marjory Stoneman Douglas High School where the school shooting took place. They stood outside for 17 minutes–one minute for each person killed in the attack.
The students were then were admitted back into the building to be given a pass to their class and a Monday school detention for truancy.
However, the detention seemed a small price to pay. The students who participated in this walkout were dedicated to standing up and making change in gun laws and school safety.
"I can't just sit and do nothing about it. I'd feel wrong, I guess, to not want to make a statement, because I come to school every day knowing that this could be my last day on earth," Christian Doak said.
Julia Weirsema went so far as to make her own sign, listing the names of the victims from the Parkland shooting and honoring their memory. She stands up for change, and believes that though this one movement may have been small, it can still have a large impact.
"Though this one movement at Carroll High School may not be the change, there is a lot of different movements that we will have and build up to finally push for gun control,"  she said.
Several years ago, Micah Yaroch moved to Fort Wayne from the Detroit area, where gun violence is a notoriously large issue. For this reason, he feels very strongly about the issue of gun violence in the US.
"Where I come from gun violence is a big deal and I don't want it to follow me to school," Micah said.
Helen Wargo was yet another student who took the time to make a sign for the walkout, presenting a challenge with the message "Time to Take Charge." She feels the walkout was less about the issue of gun violence as a whole and more about the fact that students are feeling unsafe in their own school buildings.
"Student lives, we shouldn't be scared to advocate for. This walkout isn't about gun control to me, it's about school safety," she said.
Dalton Tims is of the same mindset, saying that this is more about the issue of school safety than it is about gun control or gun violence in general.
"I didn't do this for gun control. I did it for school safety. I want people to be safe, I want to feel safe. We are one of the only countries that do school shooter drills and that is messed up" he said.
Julia also said that she believes acting as a friendly face in the halls and making an effort to be kind to people is a way to reduce the probability of events like these happening again at schools in the future.
"I want to clearly state how everyone should go out and say hi or be nice to someone so that we have less issues with people who feel unwanted or out of control," she said.
In the Charger Online article published about the walkout before it occurred (linked here), the idea of a political forum was mentioned. Though not everyone who participated in the walkout was interviewed, those who were said that they would be in favor of a forum such as this in which they could speak about issues like gun violence and school safety with their local legislators.
Regardless of how they're going about it, it's clear that Carroll students are passionate about what's happening in the world today. They see the issue of gun violence on a national scale, and are passionate to make a difference about it however they can.
About the Writers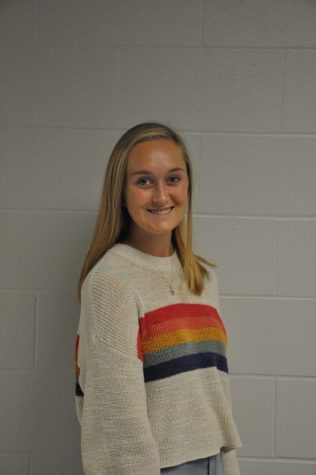 Hannah Harper, Editor Emeritus


Junior Hannah Harper is now in her second year of newspaper, after having taken journalism her freshman year. As this is her first year as Editor,...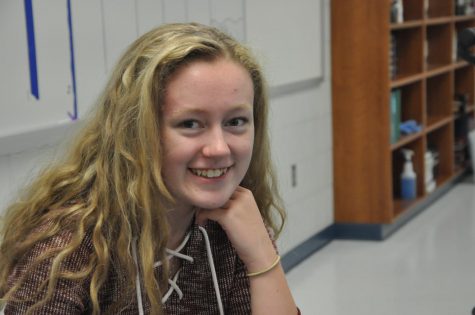 Tauri Hagemann, Opinions Editor
Senior Tauri Hagemann speaks with no hesitation when expressing what she would like to be remembered by: her writings.

Despite the amount of passion...