Basketball Preview: Filling Leadership Gap Will Be Key For Young Team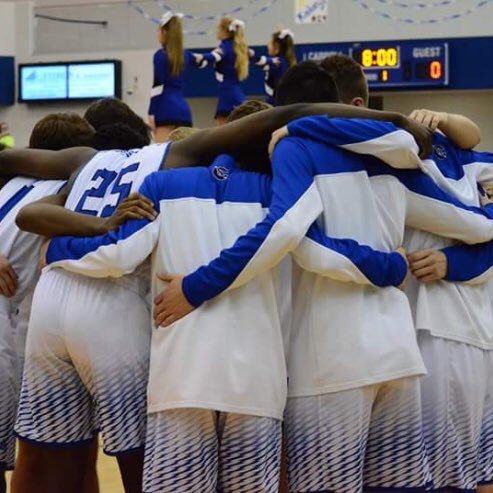 After winning the SAC Championship last year and posting a 20-4 record, this years boys basketball team will look quite different.
The Chargers lost three of their starters, Arius Jones, Reece Swoverland, and Riley Perlich, along with their top contributer off the bench, Nathan Fish. Combined, those four averaged 28.1 points per game last season but more than that, they brought great leadership to the team on and off the floor. Filling that void will be critical for the Chargers if they are to have the same success this season that they have had in the past.
Much of that burden will be placed on the shoulders of returning seniors David Ejah and Dan McKeeman. Being the only two returning starters this season Head Coach Marty Beasley expects stepping into the leadership role to be the next step for those two after they were the top two scorers on the team a year ago.
"They as Juniors they just had to be skilled, athletic, and make some shots for us and so forth, and follow Arius and the senior's lead in terms of what's gotta get done. This year now they need to first of all lead. They need to lead by example, they got to lead verbally, they have to compete every possession hard, they have to be senior leaders, because we need them to lead maybe more so than we need them to score" said Beasley.
To help them in leading the team, Ejah and McKeeman will be joined by fellow returning Seniors Preston Shearer and Luke Relue, but they will now also have the services and leadership experience of star Quarterback Gaven Vogt, a newcomer to the basketball team. While Vogt is a natural athlete, his main role this season will be to lead, something he has already started doing in early practices.
"Gaven's going to be a great leader, he's already started leading a little bit, he may not be able to do some things but his voice, losing Arius, Gaven's going to help us with the voice a little bit, he may not be on the floor as much but he's going to be on the bench, in the locker room, and you can already see his leadership" said Beasley.
On the floor one of the players that will need to step up this year is Junior Richie Gross. After being the first guard off the bench most nights last season, Gross will likely make the starting lineup this season, starting in the back court alongside McKeeman. He will be joined by fellow Junior Ray Vollmer who is making the jump to varsity full time after playing sparingly on the team last year but playing significant minutes on the JV team. For Vollmer, he will be looked to as one of the new members of the team that will have to play a significant role, with Beasley hoping some of his experience playing football at the varsity level will help him take the next step on the hardwood.
"Ray probably because he played a little bit of varsity at times last year and he's a guard who can handle (the ball) and he also came from another sport so he's had varsity experience he'd be the one who you say 'hey he's probably more ready than the other three'" said Beasley.
Another player that will play an elevated role for the team this season in Shearer. Last season he played admirably down low and was a solid option off the bench for the Chargers mostly in place of Perlich. While Shearer didn't display the ability to shoot the long ball last year like Perlich did, a trait that the Chargers will surely miss having in the five spot, Shearer showed skill on the glass and is the second highest returner in the rebounds category behind Ejah.
From there a lot of the players on the team this year are unknowns. Relue is the only other returning player to the Varsity team, Hunter Perlich and Blake Pocock have transferred to Churubusco and Angola respectively, however he didn't get many minutes last year.
The fact that there are only five returning players this season will be an issue for the Chargers to open the season and is easily the biggest hindrance to the team at this point.
"If we don't have the depth and we are only six, seven guys (deep) it's really difficult to play fast and do some things we want to do because of foul trouble, being tired whatever it may be, right now that's my main concern, is our depth" said Beasley.
Some of the players coming up that Beasley hopes can help ease that pain will be Sophomore Sam Strycker and Tyler Morrison. Beasley had praise especially for Strycker, someone who played well during this off-season to secure his spot on the roster.
"(Strycker) will buy us some major strength kind of like Riley did a little bit, Sam is pretty strong but a little more athletic than what Riley was" said Beasley.
The Chargers open their season Tuesday at home against South Bend Adams. Tip-off is set for 7:30 p.m.
Projected Starters:
Dan McKeeman
Richie Gross
Sam Strycker
David Ejah
Preston Shearer
About the Writer
Joe Hacker, Sports Editor




Joe Hacker in one of two returning members of The Charger Online staff. As Sports Editor last year, Joe wrote a piece called "Not Everyone...