Which Sport is Carroll's Best? (Part One)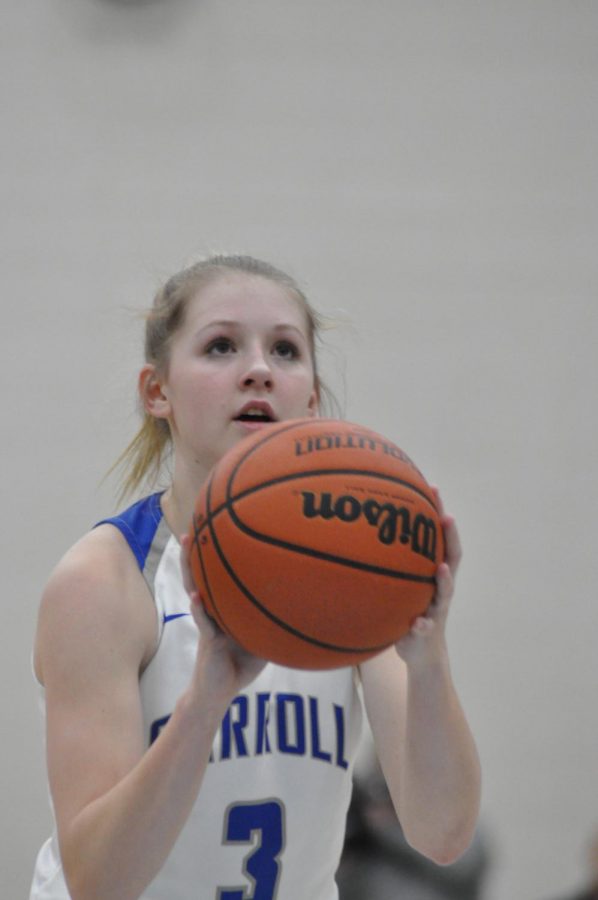 As one of the bigger schools in the state, Carroll is consistently one of the best schools in the area when it comes to sports and it seems that this year that success has started to turn into more state-wide titles, whether it be Regional, Semi-State, or even State.
What is the Carroll's best sport?
Cross Country (62%, 16 Votes)
Basketball (27%, 7 Votes)
Baseball (8%, 2 Votes)
Football (4%, 1 Votes)
Total Voters: 26

Loading ...

All of this begs the question, which sport is Carroll's best?

Well that is exactly what this article is meant to decide, and we'll be answering that question over the course of four articles, three will take a look at scoring and the fourth will serve as the conclusion where we will put the scores in order and discuss the results.

But first we need to define what makes a sport Carroll's best. To me that is about being able to have success across Fort Wayne and the state but more importantly being able to sustain that success and how has that translated to the collegiate level.

There will be three categories (Championship Pedigree, College Commitments and Three Year Outlook, which will look at last season, this season, and the 2019-2020 season). Each sport will get a score out of five in each category with five being the best score. Those scores will be averaged, giving us their final score.

I'll also note that for this exercise we will be placing a heavier emphasis on recency but past results won't be ignored entirely.

Now for the ground rules.

Rule #1: This is restricted to school sanctioned sports. That means sports like hockey, rugby, lacrosse, etc. will not be eligible no matter the level of success they have had.

Rule #2: Marching Band, Show Choir, Dance, and Cheerleading will also be excluded. While they are all sanctioned, there are arguments that none of them are sports which is an argument I am not here to settle so to avoid that we will all together remove the problem.

Rule #3: Boys and Girls will be scored together meaning that Cross Country will be looked at as one sport and there won't be a seperate score for the boys team AND the girls team.

Rule #4: There have been multiple instances in the past of Chargers winning individual titles. While those will be considered, given that it would take way too long to try and find all of those, we will focus on team titles.

That should do, so without further ado, let's get into it.

Baseball
Championship Pedigree: This one is tough. The baseball team has two of Carroll's four state championships so shouldn't that give them a five? Yes, but the last of those back to back titles came in 2011. In the seven seasons since then, the Chargers have won a respectable three Sectional titles, but that's it. Given that they won a sectional title and lost the regional final in extra innings, their score will go back up based on recency bias. This category gets a 4.
College Commitments:  I feel this is a good time to clarify that this category EMPHASIZES commits from the Class of 2019, which probably hurts this sport a little more than others  considering last season the Chargers had three players go on to play at the Division One level (Hayden Jones, Riley Perlich, Langston Ginder). However this year Bryce Ginder is the only baseball player that has announced he will be playing collegiately. Ginder will be playing at Indiana Wesleyan, which plays in the NAIA. This category gets a 2 ¾.
Three Year Outlook: As previously mentioned, the Chargers lost in the regional finals last year to Fishers who went on to win the state title a few weeks later. This season the boys are looking good and have gone 5-0 against teams in their sectional, making it a strong possibility they could make their second straight appearance in the regional round. However if they can make it semi-state is yet to be seen. Next year could be more of the same as lots of the Chargers key contributors are still just Juniors or Sophomores. "I think last year, we had a couple of returning players played in that sectional and regional game last year, so I think that we have a little bit of experience in positions that we need it, in our middle infield and our outfield we're gonna have experience so we have a lot of young guys but that's alright" said Senior Micah Fretz. This category gets a 4.
Avg. Points: 3.58
Basketball
Championship Pedigree: Basketball is tough. The team has won back to back conference titles and was playing for one in the last week of the season in 2016. But this is more focused on postseason success, an area the boys team has lacked in the past decade, with two sectional titles and a sectional and regional title in 2010. On the boys side I would have to go with a 3 because of the conference success and how difficult their sectional has been, adding on top of that the retooling they had to do this season after losing three starters after last season. Said Head Coach Marty Beasley, "For a group of guys who we had a new team coming back. I think that's a huge, huge accomplishment and that's something they'll be able to say they did the rest of their life". The girls on the other hand have not been anywhere near an SAC title (see: Homestead High School) but have won three straight sectional titles to go along with another sectional title in 2014. That said, their sectional is incredibly weak, one of the worst in the state. This category gets a 3.
College Commitments: Kate Schlatter is the only one of the three seniors on the girls side to be moving to the next level, playing at Grace College next year. The boys side is a different story as David Ejah and Dan McKeeman led the team as two of the best players in the city. As a result, both will be playing collegiately next year, with McKeeman going to Cedarville University and Ejah staying in town to join St. Francis. Throw in Arius Jones with some Becca Villanueva and co., this category gets a 3.
Three Year Outlook: Most of this was already touched on in the championship category so we'll focus on the future here. For the boys, there are some solid pieces returning. Richie Gross and Ray Vollmer will return after being starters this past season. Ryan Preston and Sam Stryker played well this year coming off the bench and Jalen Jackson looked fantastic in helping lead the failed comeback against Northrop in sectionals. Those five will likely be the starters to begin next season and there are some big bodies like Jackson Stenger and Logan Lankenau that could make the jump to varsity next year. Stenger would be the most likely of the two to make that jump given that he will be a Junior next year and Lankenau will be just a Sophomore but is also the bigger of the two so it just depends on what attribute Head Coach Marty Beasley prefers. Either way I don't expect the team to take a significant step back. I do expect the girls to take a significant step forward though. They return all five starters and some nice pieces from off the bench. They showed much improvement over the course of last season and the experience of playing against Hamilton Southeastern, who went on to win the state title, in the regionals last year should serve them well. Unfortunately they will still have to play two very good teams to make it past regionals as they have a stacked regional with teams like Homestead, Zionsville, and HSE consistently meeting up with them in that phase of the tournament. This category gets a 3 ¾.
Avg. Points: 3.25
Cross Country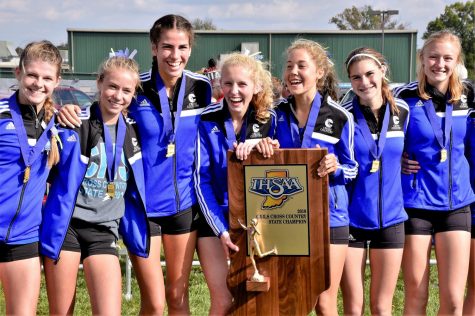 Championship Pedigree: And it is here that we find the Chargers other two state titles. The boys and girls teams have each won state titles in the last four years and the girls team did so after three straight years placing as runner up, at least one of which was a year in which they certainly would have won the title had it not been for a slew of injuries to top runners. The year before the boys won state, they got fourth at the finals meet and won Semi-State. "The (cross country) placings have reflected the hard work and dedication that the team has put in through tough seasons. The program has really evolved these past few years with the help of amazing coaches and leaders" said Meagan Hathaway. The boys have since fallen off, which will hurt their score, but given how good the girls have been, this category gets a 4 ½.  
College Commitments: Cross country has a combined five college commits this year. Three boys will be running cross country at PFW (Cole Powers, Cory Waldron, and Weston Miser) and two girls will be running collegiately. Both Abby Green and Meagan Hathaway will be running in the Big Ten next year, with Green attending Indiana University and Hathaway taking her talents to Purdue. Last year the girls sent Maggie Falater to college athletics. Connor Goetz from the boys team has had great success at the college level running for Oakland. This category gets a 4.
Three Year Outlook: The boys brightest days fall just outside the three year range we are looking at. They finished seventh two seasons ago and didn't qualify for the finals last season (Cole Powers advanced as an individual). The girls make up for most of that with their title and runner up finish as well as the fact that they will return a strong group of runners that will include Zoe Duffus and Rayna Fruchey. This category gets a 4.
Avg. Points: 4.17
Football
Championship Pedigree: I won't try and beat around the bush on this one, frankly the football team hasn't had much success in the postseason. Outside of three sectional titles in the Tranquill era, there's really nothing to show here. The team has won only two other sectional championships, one in 2001 and another in 1998. This category gets a 2 ½.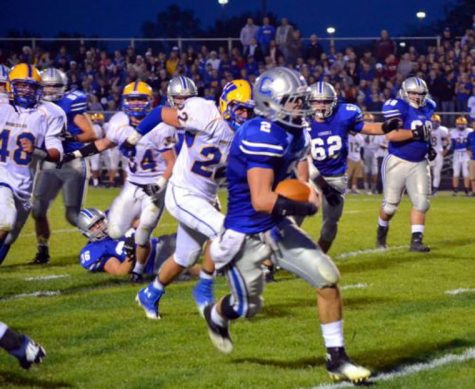 College Commitments: The boys from the gridiron do much better here as plenty of football players go on to the next level, including five this season. The most notable of the five is easily Camdyn Childers who will join Purdue as a preferred walk-on. The trio of Gaven Vogt, Terell Griffin, and Nathan Harrah will play for St. Francis and Collin Beeks will be playing at Manchester next year. This category gets a 3.
Three Year Outlook: This year and last have essentially opposite records so we'll just go ahead and cancel them out as the sectional draw is the difference between those seasons. Next year looks bright for the Chargers. They have a mostly new sectional next year that should give them a better shot at winning a title. Only three players from the offensive and defensive lines combined will graduate. The cornerback and safety positions will both be filled by returning starters and two of the four starting linebackers will be back. The only place where the Chargers will really be hurt is on the offense. Their starting quarterback, two outside receivers, and running back are all graduating. While the Chargers may not thrive in the SAC, their chances of making it out of their sectional next year are much better than they have been the last few years. This category gets a 3 ½.
Avg. Points: 3
That'll do it for part one. Part two will look at golf, gymnastics, soccer, and softball.
About the Writer
Joe Hacker, Sports Editor




Joe Hacker in one of two returning members of The Charger Online staff. As Sports Editor last year, Joe wrote a piece called "Not Everyone...