The Mask We Share
Makeup helps students enhance self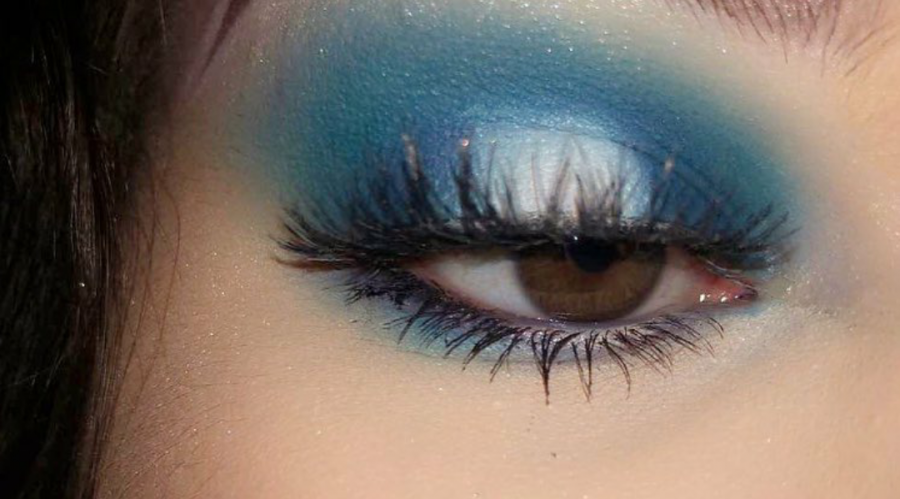 Makeup is more than just Passionate Petal lipstick or Tarte Shape Tape concealer. It's a way for people to show their true self in a way they can control.
What lays behind the makeup is the soul. Makeup is only a mask that highlights the appeal within those who wear it.
Women and men paint their faces in bright blushes and bold eyeshadows to show their own idea of beauty.
Some students wear makeup to feel more feminine.
Some students wear makeup to express an art form.
Some students wear makeup for an interesting Instagram post.
And other students just wear makeup because they enjoy makeup.
"I keep doing my makeup because of the idea of femininity for me and what it takes to be feminine but lately I haven't been doing makeup because I'm trying to trust myself without it."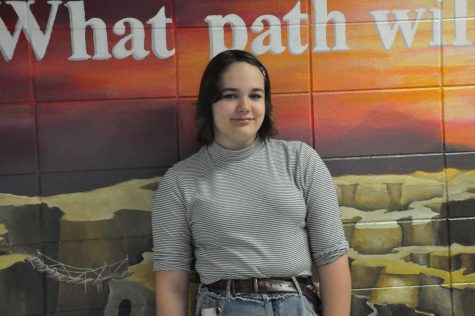 Since 7th grade, Grabner has identified as transgender. She has undergone a male to female transition. With her transition, she has been doing makeup to help with her femininity.
Grabner first started learning makeup with her love of drag.
"At a young age I loved drag culture so I started doing different looks based on the queens," she said.
She says she has not got any negative comments in the past year unlike in middle school, where she received negative comments. She recalled being made fun of because she wore purple lipstick one day in middle school.
The sophomore still does her makeup everyday. As a transgender student, Grabner feels that makeup helps her be more feminine and helps her look like she feels.
"My main motivation is to feel feminine because most days when I wake up I just don't feel as feminine as I want to and I need that extra push to make myself be comfortable," she said.
Grabner recommends not spending a lot of money on make up until you learn how to wear it.
"Drugstore brands can make you look great, but if you want that better quality you might have to save up a bit," she said.
While she is always learning on how to be better at makeup now she feels totally comfortable wearing it. As she went through her transition, makeup been a staple to her femininity.  As Grabner is still going through hormone treatment and completing her full transition, makeup has been a great solution to feeling feminine in everyday life.
Makeup for Grabner has been a way to control her femininity and to express what she is on the inside to other people who may not understand her.
"I think I constantly do my makeup when I'm down to bring myself up."
Alanna Potter, aka HoneyMochi on TikTok, is a junior that doesn't only wear makeup for herself, but also for her followers on TikTok. TikTok has been an outlet for Potter to do makeup and to express herself in a place where people can see it.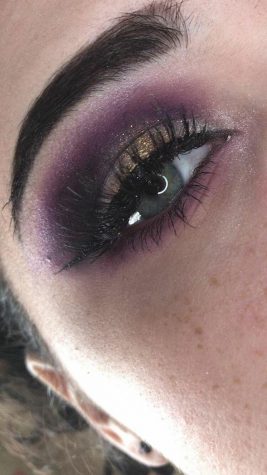 Potter has been on TikTok since 2015 and while she doesn't only do makeup for TikTok but she finds yourself expressing different looks on TikTok. " And I usually do it to make TikToks for my viewers," Potter said.
"I got interested in makeup because I had really bad acne and I needed to cover it up." Potter at the beginning of her makeup experience chose to use makeup as a blanket to her insecurities. However, today she is much more comfortable with makeup and uses it as a way to express herself.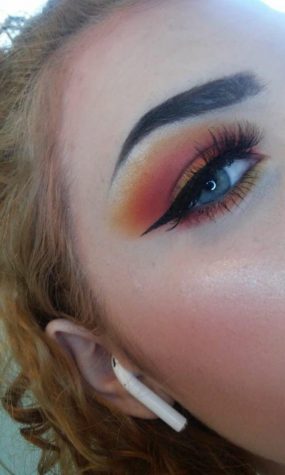 In recent years, Potter has used makeup to express herself and to show the world that they can enjoy makeup as much as she does. well yes, she has dealt with some negativity during her experience and experimenting with makeup.
"Sometimes I have the lightness foundation shade with a company so if I don't have enough contour or the lighting is bad I get called "Flashback Mary"."
Even though she has dealt with these slightly funny remarks, she has overall experienced a great history with makeup. Potter uses her ambition and confidence to highlight the fact that she is talented at makeup and that she wants to show others that talent.
Makeup for Potter has been a way to express yourself and allows her to highlight her confidence. While she does post on social media of her look she doesn't do it because she wants a good Tik-Tok video, she does it for her and makeup has become a way to be confident and to feel better about herself.
"I just love sitting down in front of my mirror and creating. It's like therapy to me, my happy place."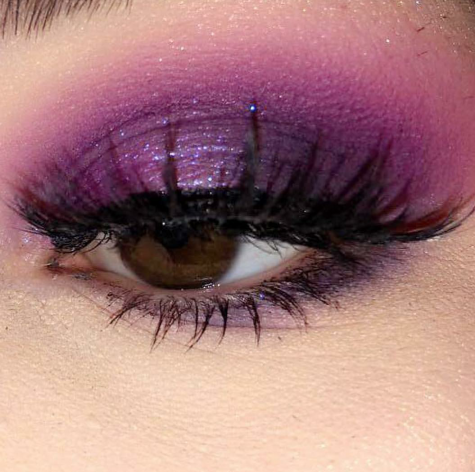 For Avery Butler, a junior, makeup has become an escape and a place where she feels comfortable as herself. Since she was a little girl she has been inspired with makeup because of her mother and older sister.
Butler says, "I love using my face as kind of like a canvas." If there is a different color family or a different look every day there is a goal for Butler to change something about her look.
With  Butler's desire to change this up with her makeup she said, " I think the creativity and the confidence boost it gives me motivates me."
As  Butler is always trying new things she also posts some of her looks on her makeup Instagram account makeupby.averyb.
Even though Butler has had mostly great interactions about makeup she would go on to say, "I always get the comments "Are you just insecure" or "You're just fake, and the worst one, take her swimming on the first date."
While there are these negative comments there are way more positive things that come with makeup such as her Instagram, her confidence, and the creativity she has gained while doing makeup.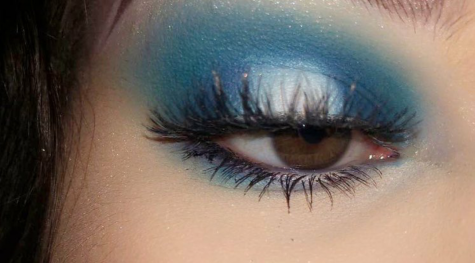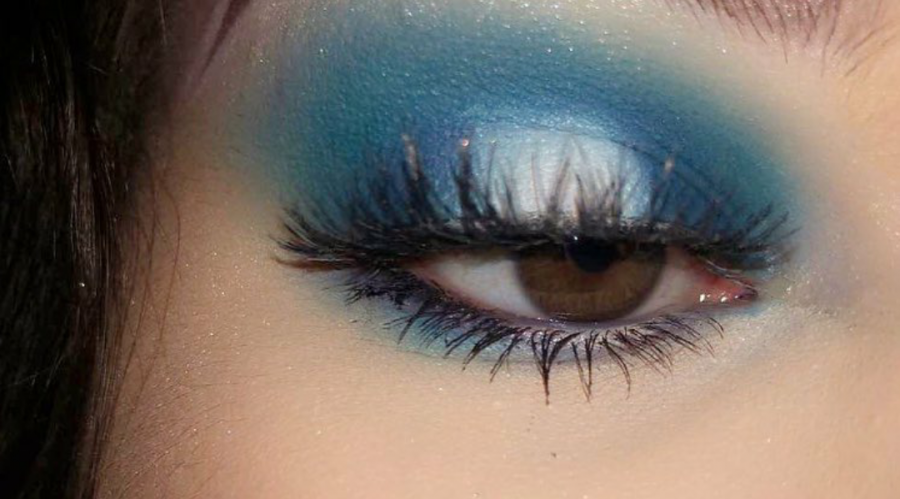 Butler has been doing makeup since she was a middle schooler and has been posting on Instagram on December 30, 2018.
As she said makeup has been in the escape for her. She has found comfort and relaxation from painting her face like a canvas. For her makeup is a way to express herself and to show her own beauty to the world if that's at school or via Instagram or just her everyday life.
"One time someone made me laugh so hard the I started crying during a show choir competition and my eyeliner turned into a Smokey eye."
Jacob Fox does makeup for show choir which includes eyeliner and Foundation. Fox has been a member of Minstrel Magic for one year.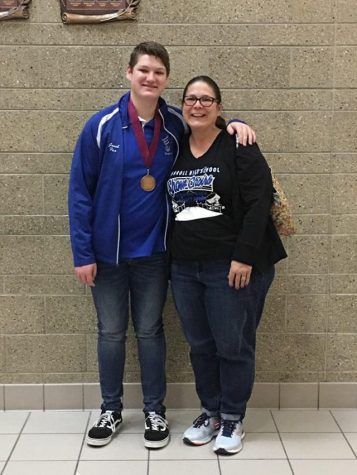 "My motivation is so that I don't look greasy on stage and also to bring out my eyes."  Fox doesn't wear a lot of makeup but still wears makeup to become a better performer and more accurate of his songs during show choir.
As a performer, Fox must wear makeup to look presentable to a crowd which happens to be the majority of the year due to show choir's demanding schedule.
He paints for the stage and as a performer, it doesn't matter until the lights come on how he looks. But when it is show time Jacob makes himself look an ideal of perfection.
Makeup is used by Fox as a way to elaborate his artwork as a performer. It covers up his imperfections and makes him a blank canvas to sing in front of thousands of people a year. Even though Fox is a boy he puts on makeup to accentuate his voice, not to look pretty.
Some students wear makeup to feel more feminine.
Some students wear makeup to Express an art form.
Some students wear makeup for an interesting Instagram post.
And other students just wear makeup because they enjoy makeup.
No matter which way people show themselves with makeup it's only a mask the elaborate and Express their own personality and beauty. many students hide behind what they think everyone wants them to be but makeup has been an opening for other students to express themselves in an apologetic way that they can form and control.
Makeup isn't just what is applicable to the face it is a way to express a voice unheard by most.
Makeup is a mask many students share however what is behind that mask is the true beauty.