Yearbook class captures memories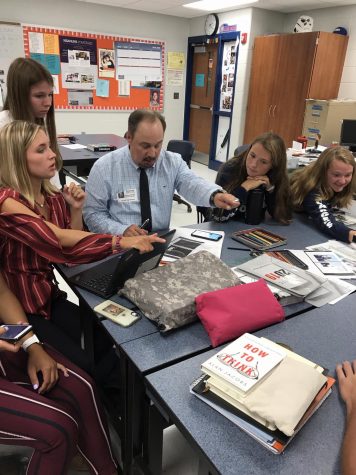 Each page, full of memories. Each page, capturing moments of students lives. Each page, bringing smiles.
The yearbook of Carroll High School is just one of the many ways the student body is represented. Every year, students have the opportunity to purchase a yearbook. 
The yearbook covers a variety of topics including clubs, sports, select sound, prom, and student life. Although the yearbook class only contains about 30 students, these students are able to create a remarkable yearbook that can be enjoyed decades later.
"We try to get little things because I think we remember the little things. I think the drinking fountains are important as ridiculous as that sounds because there's a cold one and there's a warm one. Like you don't want to warm one, you want the cold one," said yearbook teacher Mr. Beckley. "It's the little things like that that you remember." 
From the drinking fountains to memories on a sports team, highschool comes with a wide variety of stories to be told.  
"I think it will be really funny that people will look back at the yearbook from Carroll High School in 2019 and think everything was so weird," said junior Lily Mettler. "How are we going to explain Hydroflasks and crazy football game themes to our kids?"
There are many things that go on behind the scenes that allow the Carroll High School Yearbook to be a student favorite. When designing a yearbook, each page is blank. There are no words or pictures. It all starts from scratch. 
The first step of creating a yearbook is developing a theme, with each yearbook having a new and unique theme. But how is each theme decided? 
"This year our artwork and themes were decided over summer camp down at IU," said yearbook editor Graham Ruselink. "We worked with the yearbook supervisor his name was Sam and he helped us come with an idea and what we wanted to look like."
After deciding the theme, the yearbook class went to work on assigning roles and squads, a new addition to the yearbook process this year. Each squad contains three students, with one of the three students having yearbook experience.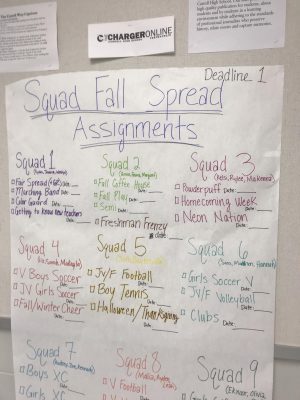 "In each squad, one person is in charge of the photography, one person is in charge of the story, and one person is in charge of the page design," Graham said. 
The purpose of splitting the yearbook staff into squads is to ensure that the yearbook staff covers as many topics as possible. 
"My squad is in charge of girls golf, boys soccer, and the AP Lang New York trip. I am going to be the writer, but our group can rotate between being photographer, writer, or page designer," said Eknoor Sethi.
With each student having the opportunity to expose themselves to new roles, the yearbook staff can develop a variety of skills from journalistic writing to sports photography or graphic design. Editors learn skills of leadership and responsibility, while the remaining staff learns communication skills and group collaboration.
"What I enjoy most about being the editor is taking charge and planning things out, getting organized, and helping the rest of my staff learn," said Ruselink. "The story part is really fun because you meet new people, learn new things, and it's really challenging to branch out there and dig deep into Carroll High School's student's lives." 
In order to ensure that all activities are covered, the yearbook staff works every day during the school year. Since there are many spring activities and sports, the yearbooks are not officially ordered until the end of May or the beginning of June, meaning yearbook distribution must occur the following school year. 
"A lot of teamwork goes into distributing because there are so many boxes of yearbooks and the whole school is ordering them," said Sethi. "There's just one yearbook class opening the boxes and sorting through them by homeroom. The whole process is chaos but it's worth it."
Since the school orders around 1250 yearbooks, the distribution process can be long, but for the students, it is worth it, looking back on the past year and reminiscing on high school memories even decades later. 
"My favorite thing about the yearbook is looking at all of the different groups and senior quotes," said junior Evy Murphy. "I also love seeing the basketball page every year."
For students, the joy of yearbook comes in funny senior quotes and memories of school dances, but for the staff behind it, the joy comes in the process.
"I like putting these together. The more I learn about it, the more I love it," said Beckley. "It's because of the work you do that you get these products that the kids put together."
With the distribution process complete, the yearbook staff can now begin creating the yearbook for the 2019-2020 school year. This year's theme development is already underway. 
"We put a lot of hard work into yearbook and this year's theme is going to be really interesting and fun," Graham said. "We are trying to include as many things as we can this year and we are trying to make it amazing." 
About the Contributor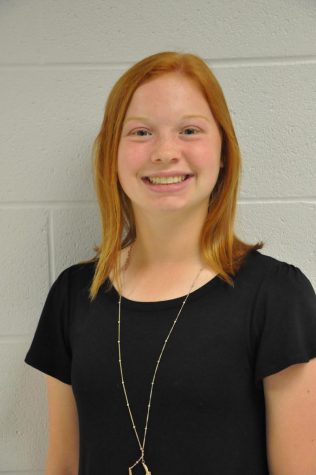 Emily Linder, Staff Reporter
Emily is a junior at Carroll High School and she is a first year staff reporter on the Charger Online. She decided to join newspaper due to her desire...