Student fends off cancer, re-enters school
Victoria Valentine's 3-year-fight for survival, normality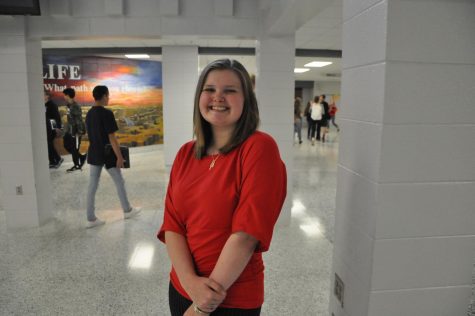 Victoria Valentine's first day of eighth grade was filled with the overwhelming feeling that something was wrong, yet not knowing what.  She knew something was not right, but the doctors had no answers. 
During her first semester of her eighth grade year, she didn't know what was wrong but just knew there was another blood test just around the corner. 
She was diagnosed with leukemia and was subsequently pulled out of school in the second semester of her eighth grade year. 
The diagnosis caused her to miss her freshman year.
"It sucked but there was nothing I could do about so I became more optimistic," she said.
She tried her best that first semester of being out of school to keep up with the school work while also remaining focused on getting better. She was chained up in bed most of the year for her treatment and was not allowed to go outside for her safety.
Even though the difficulties of just surviving were overwhelming, Victoria chose to stay positive. She made a Facebook support page for her cancer journey and to try to reach out to several of her friends.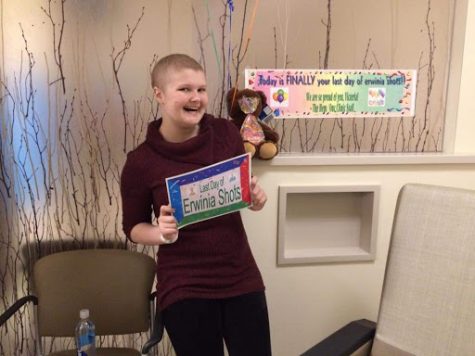 The support was overwhelming as people bought her shirts in eighth grade, providing her with transportation between the hospital and her home. While she was in treatment, several teachers went to go see her and even more, students showed their support.
"I felt alone but cared for," she said. "It's weird but I had no friends there but my family cared so much for me."
During her time at Riley Hospital for Children, Victoria tried her best to keep up with her schoolwork. She was given a little assistance during her treatment. 
She was a good student and worked ahead in middle school but her time at Riley made it impossible to keep up and not fall behind in her school work.
Victoria pushed herself and kept up during that second semester of eighth grade and the start of her first semester of freshman year.
The workload became too much to handle with cancer treatments and after five days of being a freshman, Victoria withdrew from school.
"Dropping out made me mad I wanted to graduate with my class and this stopped me from being able to without stressing myself," she said.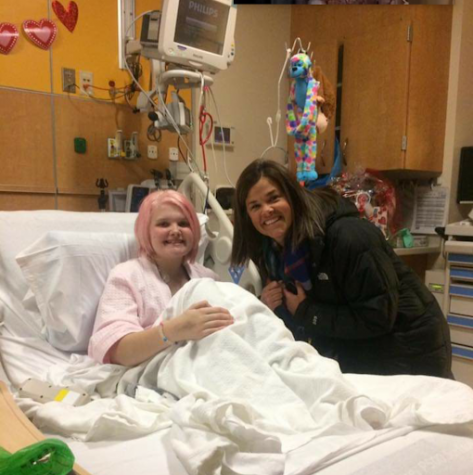 For Valentine the feeling of defeat was overwhelming. For most of her schooling, she was always the head of her class and took much pride in her school work but now she was a dropout fighting cancer. 
Valentine wrestled with the feelings of loneliness and being misunderstood by the rest of her grade.
"I feel everyone thinks I'm stupid even though they understand that I had cancer but it just makes me feel dumb," Victoria said.
Even though she felt isolated from the rest of the world, she found great comfort with her family and very close friends which would come and visit her. During this time she relied quite heavily on her relationship with her family.
As her health increased and she was more able to attend school, she found herself behind and would have been considered a sophomore when she came back. Being that the student body regarded her as a junior from the year previous, it was quite a change for Valentine. 
She felt almost as if she was being punished for having cancer. She didn't want to spend her entire summer in school just to keep up. The best option was just to be a freshman again and graduate in 2022.
Even though Valentine will be in high school for a year longer than what she was expecting, she is now done with her chemo and steroid treatment since the summer. She  is expected to be in remission for the next 10 years.
Within her short time being back from the hospital, Valentine is optimistic for the future. Valentine is excited to be back at school and be near her friends.
"It's awesome to be back and normal at school," she said. "It's hard but I love it!"
About the Contributor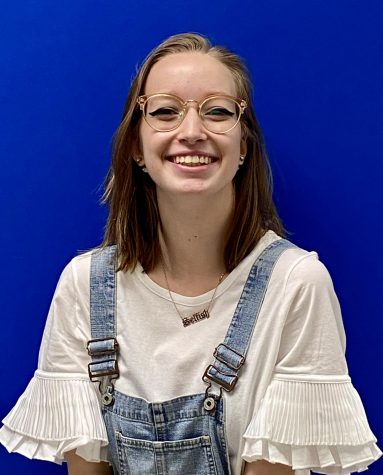 Julia Hess, Editor in Chief
Julia Hess is a junior who has been part of the Charger Online for a year. While she is in the newspaper she also does other activities that have contributions...