Football season starts off strong
Close loss to Snider follows domination of Bishop Luers
As the 2019 season kicks off Carroll Football is looking to make a quick turn around from last season, when the Chargers finished only 3-7. But Carroll played much better to start the 2019 season, beating Bishop Luers 42-0 at home. The defense was on a different level that night, a level that the Knights couldn't handle on offense. Larry Sible (33) led the team with 2 sacks and both Aaron Jacquay (16) and Reeve Muncie (55) recorded one sack each. But the defense didn't just get to the quarterback. They also forced turnovers. Cornerbacks Cade Dinan (4) and Nick Hull (31) both had their first interceptions of the season and will surely be looking for plenty more as the season continues.
Not only did the defense do their job, but the offense did too. Quarterback Jeffrey Becker (9) completed 16-30 passes for 224 yards, and Layton Mitchell (19) led the Chargers in receiving with 6 completions for 86 yards. But the passing game wasn't the only aspect of the offense that got the Chargers into the endzone. Running back Evan Harris (27) led the running attack with 90 yards on 20 rushing attempts. The next week, the Chargers took on Snider.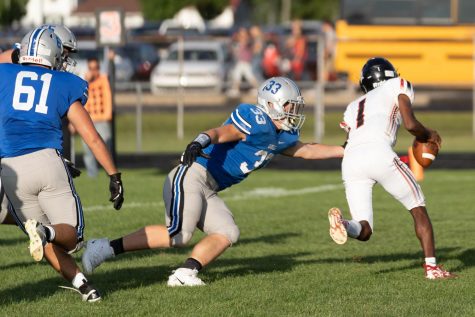 Last year the Chargers had an outstanding victory over the Panthers 38-14. But this year, the Chargers left the field heartbroken, losing 21-20. This is despite the great effort Carroll gave against an especially talented Snider team. QB Jeffery Becker (9) threw for 250 passing yards with 3 touchdowns, and tossed one interception, while completing 60.7 percent of his passes. WR Layton Mitchell (19) had 5 receptions for 100 receiving yards and 3 touchdowns.
Not only were the receivers doing their job but tight end Eddie Bransfield (24) had 3 receptions for 50 yards, and averaged 16.7 yards a catch.
Like the offense, the defense was effective in doing their job. Safety Hunter Mertz (10) had a total of 6 tackles, and Liam Ottenweller (32) registered one tackle for a loss.
The Chargers are looking to play the Panthers again in the postseason. The team's next game will be Friday, September 6, 7 p.m. against North Side High School.