Size, population intimidates newcomers
Freshmen fears, not as bad as they seem
Walking into unfamiliar doors comes with a swing of emotions. For some, a new situation brings happiness; the happiness of meeting new people and seeing old friends. For others, a new situation brings fear; fear of where to go, how to fit in, what to say, or of doing something wrong. 
For some students, when entering high school, there's nothing better than the thought of both middle schools merging together as one. With the two schools being split, it makes it difficult for students to see friends if they go to the other middle school. 
"I like getting to hang out with my friends from Carroll Middle that I had because I went to Maple Creek. You didn't really get to do that in middle school," said freshman Kevin Weaver.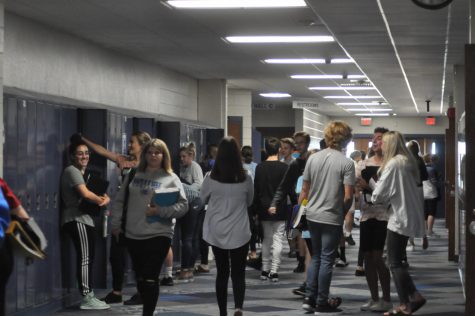 For other students, emotions of anxiety are present when they walk through the doors of a high school. Moving from a class of 300 students to a class of 600 can cause such unease. 
To combat this, the high school offers a wide range of activities that allow students to feel more comfortable with their peers and surroundings prior to the first day of school. One of these events is the freshman Jumpstart, an opportunity for the freshman to walk the building and meet students and staff as well as their homeroom mentors.  
"The biggest fear I had was not knowing where my classes were. I felt more comfortable knowing where I was going to go," said Grace Kadziolka after attending the freshman Jumpstart. 
Freshman summer gym is another opportunity students can use to expose themselves to others and the building. By being at school with others during the summer, students can meet new people, compare classes, and talk about summer break as well as welcome students who may not have belonged to the NACS district prior to high school. 
"I took summer gym, so that kind of helped me meet some new people," said Ty Kindler, a new student to NACS. "It was not as bad as I thought it would be to meet new people." 
Although high school is more strict than middle school regarding grades and homework, high school opens up many opportunities for students to get involved and take classes they are interested in. From team sports such as soccer and football to clubs such as Enlightened and Chargers Fighting Cancer, there is always an opportunity for students to become more included in the student body. 
"I play football and I started going to clubs, so I did board game club and I really liked that," said freshman Tony Cavacini. "I like that you can involve yourself in more activities in school other than your schoolwork." 
Similarly, team sports and clubs allow connections between upperclassmen and freshman. This bond allows the freshman to have students they can look up to for guidance while additionally helping to expand their friend group beyond strictly the freshman campus. 
"I am in marching band. Being able to meet upperclassman is one of my favorite things about that," said student Corbin Kemerly. 
Because the freshman campus is split off from the 10-12 building, it can be hard for students to interact with upperclassmen.
"I don't like how the freshmen are separated," said freshman Ainsley Mitchell. "I don't get to see any of my upperclass friends and the freshman building is like being in a smaller middle school." 
While this is true, some students feel the separation of the two buildings allows for less commotion in the hallways as well as an easier transition into high school for students, making the experience for some more pleasing and less fearful. 
"A lot of people when I asked them about the separation of the buildings before school started said it was not good and they wish that they were with the 10-12," said Laney Conner. "But I kind of like it because you're still meeting people and it would just be a lot if you were with the rest of the school." 
About the Photographer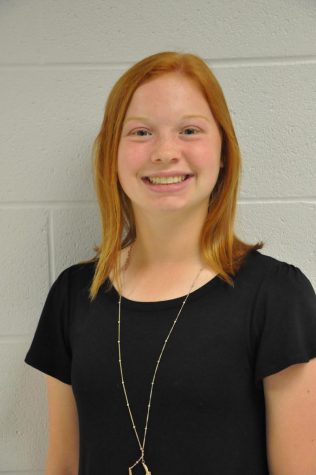 Emily Linder, Staff Reporter
Emily is a junior at Carroll High School and she is a first year staff reporter on the Charger Online. She decided to join newspaper due to her desire...