Exchange students navigate America, share same house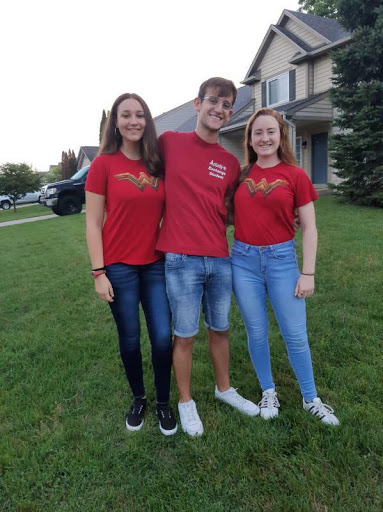 In the face of the new school year, five exchange students were introduced to life in the United States and had to navigate the first days of school in a different country by themselves. 
Luckily Maria Gonzalez Santamarina, from Spain, and Alessandro Brazzo, from Italy, live with the same student–Junior Etheny McCall.
Before school started, Maria and Alessandro met their host family and each other. For the time they had before the first day, they had to overcome being new to not only the school but the country. 
Having two exchange students in the same house relieved a lot of stress because Maria and Alessandro could relate to each other and were both considered outsiders to the typical American.
In both Maria and Alessandro's journeys to America, they had to overcome the feeling of being an outsider in school, then having to conform to different social standards, learn and fluently speak a different language from their native tongue, and conform to America's standards.
This time last year, Maria was scrolling through pictures of her friends who were once American exchange students from Spain.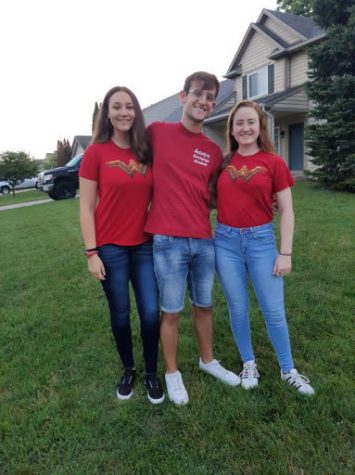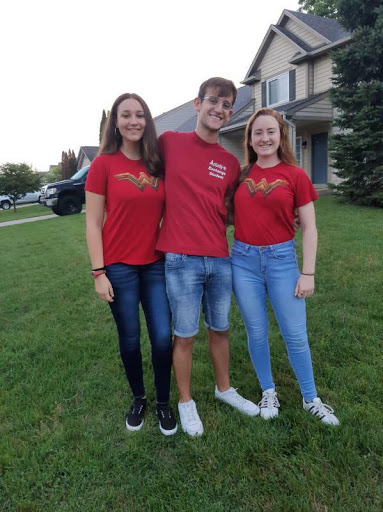 It took 4730 miles for Maria to leave Spain. After two flights and a couple of car rides, Maria finally was introduced to her host family and America.
While being included in her host family she realized that Alessandro Brazzo was also being housed in the same family. As it is the first time Maria had been to the United States there were plenty of new things. 
"My favorite part of being an exchange student is the fact that everything is new," said Maria.
School is a vastly changed experience for Maria. As in Spain students gets off at 3:30 and then arrive home to have lunch. 
Also, something different from Spain is how big school is. Compared to her last school Maria found it quite overwhelming the population at school and how many classes were offered.
She was used to having the same classmates in every class in her old school. She was happy choosing her own classes for once.
 "But the first days were terrible, I felt so bad and I missed my friends," said Maria.
Maria felt sad and missed her friends and family back home. She won't be able to see her parents while here, she does get a phone call with them once a week. Also, Maria does enjoy taking a break from English and speaking Spanish during her family's calls. 
"Everything is different," said Maria.
Maria has experienced a culture shock and is enjoying the fun new opportunities in America.
When Maria first came to the U.S. she referred to it as being like the movies. She had seen from movies and media however, experiencing it was exciting.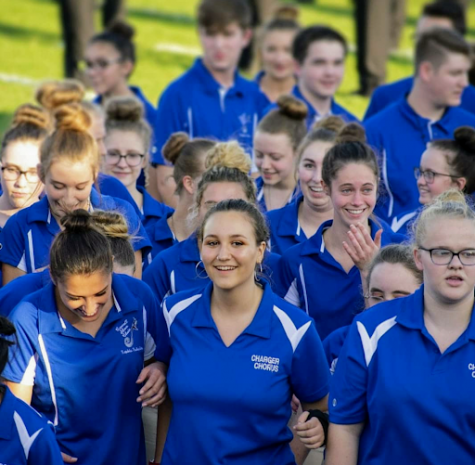 Maria has made friends with her host family. Which has two other junior's in the house, it made the first couple of weeks easier.
"I think my biggest goal is simply having a good time here with my host family and my friends, improving my English, and learning a new culture," said Maria.
While Maria experiences the complexities of America she's excited to see new things and experience things she wouldn't have in Spain. Also on Maria's bucket list in the United States is semi-formal and prom.
Maria is looking forward to new possibilities and understanding a new culture. 
"I'm really grateful for Carroll high letting me be part of this experience, for all the people that I've met and have helped me," said Maria.
On the other hand, Alessandro started his journey with his love of traveling and his dream to see America.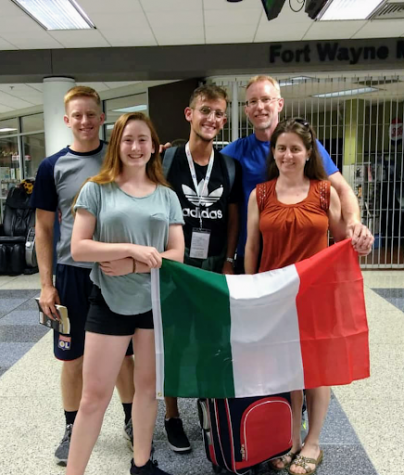 To complete his dream Alessandro decided to be an exchange student for the 2019-2020 school year. By choosing to be an exchange student, Alessandro sacrificed his senior year in Italy.
"I'm living my dream," said Alessandro.
His motivation to come to America was to seek the experience of traveling and being somewhere new, he is finding that America is everything he dreamed and more.
In Europe, Alessandro hoped the United States would be just like the movies with the yellow school buses, the lockers in rows, and football games, and America hasn't disappointed in those things.
Alessandro has enjoyed everything America has to offer even though sometimes things take him by surprise.
 "I want to have fun like I never did and I want to live my life at 100%," said Alessandro.
As this has been a dream of Alessandro for quite some time he is driven by the idea of enjoying everything he possibly can during his time here.
He plans on experiencing as much as he possibly can and he has enjoyed the football games and pep rallies which he has attended to so far.
His time here he is also very excited about prom and other activities that aren't provided in Italy.
"I feel like I'm living inside a movie," Alessandro said.
He is finding quite interesting the differences between Italy and America.
As one of the major differences between the two nations is the language. He recalls saying goodbye to his friends and family is one of the most complex things to do. He is finding it to be easier with time and one of his bigger goals and America is to be better at English.
Compared to his life in Italy, the United States is different and much more complex than he was expected.
"Eating the American food is something so strange for me. A lot of things about food are so different and I miss eating pasta so much," said Alessandro.
Alessandro was slightly taken aback by how different food is in America. He recalls there being so many more options and diversity in the food selection.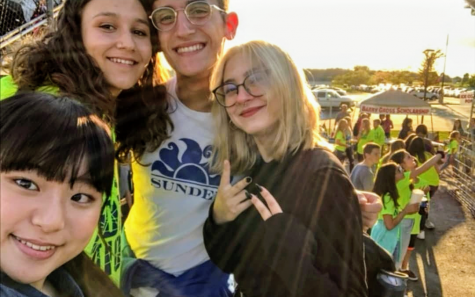 Even with small things such as food Alessandro is finding America is much more complex. While some things are proving hard to get used to he is finding that all the new things he's experiencing are pretty enjoyable.
As it is so vastly different from his life in Italy, Alessandro sometimes finds it difficult to be in America sometimes due to the fact his family is so far away and everything he wants to do is now so much difference.
"Sometimes I feel like I'm giving up but I can't do it, I have to do it for all the people that believe in me and for that Alessandro who always dreamed all of this," said Alessandro.
He finds it quite difficult to be in America, he is quick to erase those thoughts as this is something he's dreamed of for so long that it seems worth the tiny struggles.
Alessandro is really looking forward to living one of his dreams and also becoming a changed person by the end of it all. Within this school year, he is planning to experience as much as he can and become rich in the culture.
"I'm meeting a lot of people and I'm doing so many things that in Italy I wouldn't ever do," said Alessandro.
As both Maria and Alessandro have experienced most of the journey together because they share the same housing family it's been quite an adventure for Etheny McCall.
Etheny is a junior who hasn't host exchange students since she was very young. This year her family decided to give it one more shot as they hadn't done it in several years. Within her small-time actually housing she has grown as an individual and is really excited for the adventures ahead.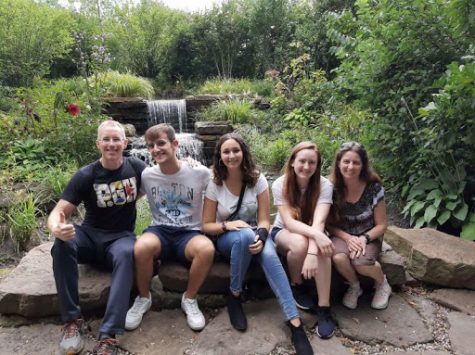 "Having two exchange students is always an interesting experience. It brings so many new things to the table," Etheny said.
Etheny recalls growing l while the exchange students she hosts are also growing. 
While Etheny has been hosted she feels as if she is open horizons and seeing things from a different perspective because of this experience.
"It opens your mind up to so many things and makes you a more flexible person as you learn and grow alongside these incredible people," Etheny said.
She makes it a mission to allow the exchange students to experience as much as possibly can during their time here.
While the exchange students are experiencing all of these new and different opportunities in America Etheny also is experiencing things in a whole different light. Even with the small difficulties and struggles that Maria and Alessandro may experience during their time in America, Etheny chooses to look at it as a potential for growth.
"But, these are things that aren't permanent struggles and growth is always seen," Etheny said.
While she hosts Maria and Alessandro during the year Etheny hopes to see each of them grow and develop while also having a great time with new people.
"Simply treasuring each moment is such a major aspect of hosting that I try really hard to hold onto," Etheny said.
Maria and Alessandro are looking forward to challenging themselves and experiencing things they wouldn't have in their home countries.
The school year will be different than anything they have experienced they are looking forward to changing and understanding things from different perspectives and just enjoying their time in America.
While they both are going to experience different things during their time here. They have each other to rely on and relate to during points in which seem overbearing or overwhelming. With the help of their host family and their housing student Etheny, this year will be life-changing for both of them.
Maria and Alessandro are both glad they get to have such a different experience than what they're used to in America and are looking forward to the rest of the school year.
About the Contributor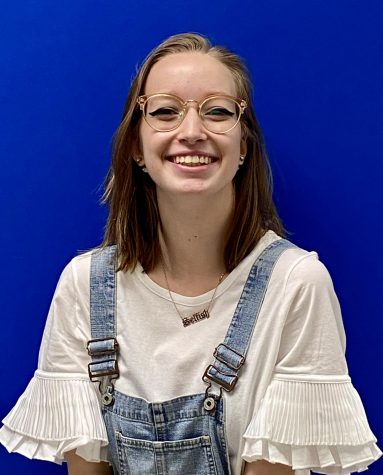 Julia Hess, Editor in Chief
Julia Hess is a junior who has been part of the Charger Online for a year. While she is in the newspaper she also does other activities that have contributions...