Bullying policy involves administration, clubs
Bullying has been an issue among students for decades. With the updated Anti-Bullying School Policy, administration has the opportunity to get more involved.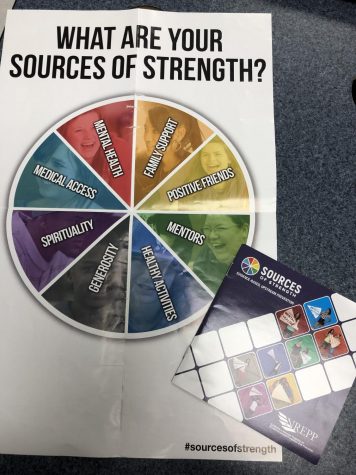 The basics of the Anti-Bullying School Policy are, in a case of a student reporting a bullying incident, the administration has to report it and from there they can investigate further if enough information is given. 
 "You should always feel comfortable coming to an adult or another student in this building to talk to and get help," Sources of Strength leader Mrs. Rachel Fox said.
Some students may feel like they can't talk to another student or adult at the school.
 "I feel like for some people it's hard to open up and talk to people about your problems. A lot of students feel that way, especially when it comes to problems like bullying," Senior Gwen Cook said. 
This is where clubs can help benefit students to get out of their comfort zone and help prevent negative student behavior. The Raktivist Club, advised by Mrs. Carrie Wisehart, is a club to help make an impact on students. 
"We want students to feel safe, valued, loved, and heard," said Mrs. Wisehart. 
Raktivist focuses on using words of affirmation and kind gestures to spread positivity. The club currently has over 100 students involved and more are welcome to join.
Like the Raktivists, Sources of Strength keeps the students at Carroll positive-minded as they go throughout their school day. Sources of Strength was created to help students find their "source of strength" as well as establish connections between students. 
Sources of Strength leaders are specially trained to help connect with students and problem-solve any issues the students have. The club is meant to be an outlet for students to confide in when they are in need of a helping hand. Time spent in the club includes playing ice breaker games to get to know others, sharing stories, and planning what they can do to help bring the school together. 
"This club welcomes anyone. If anyone is interested in becoming a club leader come ask guidance or another peer leader," said Guidance Counselor Mrs. Rachel Fox
Another person that is available to talk to in this school is Mrs. Lauren Kimes, a new junior guidance counselor this year. Her job is to help students with any problems they may be having with school or personal issues.
When asked about what is done when a bullying situation occurs, she said, "We do take everything reported seriously…Sometimes we can't tell anything that happens until we know for sure that it's been thoroughly investigated."
Leave a Comment
About the Contributor
Alexis Harmon, Staff Reporter
Alexis is a very laid back Junior at Carroll High School. This is her first year writing for the Charger Online and she is very excited to see how the...