Carroll tennis season comes to a close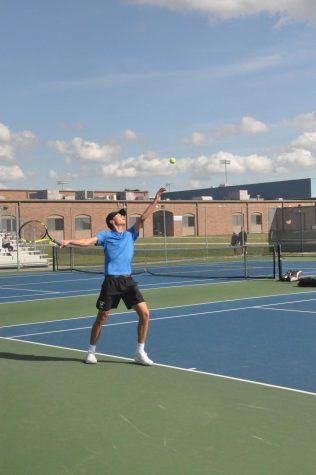 Recently, the Carroll Tennis team's season came to an end. Tennis went 20-3 in the regular season and beat Snider and Leo at sectionals. Carroll defeated Bishop Dwenger, but unfortunately, fell short in regionals losing to Homestead 3-2. 
Senior Luke Stoffel said he is satisfied with the team's season, "I was very happy with how the team performed in the regular season. We proved ourselves as one of the best teams in the state, and held our own even in the Northcentral Invitational." 
The only team that gave the Chargers Tennis a challenge was Homestead. They handed the Chargers all three of their losses in the season and a heartbreaking loss in regionals.
"All 3 losses were competitive in my eyes," Stoffel said. "And I think we gave them a run for their money at Regionals."
Being a senior, Luke couldn't believe his time on the tennis team was over.
"It's crazy to me that this was my final season with Carroll tennis. I've been practicing with the guys on the team since elementary school, so for me it feels like I've been a part of it for much more than 4 years. I wanted to lead our guys to a great season, and play with a lot of determination and heart, knowing it would be my last."
Even though the Chargers fell short to Homestead in regionals, they had an amazing season and are looking for a deeper push in the postseason when next season comes around.