New freshman class, new graduation requirements
As the new freshmen are welcomed into high school life, they are also bombarded with new graduation requirements to fulfill. Indiana now has a new way for students to complete high school with more experience required to prepare them for their adult lives.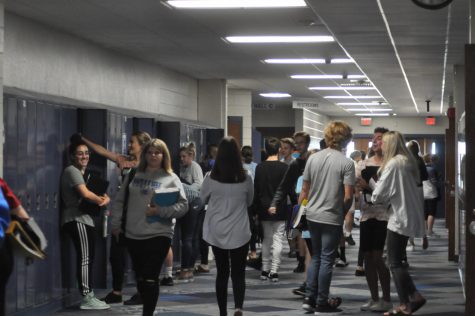 Graduation Pathway is separated into 3 boxes, High School Diploma, Employability Skills, and Postsecondary Readiness Competencies. Freshman guidance counselors Emily Kennerk and Scott Cross explained what each box was and how students can "check it off their to-do list". 
"This option gives students more of an opportunity to focus on things they are interested in, as well as keeping an option still there for students who are good test-takers," said Mr. Cross
The first box ensures students are working towards achieving a high school diploma.
The second box has students fulfill Employability Skills, meaning they are required to complete at least 1 of these categories of learnings: Project-based, Service-based, Worked-based, Employment (required to have a job for at least 2 months with 10 hours a week), Internship (outside of school hours, not from CHS Internship program with at least 5 hours a week for 8 weeks), Work Ethic Certificate, or Anthis Career Academy. 
"I think this gives students more of an opportunity to focus on things they are interested in as well as gives them a different way to graduate," said Mrs. Kennerk.
The third box has the students fulfill the requirements of meeting Readiness Competencies to make sure each student is prepared for college. This has students completing one of the following requirements: obtaining an honors diploma (fulfilling the requirements for a Academic or Technical Honors Diploma), earning a certain score on the ACT, SAT or ASVAB, state and industry-recognized Credential or Certification, Career-Technical Education Concentrator (Earning a C- or higher for at least 2 advanced courses), or AP/Dual Credit Classes (Earning a C- or higher in at least 3 AP or Dual Credit Classes, one of the courses must be either English, Math, Science, or Social Studies).
"It's a fine option, but I do know people who will struggle with these options," said freshman Madison Carpenter. 
Carpenter is planning on graduating on time and applying to Ball State to fulfill her dream of becoming a science teacher. She believes the options Indiana is trying to give students will be seen more negatively as additional requirements rather than a positive change with more opportunities for students. 
"If anything could be changed for the graduation requirements, I would suggest making it even more flexible, as well as providing help if a student is having a hard time fulfilling the requirements," said Madison. 
Freshman Isabelle Elliot is interested in going to college after high school, specifically for engineering. 
"With the new requirements, I believe it's stricter, which pushes students to work harder and increases their education," said Isabelle. 
Isabelle believes that with all the options Indiana provides for students in these requirements, it provides more opportunities for students to help them personally strive to be better people. 
"If anything could be added to the requirements I would have to ask for volunteer hours, being able to serve others and help improve their lives, can also help to make yourself feel better," said Isabelle. 
As far as the guidance counselors know, the requirements will not be changing again in the near future. 
"We want to make sure the students do know Mr. Cross and I will help as much as we can," said Mrs. Kennerk. "Do not stress about it. We will get everything figured out and you will graduate."
About the Writer
Alexis Harmon, Staff Reporter
Alexis is a very laid back Junior at Carroll High School. This is her first year writing for the Charger Online and she is very excited to see how the...