Students take learning to New York City
The city that never sleeps. The city full of awakening adventure. The city that offers a different perspective than the suburban life of Fort Wayne.
Over fall break, 40 AP Language students experienced New York City first hand. From Times Square to the United Nations, students were able to see it all in three days.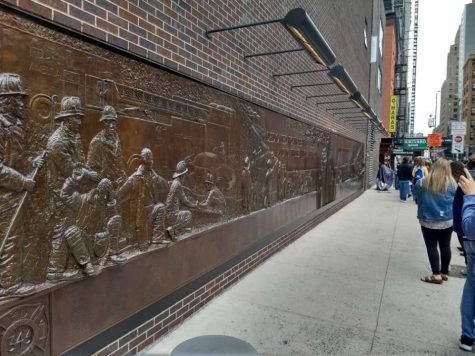 "We went to the New York Public Library, The United Nations, a musical that talked about suicide and common topics that teenagers deal with, and the 9/11 Memorial Museum," said AP language teacher Mrs. Wisehart. 
While this trip was exclusively for AP Language students, components that were learned in the AP class were directly applicable to this trip. 
"For instance, at the 9/11 memorial there are these huge fountains and these huge reflecting pools and for kids to experience it, they are going to be able to write a better analysis about what is the author or what is the architect, what were they trying to say, what were they trying to persuade us," said Mrs. Wisehart. "And of course, it is to remember what happened on 9/11."
Like all things in life, experiencing something first-hand affects how one views the situation. For students, being able to see the 9/11 museum in person rather than just learning about it at school contributed to their vision of this tragic event. 
Additionally, the New York Trip offered students the ability to recognize that there is more to the world than just the city we live in. There is an abundance of differing cultures, languages, and lifestyles as students saw while in New York. 
"AP Lang also is about becoming global citizens. We are learning a lot about the world, and a great place to learn about the world is New York City," said Mrs. Wisehart. "The goal was to make the curriculum come alive by going to a place where the students can actually experience some of the rhetoric first hand." 
Having the ability to step out of the reality of Fort Wayne and emerge into the busy city of New York was a nice change for students. 
"In the year 2018, I went to New York with all the girls in my family. It was a lot of fun and then when I found out about this trip I wanted to go again," said AP Lang student Abby Denny. "I really enjoy the chaos as weird as it is but I like a busy city. Experiencing a city that never sleeps is a good change from my daily life."
Not only did the trip offer new and differing perspectives for students and teachers, but it was also a time of continued learning. For students and teachers, some of the most unknown facts sparked memory and excitement.
"I thought it was interesting that the New York Public Library stores all of its books underneath and under Bryant Park," said English teacher Mrs. Katie Kelly. "They have this train system that the librarian just punches it in and the computerized system picks up the book and brings it to them on the train."  
For student Abby Denny and many other students, the 9/11 museum caught her interest. Many seniors were just born or not yet born when this tragedy occurred. Being in the crowded New York City with people of all different ages and seeing individuals who were older reflecting of this memorial greatly impacted students. 
"In the 9/11 museum, there is a wall that has a bunch of blue squares on it. The artist that made this wall created all different colors of blue representing the sky during that day. There is a square for each person who passed that day and it replicates the different stories and backgrounds that they came from," said Denny. "The interesting part of this exhibit is that behind the wall, professionals are still identifying unknown parts that were found on the days that followed." 
With New York being the size it is and teachers trying to expose students to as much as possible, the students' time on the trip was maximized. From 8 a.m. until 10:30 p.m., students got to learn and experience this new atmosphere.   
"I thought with two and a half days how am I going to really experience this city and not feel like I'm running from one place to the next," said Mrs. Kelly. "It was definitely a whirlwind trip, but just how much we got to see in such a short period of time was really cool."