Students, teachers tackle the PE debate
Physical education: hated by some and loved by others.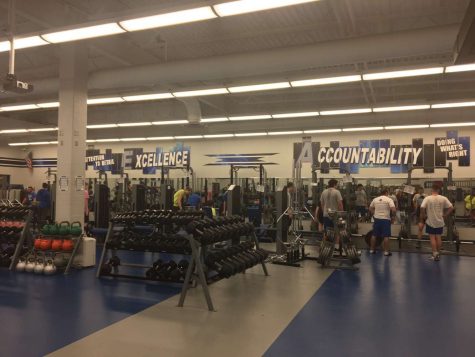 Students have been through mandatory gym all through elementary and middle school but when it comes to high school there is some controversy. Students are required to pass two semesters of gym, while also offering summer gym and online alternatives.
High schoolers get to choose most of their classes even down to which required class such as stem or non-stem math. So why shouldn't we be able to decide whether we want to take a gym class? Why is P.E. important?
"P.E is important to learn about lifelong fitness and for many students, it is the last time they are active," said Mrs. Teri Delagrange, health teacher.
She stresses that fitness isn't always about running or push-ups. There is much more that goes into the importance of teaching physical education.
"There is a lot that you can do if you go out and participate," said Delagrange. "There is that danger of people not being active."
She mentioned the many opportunities provided to students when it comes to physical education, including Physical Education 1 and 2, Health and Wellness, Aquatic, Sports/Fitness, Team Sports Fitness, Racquet Sports Fitness, Intro Strength & Conditioning, Strength/Conditioning, Adv. Strength/Conditioning-Females, etc.
But while teachers may find incredible importance in PE, not all students agree. Many kids are unathletic and get a bad grade in P.E. because of the number of push-ups they can do or the speed at which they can run a mile.
"I don't think we should get a choice because we should be familiar with physical activity but if I had a choice I wouldn't have taken gym," said freshman Braden Rutledge. He liked having the opportunity to take summer gym and free up space for more classes during the school year.
"I like gym and I think it's good because it helps people find sports and stuff they are interested in but we should get a choice," said freshman Ariana Place. "Because some kids aren't into athletic things and some people love it and I don't think that people should have to do things that make them uncomfortable and feel bad about themselves if they aren't good at it."
While P.E is important, many different students have differing views on the debate. For now at Carroll, however, it will continue to be a required class to graduate.
About the Contributor
Gabriella Hall, Staff Reporter
Gabriella is a Junior at Carroll High School. It is her first year on the newspaper staff. She spends most of her time hanging out with friends. She has...