Grads reveal trials, success of college life
College in a nutshell
Stepping into new circumstances and embracing uncertainty is not always easy. Leaving the security and the peace of one's home is terrifying for some but liberating for others.  
One of the many transitions in life that may bring unease is the movement from high school to college, an extended opportunity to advance one's education and explore one's true identity. 
"The most negative thing about university life is also one of the most positive; the change," said freshman Kate Deturk at Liberty University in Virginia and 2019 graduate. "In college, life changes suddenly. In the matter of a day or two you live at a school, not in your house. One day you have parental 'hovering' and the next you don't. Your hometown friends are now scattered around the state or country. Life becomes different."
In high school, an endless supply of future decisions are placed on the laps of the students. From where to go to college, what to study, and how to prepare for this new academic rigor.
What is the perfect college? 
With over 5,300 colleges within the United States, deciding on that one perfect college may be difficult. Not only do students have to decide whether or not they want to distance themselves from their childhood life, students also have to take into consideration which college will best prepare them for their career and future. 
2019 graduate, Stella Scruggs, freshman at Savannah College of Art and Design- The University for Creative Careers in Georgia, advises students to find a place where they feel comfortable.
"Make sure the school feels like home to you because if it doesn't then the experience will not be enjoyable and it will be hard to actually learn there," Stella said. 
Finding a college to fall in love with the moment you step on campus does take some exploring. With college being one of the biggest investments a person will make in their lifetime, it is important to value the location. 
"Don't pick your school based on where your friends are going. I am going to a school where there are no other Carroll kids at," said 2019 graduate Emily Ritzert freshman at Valparaiso University in Valparaiso. "It pushed me to make new friends and step outside my comfort zone." 
It is definitely hard to leave all of the high school memories behind, especially those made with best friends. 
From Friday night lights to semi-formals and pep rallies, experiencing these moments with friends creates lasting memories. It's a time where you know you are going to have fun and a time where you know laughter will overturn the anxieties in life. 
Though many people want to continue these memories in college, attending a college different from the one your best friend is attending may provide new opportunities for students to figure out who they are. This change may also foster new friends and new memories. 
On the other hand, for 2018 graduate Sam Woltman, who currently attends Purdue University, many of his friends and classmates chose to go to Purdue as well. 
"It's helped a lot just having another thing not to worry about," said Sam. "At first I was worried about this keeping me in my comfort zone and not getting to know people but that hasn't really been the case as I've met lots of new people too." 
44,551 students attend Purdue. While many Carroll students' paths do lead to Purdue and other in-state colleges, the population at large colleges like Purdue makes it easy to have classes with a lot of new people. 
With colleges having thousands of students from all over the world, students get opportunities to meet new people and experience the similarities and differences between their cultures. 
"I have loved making new friends that I know will stick by my side and always help me out when I need it," said Emily.
Academic rigor in college:  
Not only is fitting in and finding that group of friends that you connect with something that may be a struggle at first in college, the strenuous academic work definitely brings a toll on some students.
Many Carroll students, however, do claim to have an advantage in this department, stating that the teachers and class opportunities at the school have provided them with the tools they need for success in college. 
"I truly feel Carroll has prepared me for college as I have noticed that other kids around me are struggling to manage time and have never had a good amount of homework before," said Emily. 
Carroll students, as with all students, like to complain about the amount of homework they have, the presentations they have to complete and the number of tests they have each next week.
But in reality, it's practice. 
Preschool is practice for kindergarten. Kindergarten is practice for elementary school. Elementary school is practice for middle school. Middle school is practice for high school.
High school is practice for college. 
The application tests in high school are just ways to train the mind and prepare thinking patterns for what a student will face in college. This early preparation helps aid success in college, making the odds of failing less prominent. Facing college-level tests in high school, helps students learn from their mistakes rather than taking a quiz in college, after investing thousands to go to school there, and failing. 
Carroll also prepares students by having them take the highly disliked finals at the end of each semester.  
"Some kids around have never taken a real final and are very stressed and anxious about taking their first one in college," said Emily. 
With NACS having students take finals in middle school and high school, students are used to this kind of tests. While they do get harder as grade levels progress, students know what to expect out of finals and how to prepare for them by the time college comes. 
CHS also prepares students by offering a variety of classes including Project Lead the Way (PLTW) courses, advanced placement (AP) courses, and dual credit courses.
 The PLTW are courses designed to allow students to participate in classes similar to their majors, such as engineering or health sciences. 
AP courses, which are designed by the college board, are very similar to college level courses. By passing the exam in May, students can earn college credits and therefore not have to take the class in college. 
"I wish I would have known to take a larger variety of classes and taken more AP classes because they really are helpful in getting past beginner classes in college," said 2019 graduate Sophie Amick who currently attends Indiana University. "Normal level classes aren't far off from a lot of beginning gen ed's so really they're all pretty similar in coursework and ability level."
By taking courses in high school that in return grant college credits, students can get ahead in the classes they are taking. However, with college being a whole new atmosphere and bringing new freedom, it is hard for any high school to completely prepare anyone for college. 
"Carroll was good for taking harder classes that are more like college courses," said Sam. "Besides that there is not much more it prepares you for. Not because Carroll is bad at preparing for college, but because it's such a different experience." 
New Opportunities:
From taking yourself to the doctor when you're sick in college to buying your own food and cleaning your own clothes, college brings new responsibilities. 
"The most negative part about college I have experienced so far is getting sick and not having your parents to take you to the doctor or something," said Sophie. "It sounds silly but it's stuff like that, that you take for granted."
But with the new responsibilities, there is also the newly emerged freedom. Staying out late with friends on the weekend, joining clubs or activities, grabbing coffee or lunch between classes and making your own plans and schedule are just some of the many things students get to choose in college. 
"Purdue offers all kinds of activities for students," said Sam. "There are hundreds of clubs and sports to play. You can almost find anything."
Along with the clubs and activities that students can join in college, many of the cities surrounding the college are student friendly.  
"I have walked all over the city of Savannah, Georgia, and shopped and gone to several cute coffee shops. I also got super involved in a local church and have met so many of my forever best friends," said Stella. 
Having this freedom opens so many new doors: Doors to everlasting connections. Doors to the future. Doors to unknown situations. 
For Stella, attending a college of art and design not only helps her expand her love for fashion, but also allows her to explore the fashion community. 
"I have been able to meet big names in the fashion industry and go to fashion events that involve my favorite brands," she said. "I spend a lot of time doing homework but also attend art shows and open studios."
For Kate, doors were opened to expand upon her religion by attending a Christian university.
Twice a week all residential students at Liberty are required to attend "Convocation" or chapel. At Convocation, worship songs are sung and a guest speaker talks to the students in order to allow different perspectives to help refine the students' beliefs. 
Some of the guests that Kate has been able to listen to speak include Kodi Lee, Ravi Zarccarius, Donald Trump Jr., Paula Ferris and Dr. Cornel West. 
In addition to Convocation, students at Liberty have additional opportunities that allow them to spread their religion to others. 
"Weekly there are various opportunities to serve, travel, and share the gospel," said Kate. "When the hurricanes hit the Bahamas, Liberty had student-led teams ready to travel. Our student body has packed Christmas boxes, sponsored hundreds of local organizations, packed suitcases for foster care kids, and much more." 
It is truly the freedom that students love about college. 
"The biggest positive has probably been all of the choices you have to make," said Sophie. "It's scary but weirdly liberating."
About the Writer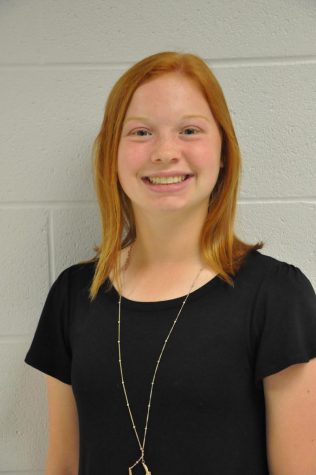 Emily Linder, Staff Reporter
Emily is a junior at Carroll High School and she is a first year staff reporter on the Charger Online. She decided to join newspaper due to her desire...