Class pets comfort students, classroom
Hang on for a minute...we're trying to find some more stories you might like.
From wild animals to class pets, animals can bring joy and peace, but also frustration. When it comes to school, taking care of these animals can be difficult.
Someone who has experienced all of this – from fires to run-aways – is animal science teacher Ms. Cindy Raker. She is one of the few teachers that have a class pet but her classroom zoo doesn't stop at one.
"We have two leopard geckos, three small water turtles, two large water turtles, two guinea pigs, two lion-head rabbits, one bearded dragon, two chinchillas, one ferret, one box turtle, and one corn snake on loan," said Ms. Raker.
With so many animals in a classroom come a variety of challenges and difficulties.
"We had one accident where a student left a heat lamp on the countertop and it smoldered and filled the school with smoke," said Ms. Raker. "The animals were evacuated, and no one was hurt."
Sometimes the students don't close the cages correctly and the animals escape, but they usually don't go too far away from home. Except for one animal that is still on the run.
Even though taking care of them can be rough, class pets can also be beneficial.
Animal science student Cecilie Potts has gained a lot of comfort in being able to pet and play with the animals.
"School brings a lot of stress, and usually I would come home and huddle with my dog to help cope," Cecilie said. "However, having a class that has a large variety of animals to pet and hold, it helps relieve midday school anxiety."
The American Humane Association recently did a study on the effects of animals on students in a classroom, and their results agree with Cecilie's opinion on what benefits class pets serve to students.
"According to many survey and interview participants, another common use of classroom pets (particularly fish) was to bring a sense of calm and relaxation to their students," said the study.
"If a person is having a difficult day, they tend to stop down and hold and animal for just a bit," said Ms. Raker. "Animals like affection and are non-judgmental so they provide a calming sensation."
But even with the calming effect animals can have on students, in Ms. Raker's case, the animals aren't just there to calm. They help along with the classes.
"Animal classes each take two weeks a semester to care for the animals, but the Veterinary Careers class takes care of most medical needs like bathing, trimming nails, and clipping teeth," said Ms. Raker.
Every week, the animal science classes have an "Animal Friday," where the students can bring an animal into class. Of course, rules have to be followed so no animals are hurt.
But if pets help students so much, shouldn't other teachers have their own class pets?
"I think teachers should definitely have pets. It doesn't even have to be an animal that takes too much work," said Cecilie. "I think that if more teachers would have pets, it would make the classroom more fun and help the students that are feeling stressed out."
Smaller pets do seem to be more popular. In the American Humane Association's study, 30% of the teachers had a fish. At the next highest amount, 16%, are teachers who have guinea pigs.
From lizards to ferrets, the animal science classroom has it all. All of the pets seem to help the students both emotionally and in class, and that is all that matters.
"We don't just have one class pet," said Ms. Raker. "We have a whole zoo."
About the Contributor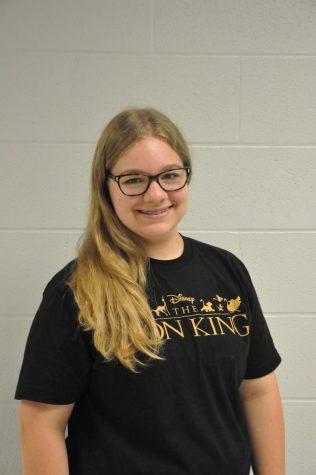 Ashlyn Rinehart, Staff Reporter
Being a student of 11 years, Ashlyn has experienced many things. From art class to math class, reading and writing have always been her favorite subjects....