Show choir makes impact
After hours of practicing and perfecting, the show choir has made their performance incredible. There's a preview every Thursday and a competition every Saturday. Their season already kicked off and they have been doing an amazing job so far.
Everyone from the band to the singers to the directors put in so much effort to make sure that the performances are entertaining for people to watch. Show choir takes up a lot of their time and because of that students involved are able to make bonds with others and become one big family.
There are a lot of stories from the show choir kids. There are good experiences and bad experiences, but those experiences are what bring them together.
"Traveling can be tedious but in the end, you spend time with your friends and have great experiences," said Junior, Lucas Hitchcock, show choir band member.
Lucas joined the band this year and seems to enjoy it. He's made some good friends with the other band members and he's really glad that he decided to join. Traveling with everyone brings them closer.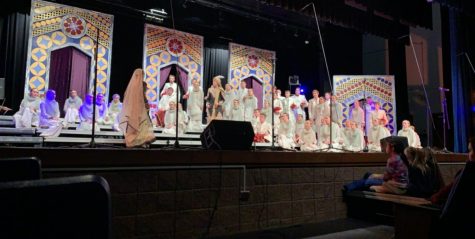 "Being in the band is the best decision I have ever made," said senior member Collin Anderson. "I've gained a lot of friends and had some of the most unique experiences of my life here."
Collin joined the band sophomore year and regrets not joining his freshman year. But, like Lucas, he has made a lot of good friends and made great connections.
Show choir has made an impact on everyone and they love doing what they do. It not only gives them something to do in their free time but also gives them an outlet to express themselves.
"It literally changed my life personally and I know it changed the majority of people's lives that are in it because it gives you a way to express yourself and it gives you a group of people you become extremely close to," said Senior Amelia Ellenberger, member of Minstrel Magic.
Amelia has been in show choir since middle school and has loved the experience ever since. The smile she gets on her face as she's on stage singing and dancing is priceless.
The show choir puts in a lot of effort, even into the previews. It's the same thing every time, but the show choir keeps the people coming and wanting to see more. People seem to be impressed every time with the show.
"It's just a really really cool environment," said Amelia. "And it helps you even for the future because you learn time management and you learn how to make friends."