Tutoring offered for students across city
Students these days are under a lot of pressure. From almost weekly quizzes to piles of homework, there isn't much relief.
But some places can help. These tutoring services are available for most students, but they can be different when it comes to specific services.
The first tutoring service is called Mathnasium. They teach students grades two through 12, and they focus specifically on math tutoring.
"Our Power Math program is for math students studying math up to and including pre-calculus as well as test prep including the ACT and SAT. Our Tutoring Plus program allows us to provide private tutoring for students who are studying Calculus, college courses, or are even preparing to take exams," said Victoria Overton, owner and Director of Mathnasium in Fort Wayne.
This specific place focuses on all math subjects, from basic elementary math to Calculus and more. The tutoring instructors customize their way of teaching to each specific student.
"We can help advanced students stay engaged and stimulated by introducing them to more challenging math topics. If you are struggling, we can help you catch up and keep up," said Overton.
Everything has a history, and the Mathnasium isn't an exception. It started with just one center in LA, but as time went on, that number increased. Currently, there are over 1,000 centers worldwide. The center in Fort Wayne has been open since 2009 and has worked with many Carroll students.
"We have grown because our students transform while coming to Mathnasium. Not only do their grades increase, but they become much more independent while gaining confidence in math skills and concepts," said Overton.
Along with expansion comes new programs. One of these is coming to Mathnasium. They are going to be starting Mathnasium@home.
"This [program] allows us to bring the Mathnasium experience to the homes of children who may not be able to come to our center for math help," said Overton.
If math help is needed, Mathnasium offers free comprehensive assessments to figure out how to fit the tutoring to what the student specifically needs. Just call them at (260)-637-3113 or email them at fortwayne@mathnasium.com.
"At Mathnasium, we teach you to truly understand math, and when you do, you will begin to build the skills and gain the confidence to transform your feelings about math," said Overton.
But Mathnasium isn't the only place students can gain access to tutoring. Specialty Tutoring is another one of these places. They tutor 5-year-olds to seniors in high school.
These students have access to many programs, from math to writing.
"Our Core program specializes in the academic areas of reading fluency, compression, math, and writing, in addition to strengthening the processes of memory, attention, visual & auditory processing, and problem-solving," said Jeanne Widdicombe, the executive director.
Some specific kids that they work with are kids that have fallen behind or not reading and working at grade level, need more practice to master schoolwork, need one on one instruction, have learning difficulties, shut down when they try to tackle new material, lack confidence, or students that are just frustrated with school and homework.
The homework and SOAR programs are for just middle and high school students. These programs offer help with homework, study skills, time management, and many more.
There are 20 instructors currently, and they all help with different programs and different children's' needs, such as the ones previously stated.
The specific sessions have many different benefits according to Widdicombe.
"Our sessions are one-on-one, interactive, and personalizes. Our learning specialists are trained to understand each child's challenges and underlying reasons for these struggles.  We use research-based programs created specifically for children who struggle with learning difficulties," said Widdicombe.
Another reason that Widdicombe suggests students go there is that Specialty Tutoring is set up as a non-profit learning center.
"[We] offer pay-as-you-go reasonable hourly rates as well as a financial assistance program based on household income for families who qualify," said Widdicombe.
Just like Mathnasium, Specialty Tutoring has a history. They have been around for 20 years. The tutoring service started from a borrowed preschool classroom to the "tutoring house" across from Ted's Market. They now offer at-school tutoring in three school districts, offer sessions to the southwest, to homeschoolers, and offer services at three Boys & Girls Club afterschool sites.
Of course, Specialty Tutoring has plans for the future. With more demand comes a need to change.
"We have been actively searching for a larger space in the northwest area to relocate to, in order to expand the number of children we can serve. We plan to run a capital campaign to raise the funds needed, and we welcome any help from the community in the form of time, talent, or treasure," said Widdicombe.
To get in touch with Specialty Tutoring about this topic – or any of their tutoring services – call or email them. Their phone number and email can be found on the website, http://specialtytutoring.com/.
Students aren't alone in this struggle through school. There is always help in all subjects, no matter how difficult doing the student thing may seem. There are always options, and they aren't going away soon.
About the Writer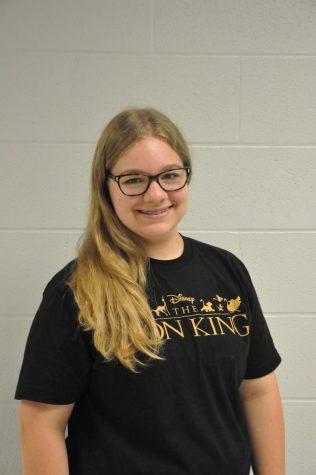 Ashlyn Rinehart, Staff Reporter
Being a student of 11 years, Ashlyn has experienced many things. From art class to math class, reading and writing have always been her favorite subjects....