Rustic bakery thrives on Dupont
Rise'n Roll Bakery stays true to Amish roots
We all know that supporting local businesses is always a good idea, but in a small town such as Fort Wayne, these places can be hard to find. Although they can be difficult to find, there and many small, local businesses to support.
Rise'n Roll got its start at Shipshewana in 2001 when an Amish couple decided to share their family history by making sweet pastry recipes that had been passed down in their family for generations. They sold their goods from their front porch. 
Perfecting all of the recipes took three years and the first Rise'n Roll Bakery located in Middlebury opened in 2004.
To keep the Amish tradition, the first bakery did not use any modern technology in the making of their donuts, even after selling the franchise to a non-Amish family, Rise'n Roll has only grown from there, now having 10 locations, all in Indiana.
Claire Martin, the co-manager at Rise'n Roll on Dupont, has many responsibilities to keep the bakery up and running smoothly every day, these include, "training new employees, stocking of items, checking inventories, displaying merchandise, making sure special orders are filled, answering phone calls, taking orders, deliveries, keeping the store safe for customers and employees and following regulations with the COVID-19 requirements"
Along with all of this, Martin must make sure that all customers come in feeling welcome. Every customer is greeted with charisma and kindness from the employees when entering the store.
"It's hard to narrow it down to what I like most about my job," said Martin. "Probably the interaction with customers is what I enjoy the most! Having people leave happy and help to brighten their day…Seeing friendly, returning customers who know you by name, gives you that warm family feeling."
Although Rise and Roll is primarily known for their donuts, they sell other products as well.
Some other Amish goods they sell include jam, jelly, egg noodles, cheese, sandwiches, wraps and salads.
One other product they are more well known for is their candy crunch. Made with only nuts, butter, and sugar, they have sold this since first opening and have only expanded their flavors to include Chocolate Cashew Crunch, Pecan Crunch and Chocolate Pecan Crunch. 
Although Rise'n Roll is a great place to work, they are not looking for new employees at the moment. "We are not currently hiring at this time; but will always accept an application and keep on file," said Martin.
Rise'n Roll at 511 Dupont Road is open from 6:30 a.m. to 4 p.m. Monday through Friday, 7 a.m. to 4 p.m. on Saturday, and closed on Sunday. So if you are looking for some quality pastries and customer service, Rise and Roll is the place to stop by.
Leave a Comment
About the Contributor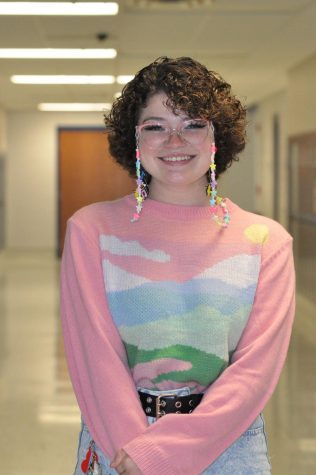 Lauren Sharp, Staff Reporter
Lauren Sharp is a senior and this is their second year on the newspaper staff. They hope to bring write articles to inform students of the goings on at...