Saying goodbye
Reflecting upon my three years on staff of the Charger Online
Time to bleed ink; one last time.
After three years on staff and two years as editor-in-chief, this is it.
Writing for the Charger Online has become a part of my weekly schedule, with "write article" at the top of my to-do list every other Sunday morning and "edit articles" stamped on just about every to-do list I have made in the past two years. But more than an assignment to get an A on, writing for the Charger Online has become my safe place, my creative space where I can let my thoughts run wild and curiosity leap abundantly. It's where I've found the freedom to question norms, explore leads, and cultivate opinions of my own.
It's been my shared, little neck of the woods; a familiar forest I must now say goodbye to.
Throughout middle school and early into high school, I had been showered with compliments on my writing and, while I was always appreciative, writing never really became "my thing." I didn't have a thing. With a non-existent athletic ability and rather unremarkable artistic talents, I never clung to any one hobby.
But, boy, did I feel the pressure. I had to find my thing, especially in high school. Writing, I decided, would be my thing.
So I joined newspaper and those compliments on my writing catapulted me right into a cement wall.
News writing, I quickly learned, was a whole different beast. No longer was the formula a thesis, body paragraphs, and conclusion. No, instead there were these things called ledes and I had to get quotes—actually interview a person and write down what I heard—telling their stories with one word and one word only: said.
It was a shock to my uber-creative, borderline over-extravagant writing style that wanted nothing more than to enhance my articles with what Mr. Beckley called "editorializing."
Reading through my earliest articles, it's all I can do but log into the website and rewrite the embarrassments, but, alas, as time went on, I could at least match the beast that was news-writing.
And then I had my first chase.
Up until that point, I mostly wrote features; stories about students, programs, and classes. It wasn't until the bathroom sink by Mrs. Ruselink's room began leaking that I felt my first journalism-rush, the adrenaline of chasing a story.
Over a sink.
Little did I know, we would be covering a pandemic just a few short years later.
After chasing my first story, writing became my thing. Journalist, I said whenever I was asked what I wanted to be when I grew up. As the years I spent writing for the Charger Online went by and the number of stories I published multiplied, journalism stuck, strengthened by the honor of becoming editor-in-chief. More comfortable quiet, the position forced me to speak up, take charge, and even put on the uniform of a commander from time-to-time with deadlines not met.
I had to sit down with a pen and paper in hand and decipher what exactly it is I'm passionate about, what makes me entertained, hopeful, and angry. For much of my time writing on staff, I shied away from politics, partially because I wasn't exactly sure where I landed on the political spectrum and partially out of fear of how my opinions might be received.
But this year, as many of us discovered, demanded our political attention.
A switch flipped in me and it was all I could write about but politics. The election, the Coronavirus, the protests—there has been no shortage of topics to comment on.
This year has taught us all something, I suppose. The lesson of gratitude for what we have now cannot be lost anyone nor can the importance of unity in turmoil, but I believe we have all taken away our own personal lessons from the highs and lows of 2020.
For me, it is that my career is not in journalism.
I burn with opinions and am consumed by own convictions. For me, removing editorializing has frequently been the final step as I edit out my articles before publishing and the last thing I want to do is contribute to the problem of a biased media.
When I finally admitted this to myself, I most certainly had what I called my first midlife crisis: writing had become my thing and that thing had become my future.
After doing some soul-searching, I now feel compelled toward the world of politics or the court of law and while journalism has minor connections to such a career, I attribute such a discovery to the Charger Online. To the articles that forced me to confront my opinions, an adviser who forced me to grapple with such convictions, and a staff that forced me to find my voice.
This little neck of the woods has become my safe place and my roots have been nurtured but it's time for me to say goodbye, to explore the great world beyond.
But let's be honest, if 2021 is anything close to that of 2020, chances are I'll be back, writing as a special feature rather than editor, running into the familiarity of the forest where I can exhale my thoughts once more.
Leave a Comment
About the Contributor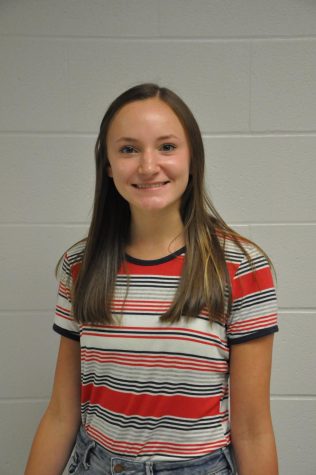 Remmington Moeller, Co-Editor-in-Chief


Remmington is a senior at Carroll. This is her third year on the newspaper staff and second year as co-editor in chief. She is an avid writer...