Holiday gatherings get cozy
There have been 6,506 Covid-19 deaths alone in Indiana as of December 10, and 395 of those deaths are in Fort Wayne. As cases continue to rise in the U.S, now more than 15 million, we as people need to do better to stop the spread of the virus. Now, with the Holidays steadily approaching, it's important to make smart decisions to prevent more cases.
It's no shock that the Holidays are going to look different than they did in the past years, and it's important that people accept that and celebrate responsibly, especially as Allen County remains in the red zone.
Junior Taylor Richards had planned to fly to Texas with her family to visit her brother and his family who live there.
She and her family recognized the risks of traveling and visiting distant families and decided to change up their plans.
"For the most part, we're just staying home for the Holidays and doing stuff as a family instead of going out and risking getting COVID," Richards said. 
It has been predicted by medical professionals that after the Holidays, there will be a major spike in cases.
Although not being able to see family or friends on a sociable holiday is hard on everyone, it is the right choice to keep everyone safe. Instead of recklessly going out, traveling, and not social distancing, there and other, safer ways to see family on the Holidays.
If a relative lives out of state, a safer alternative to get top see them would be to FaceTime.
New York Times journalist, J. D. Biersdorfer provides many examples of video chatting services, including Google Duo, Google Meet, Facebook messenger, and Zoom calls.
Not only can you chat and see family streaming services such as Disney+, Netflix, HBO Max, and Hulu and have extensions allowing families to sync up a movie or TV show and watch it together.
Although technology will never completely make up for not having loved ones close, especially during times like these, it's important to weigh the risks of traveling and not social distancing.
If families insist on meeting up, there are still some safety precautions people can take to prevent spreading or catching the virus. Frequent hand washing, requiring masks, and trying to avoid physical contact and social distancing are a few obvious ones that should be applied to everyday life.
Some other safety measures to take would be to have all family members get tested and confirm their results before meeting up, just be reassured that everyone tests negative.
Although for most in the Midwest or Northern region it may be hard to impossible, meeting outside is one of the safest easy to meet up with a crowd of people.
The circumstances on this year's holidays are certainly unfortunate and unlike anything we've seen before, but it's important to be responsible and stay safe, for ourselves and others. 
Leave a Comment
About the Contributor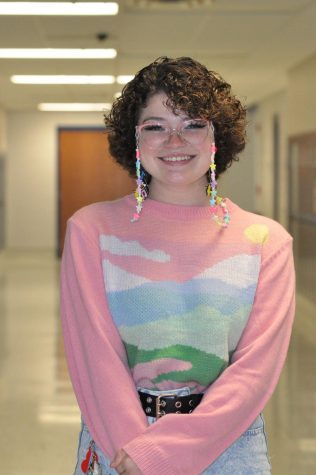 Lauren Sharp, Staff Reporter
Lauren Sharp is a senior and this is their second year on the newspaper staff. They hope to bring write articles to inform students of the goings on at...