Muncie vanquishes rival, takes state title
Reeve Muncie conquered his 39th and final opponent of the season to deliver a third state wrestling title to the school.
It was especially remarkable for the 6'4″ 285 lb. senior, who held his relentless foe scoreless in the final 2 minute period.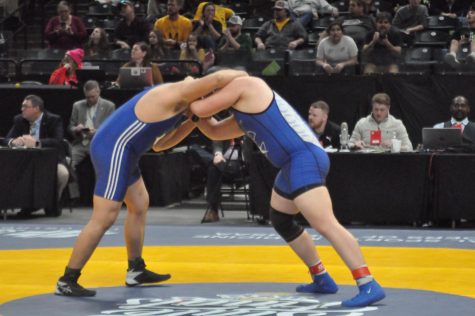 "It feels amazing!" he said. "It's unreal to think about, it's just a great feeling knowing that all my hard work that I have put into this sport for the past seven years has paid off. I have been with the Carroll program for a long time, everything that I know about this sport, I learned from them."
What a way to go out. Winning a state championship is a big deal. It's hard to emphasize how amazing it is, and what it means to Muncie.
Muncie finalized his high school career with a strong season, logging 100 pins and 35 wins. After winning this state championship, he secures himself as the 3rd ever single champion in Carroll Charger history.
Muncie recently decided to commit to play football at the University of Saint Francis. Like any other sport right now, there have been some complications due to Covid-19.
With the virus floating around, Muncie altered his training schedule. 
"Although there were some routine changes for me due to COVID, I continued to push myself hard and keep working hard," he said. "Every day after practice, I did extra conditioning as well."
In his interview with Fox 55 News, he described this season as bittersweet. While he had fun and is grateful to be a state champion, this is his final wrestling season before he ventures off to St. Francis to begin the next chapter of his athletic career.
Leave a Comment