March Madness predictions – Round of 64 and Round of 32
March Madness is finally back.
But it's weird.
Really weird. Typically, we would be looking at powerhouses like Duke, North Carolina, and Kentucky as one, two or three seeds, but instead our highest seeds consist of teams like Alabama, Houston, and Arkansas.
For this article, only the predicted upsets in the first two rounds will be covered. As the pool shrinks though, following articles will have a focus on every team.
I'll start with the Round of 64.
(The first bracket analysis is of Blake Mast. Afterwards will come a second, by Brayden Busz.)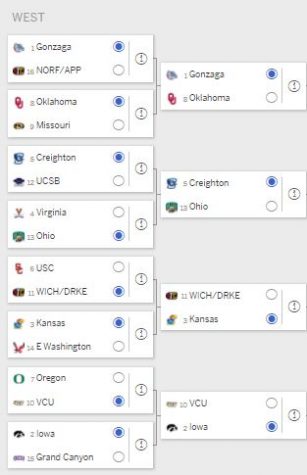 #13 Ohio over #4 Virginia: I think Virginia will fall in the first round, mainly because of their slow paced offense. Usually this wouldn't be a disadvantage, but Ohio's defense has been below the average this year. If Virginia doesn't pick up their pace, they allow Ohio more time to set up their defense and more time to recover from mistakes. Meanwhile, Ohio's strength is their offense, and Virginia's current defense is not the same Virginia defense of old. Ohio should be able to keep pace, and even win against Virginia
#11 Drake over #6 USC: I want to preface this by saying that I believe Drake will beat Wichita State. (Normally, Wichita State is a good sleeper pick in brackets, but this year I don't have as much confidence in them.) Drake started the year 18-0, but dropped several games afterwards and lost two starters. One of these starters should be back for the tournament though, so Drake may be able to get back to their 18-0 form. This pick is less of a knock on USC, and more of an expectation that Drake returns to their old, dominant selves.
#10 VCU over #7 Oregon: When VCU makes the tournament, it's because of their defense. This year isn't different. They are top five in the nation in steals and blocks, and routinely hold their opponents to 70 points or fewer. Their offense leaves much to be desired, but their strong defense will be able to hold Oregon, especially since Oregon basically starts five guards. Without variation from Oregon's offense, VCU's defense should stifle the Ducks.
#9 Wisconsin over #8 North Carolina: With such a minimal difference in seeding, this is hardly an upset – but just for the sake of covering my bases, I'll include it. The analysis is simple anyways: UNC can't shoot. Their defense isn't bad, which will give them a chance, but they are so inefficient on offense that I cannot see them winning against anyone.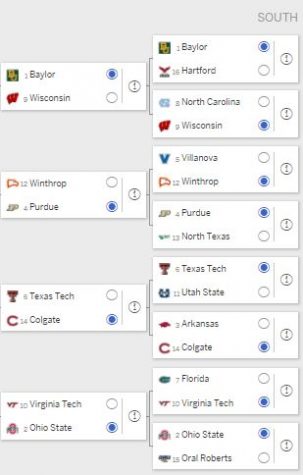 #12 Winthrop over #5 Villanova: Winthrop's biggest strength is their depth, as they usually run an eleven man rotation. They also rank near the top of the nation in offensive rebounds per game, and do well forcing turnovers too. Villanova is the opposite. Recently they lost Collin Gillespie, their top scorer, to a season ending knee injury, which not only hurts their offense, but also takes away from their depth. Their defense is nothing to write home about either, so I don't see a reason to have confidence in Villanova this year. With a healthy Gillespie, it would be a different story though.
#14 Colgate over #3 Arkansas: I feel Colgate may have enough tools to stay with Arkansas. On offense, they don't hurt themselves with turnovers and they shoot 40%-ish from three. On defense, they stay out of foul trouble and play very efficiently around the arc, limiting opponents to a 26% 3-point percentage. I am slightly worried about this pick though, only because Arkansas has been fantastic this year. Out of all my upsets in this bracket, this is my most "gut feeling" pick.
#10 Virginia Tech over #7 Florida: If Florida were at full strength, I would be picking them here. But they're not, with star Keyontae Johnson having not played for the majority of the season. The Gators have a hard time on offense when it comes to turnovers, and Virginia Tech has been known to spontaneously catch fire this season. If Florida keeps giving the ball away, this game could get out of hand. As Bleacher Report's Kerry Miller said, "Give the Hokies an inch and they're liable to take a mile."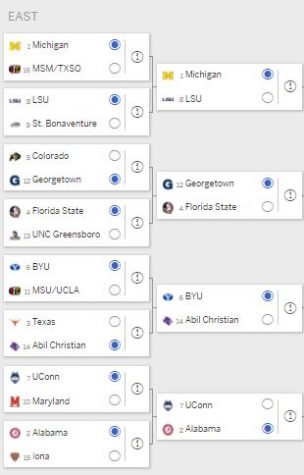 #12 Georgetown over #5 Colorado: Although Georgetown had a hard time early in the year, they picked themselves up and have played much better recently. Georgetown has not seen an "ugly loss" in quite a while, and has plenty of momentum. Colorado also has been good this season, but has shown a critical weakness: they tend to blow leads. What's worse, they blew several of those leads against bad teams. Georgetown should be able to win a close game, which I suspect it will be.
#14 Abilene Christian over #3 Texas: I feel very confident about this. Texas is good at just about everything except turnovers. Meanwhile, ACU is number one in the country in forcing turnovers. Fast-paced, defensive teams are notorious for wreaking havoc in the Big Dance, and I expect ACU to be another example of this. ACU doesn't have enough firepower to go on an extended run, but they could steal a game.
#12 Oregon State over #5 Tennessee: Similar to UNC, Tennessee is oftentimes extremely inefficient on offense, and has a great defense. They started their season very well, but had a hard time staying consistent as it went on. Without a go-to scorer, Tennessee will struggle to get past Oregon State's stellar perimeter defense, which allowed only a 27% 3-point percentage this year.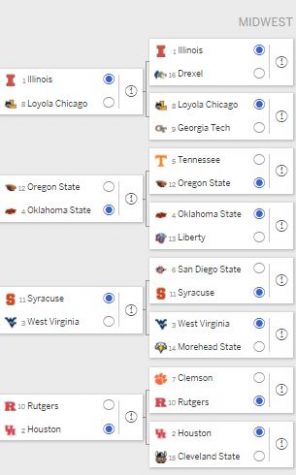 #11 Syracuse over #6 San Diego State: Syracuse is seemingly annually in the Big Dance, and is always the team no one wants to play. For years, their zone defense has been nearly impenetrable, and this season it has proven to be the same. What's different is that the Orange have an offensive superstar this year, in Buddy Boeheim. Going into the tournament, Boeheim is averaging 23.3 PPG and is shooting 46.3% from beyond the arc. More than that, the team as a whole is one of the best free throw shooters in the nation, so they close out games well. This is not a year to bet against Syracuse.
#10 Rutgers over #7 Clemson: Clemson's defense is tough. They've made their opponents work for points all year long. But as good as the Tigers' defense is, their offense is not. Clemson only has one player that averages over 9 PPG on offense. Against a Rutgers team with a strong defense, that won't do. Rutgers have their fair share of offensive struggles but not on the magnitude that Clemson does. This should be a low scoring game with Rutgers coming out on top.
Next is the Round of 32. Don't worry, there's a lot less to talk about here.
#14 Colgate over #6 Texas Tech: Wow, I'm getting bold. I'm expecting Colgate to keep their momentum from beating Arkansas, and carry it over against Texas Tech. But this will be a very different game. Texas Tech lives and dies by forcing turnovers. When they don't force mistakes, stats like defensive rebounding and 3-point percentage plummet, and they don't get their precious transition points. If Colgate can play cleanly, they can get past the Red Raiders.
#12 Georgetown over #4 Florida State: FSU is a good team. Let's not forget that early this season, they were considered a potential national championship contender. But instead of getting better or even maintaining that status, they fell drastically, mostly thanks to their defense which tends to blip in and out of existence at times. They have surrendered high point totals to teams who have no business scoring that much, and let easy games get too close for comfort. Yes, they rebound terrifically and play great offense, but there's nothing keeping Georgetown from staying within striking distance, and closing the game out.
#11 Syracuse over #3 West Virginia: Like I said earlier, this is not the year to bet against Syracuse. Their defense is simply too good. West Virginia will have a hard time getting anything going on offense, but their defense should be able to keep Syracuse's average offense at bay as well. I expect this to be a low scoring shootout, but considering Syracuse's proficiency at the free throw line and their toughness inside the 3-point line, I'm again picking the Orange to come out on top.
Two teams I didn't cover were Iowa and Gonzaga, highly seeded teams with high expectations. Freshman sports reporter Clayton Wagner said a bit about both teams:
"Luka Garza and the Iowa Hawkeyes are on a roll with a 2 seed in the west. My prediction is that with Garza averaging 23.7 PPG, 8 RPG, and shooting 54% from the field, he will lead them past the first two rounds.
"Then we have Gonzaga. Gonzaga has been on a rampage this year, ending the regular season with a [perfect] record of 26-0. If they win this year's tournament, they will be the first team since the 1976 Indiana Hoosiers to go undefeated in the regular season and the postseason. Much like how Iowa has a star in Garza, Gonzaga has a star in Corey Kispert. Kispert is averaging 19.2 PPG, almost 5 RPG, and like Garza, is shooting 54% from the field. My prediction is that he will lead the Bulldogs past the first round and second rounds."
Senior sportswriter Brayden Busz also filled out a bracket, and gave some analysis:
Busz said, "In this year's bracket I believe there will be a ton of upsets in the first two rounds. In the west region I predict UCSB will advance, with a win over Creighton. I also think Ohio will beat Virginia. Ohio and UCSB are both very underrated and can cause problems in this tournament. With them both winning though, they will play each other in the second round. I have Ohio advancing and playing Gonzaga in the [Sweet Sixteen].
"In the east region there are only two upsets I selected, but they are big ones. Firstly, I think Georgetown will move on against Colorado. [Coach] Patrick Ewing and his Hoyas have been playing very good basketball recently, and I think it continues in the first round of the tournament. I think Florida State will put an end to their hopes in the Second round though. My second upset comes from a team I see as a big sleeper, in the UConn Huskies. I have them beating Maryland, and later upsetting a two seed, Alabama.
"In the south region, I have Wisconsin, a nine seed, beating North Carolina, an eight seed. It's not that big of an upset, but it's still an upset. (I also have Missouri beating Oklahoma in the west region.) But other than that, I have the Hokies of Virginia Tech upsetting the Florida Gators. But they lose in the second round to Ohio State. A final upset I have in the east is Winthrop beating Villanova. Villanova was the world champion a few years back, but with one of their big stars out, they could be in a lot of trouble. I think Winthrop will take advantage of that.
"The midwest region also has some big upsets. Oregon State has been red hot recently, and won the Pac-12 tournament, so I predict they will advance.  Another upset I have is Syracuse beating San Diego State. This game will be a close one, but I think the Orange will come out on top. The last upset game I have selected is Rutgers beating Clemson. The Big Ten has many good basketball teams, and I think Rutgers is a sleeper in this round. Clemson will fall to the Scarlet Knights."
To cover some more highly seeded teams, sophomore sports reporter Henry Burgette spoke briefly about Michigan and Illinois.
"Illinois and Michigan are definitely the favorites coming out of the bottom half of the bracket, and there's a good reason for that," he said. "In the east, Michigan, with a 20-4 record, is the one seed, and looks great headed into the tournament. Hunter Dickinson is having a great season, averaging 13.9 PPG, 7.6 RPG, 1.4 BPG. Something to note for the Wolverines though, they are missing their senior forward Isaiah Livers is sidelined due to a foot injury.
"In the midwest, Illinois, with a 22-6 record, and are a one seed, and are 7-3 vs top 25 teams. Their star, Ayo Dosunmu, is averaging 20.7 PPG, 5.3 AST, and is shooting nearly 50% from the field. But Dosunmu isn't Illinois' only offensive weapon. Kofi Cockburn has been a machine, averaging 17.6 PPG, and 9.6 RPG, and is shooting 66% from the field."
The Round of 64 is slated to begin at 12 pm on Friday, March 19. After that will come the Round of 32, which is scheduled to start at 12 pm on Sunday, March 21.
Once the Round of 32 ends, there will be another story similar to this one, covering the Sweet Sixteen and Elite Eight.
March Madness is finally back. Sit back and enjoy it.
Leave a Comment
About the Contributors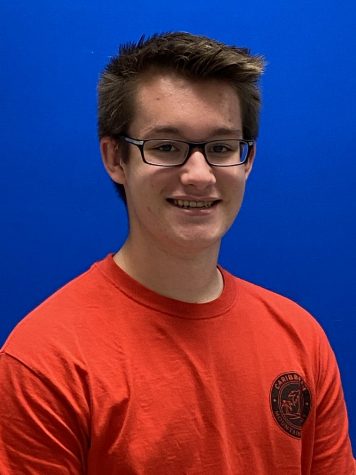 Blake Mast, Sports Editor
Blake Mast is a senior at Carroll High School, who is going into his third year of newspaper. He lives with his mom and his dad, and his younger brother....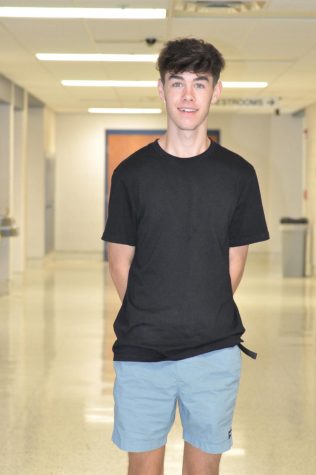 Henry Burgette, Sports Editor
Henry Burgette is a Junior at Carroll. This is his second year in The Charger Online. He enjoys all sports, but his favorites are basketball, football,...