Last year's virtual learners return to the classroom
Last school year, students were given the option of whether they wanted to do classes completely online or in person. The majority of students chose to be in the building, but some chose to stay home.
One of the students who chose the virtual option was Lia Wirges who is now back in person this year as a senior.
"I mainly chose it[online] because it was still a very new environment," said Wirges. "I also was just scared of getting Covid and being in a large group of people."
Ciara Palermo is another senior at Carroll who chose to remain virtual last year because of the health concerns. She decided not to come back until a vaccine was out.
Although most of the students staying home were doing so to avoid the virus, others had other motives. Heather Wolfe chose to stay home both to avoid Covid and also to prioritize her mental health.
"I was unable to do choir last year because of Covid bringing down my family's income and I knew that being around my choir friends would really hurt me, so I just removed myself from the situation," said Wolfe.
The majority of those students who returned are feeling more secure with the school mask mandate back in place. The mask mandate was reinstated on August 30th, 2021 with a plan for it to expire October 14th, 2021.
"It makes me feel much more comfortable having masks reinstated because I can focus on school and not about getting quarantined or sick," said Palermo.
"The virus is still out there and the cases continuing," said Wirges. "The last thing I want is to get it or spread it to my family."
Another benefit of the mask mandate is that it makes students feel more comfortable wearing a mask since everyone is doing it, rather than being in the minority and feeling pressured to not wear it.
"I wore my mask for the first couple days of school, and it wasn't really a problem, but the looks and the stares that I got from some of my classmates really got to me," said Wolfe. "The last thing I wanted was to be singled out because I wore a mask, and as stupid as it sounds, I gave into that and stopped wearing it."
In the minority though, some students did choose to wear a mask everyday before the mandate was reinstated.
"I was wearing a mask before it was required because I didn't want to run the risk of picking up anything from my internship at Parkview and spreading it to school, and vice versa," said Palermo.
Despite the reasoning for doing online last year and coming back this year, all three of these seniors would not like to return online.
"With everything in me I don't want school online," said Wirges. "With taking fashion, I want this year to be as normal as possible and still have my fashion show."
"I really like choir and I know that it would jeopardize that for me and all of my choir friends if we went back to online," said Wolfe.
Despite the benefits of doing online last year, many students are not willing to give up their unique classes and extracurriculars to do it again, especially during senior year.
"After doing a whole year online, I don't think I want to do it again," said Wirges.
Leave a Comment
About the Contributor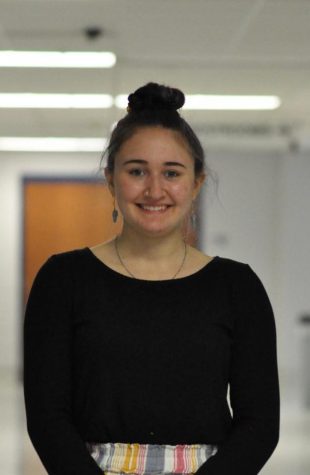 Gracie Rose, Co-Editor-in-Chief
Gracie Rose is a senior who has been attending NACS schools since kindergarten. At 17, this is her third year working on The Charger Online and her second...