Parents file lawsuit against NACS, local health officials
A group of parents of NACS children filed a lawsuit in the Allen County Superior Court against several NACS officials and government officials on September 13.
The lawsuit was filed by Chris and Natalie Forbing, Mike Bell, Jacquelyn and Eric Christman, and Andrew Frisinger, all of whom are representing their twelve children. Kevin J. Mitchell, who has a child in the NACS system, of Mitchell Litigation and Advocacy is representing the litigants.
School board members, Ron Felger, Elizabeth Hathaway, and Kristi Sclatter, Carroll High School Assistant Principal Tanya Pickett, NACS Superintendent Chris Himsel, Indiana Department of Health commissioner Dr. Kristina Box, Allen County Health Commissioner Dr. Matthew Sutter, and Governor Eric Holcomb are named in the suit.
The plaintiffs argue that NACS, the only other district save for Fort Wayne Community Schools to have a mask mandate, is going against Indiana's Emergency Management and Disaster Law, which oversees the limitations and abilities of the state government in case of a natural disaster or state-wide emergency.
The plaintiffs allege that students, teachers, and staff are being kept in "an endless state of emergency" due to COVID-19 restrictions, which they want to end. They also want the school's mask mandate and other restrictions to end.
"Students remain subject to arbitrary, irrational, and unscientific rules regarding face masks, contract tracing, and quarantines; measures that serve no legitimate government purpose at this stage beyond foisting an endless state of emergency on K-12 students, teachers, and staff," the lawsuit alleges.
The lawsuit also calls the mask mandate, contract tracing, and quarantining illegal and unconstitutional, further arguing that "COVID-19 presents a statistically lower mortality risk to K-12 students than influenza, car accidents, or drowning."
The plaintiffs have also asked that the Indiana Department of Health's two tier-system be declared a violation of Indiana's "Vaccine Passport Ban." The two-tier system exempts students from quarantines if they present proof of vaccination. The lawsuit also wants its attorney's fee paid.
NACS responded to the lawsuit on September 20 in a news release sent to local news stations. 
"Our focus remains on meeting the needs of our students," The statement said. "Continuing to provide opportunities for students to access learning onsite in a healthy and safe learning environment remains our priority."
To finance the addressal of the lawsuit, "time and taxpayer monies" will have to be redirected, the statement explains. The statement also says that the district is "confident" that the courts will "ultimately" rule in their favour.
Several other schools across the country have been or are being sued by parents angered at restrictions such as mask mandates. Two lawsuits have been filed against the Wyomissing School District in Pennsylvania and the Northland Parent Association has filed lawsuits against seven different school districts in Kansas City. However, several of those lawsuits have been dismissed by their corresponding courts and a federal judge dismissed a lawsuit against mask mandates on September 23rd.
Unless dismissed by the court, the first court date for the lawsuit is scheduled for December 13, 2021 at 9:00 A.M. with judicial officer David J. Avery presiding over the case.
Leave a Comment
About the Contributor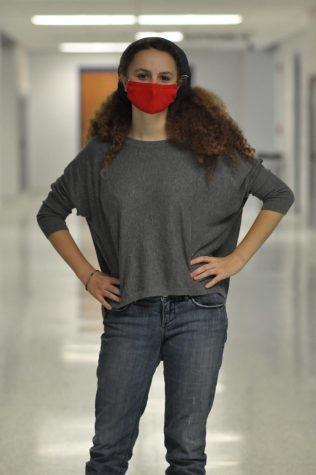 Stella Rae Brewer-Vartanian, News Editor
Stella is a junior in her first year of being on the newspaper staff. She is also part of Studio 415's staff. She enjoys chess, video games, Monopoly,...