Underclassman earns ogre role
Caleb Cox stars as Shrek in new musical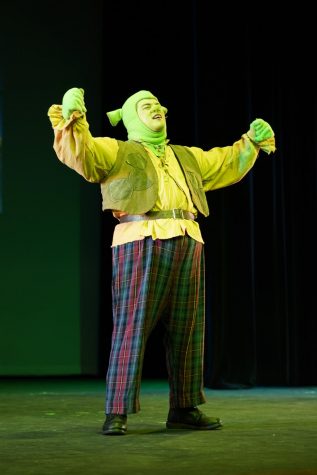 The drama department features a broad range of talented actors and actresses, and the cast of this year's fall musical "Shrek" is no exception. The opening night of the play is scheduled for November 18th, running through the 21st.
Though the lead roles of each play are often given to the seasoned juniors and seniors, things have been switched up this year with the title role of Shrek the ogre being played by sophomore Caleb Cox.
"I honestly was pretty surprised. I was pretty sure of my singing and acting, but there's a lot of talent in the school and as a sophomore I figured they'd give it to a someone older," said Cox.
Cox has a wide range of experience with taking part in a wide variety of productions throughout his childhood and high school years.
"I've been in 19 shows. Some at school, and most of the rest were places downtown, and one up in Bluffton."
Cox's gateway to his acting career came from his mother first getting him involved.
"I started acting when I was 6. I didn't have all that much of an interest in doing it at first, it was more of just an appreciation for theater," said Cox. "My mom was a music director for the shows at IPFW when I was little. She would conduct the shows from the orchestra pit and I would sit down there with the band and watch the show from there.  Eventually she signed me up to audition for 'Oliver.' I didn't have a big role at all but that's how I got started, and I've been doing it ever since."
Being the star of the show, there are a lot of parts that he is looking forward to and many parts of the show that he is enjoying. He shared how fun it is to interact with the other characters.
"My favorite part of the show is probably getting to act with Donkey (Trey McFarland) and Fiona (Jaina Berry). There are a couple changes in the show that are different from the movie but the core character journeys and themes are still the same," Said Cox.
He also shared what he loves most about playing Shrek and the musical itself.
"One of my favorite things about Shrek is the evolution of Shrek and Donkey's friendship, as well as Shrek's realization that he can still be a hero even though he's an ogre. These are my favorite things about it because those core values aren't there unless the characters are well portrayed by the actors, and they definitely are with these peeps. Not to mention their voices, which are also incredible," said Cox.
Though he has much experience, the show still brings new challenges for him that widen his abilities.
"The most difficult thing about the show, while I love it, is the singing. Most of Shrek's songs are a little higher than what I've had to sing in a show before. I'm a baritone so usually I'm not the one singing all the big notes, but this time I am. And I have to say, Kermit was right, it's not easy being green."
Leave a Comment
About the Contributor

Peyton Holsworth, Features Editor
Peyton Holsworth is a junior at Carroll. This is her first year writing for The Charger Online. She is looking forward to working with the newspaper staff...