Zombies infest downtown
Zombies- one of science fiction's greatest creations. These undead creatures that have an unquenchable thirst for human brains. They are the most iconic creatures of horror movies, TV, and literature; and some say that they are the trademark monster of Halloween. 
These qualities and more were all encompassed into Fort Wayne's Fright Night and Zombie Walk. 
The Zombie Walk is a Fort Wayne staple, with hundreds of people flooding into the streets of downtown covered in fake blood, make-up, and costumes that would give everyone the chills every year. However, last year due to the pandemic, they canceled it, forcing everyone to stay home and continue to perfect their monster look.
This year the fun started at 1:00 pm at the Michigan Power Center Building Plaza, for the pre-party, where 'zombies' could check out each other's outfits, and kids could win candy at the Majic 95.1 Mystery Cauldron and unique prizes at Classic Hits 101.7 Wheel of Misfortune. 
Eager participants could also partake in the Zombie Brain Eating Challenge, where zombies must eat a brain-shaped cake without using their hands, as well as many other activities going on at that time. 
Then, at 5:30, the fun began when the walk itself actually started. Participants walked the destined map of the event, passing the courthouse, as well as walking a path alongside the St. Mary's River.  
"It wasn't as big as the past years," said Jodie Williams, a participant in the Zombie Walk, "but there were easily 700 people there." 
Williams took part in the activities as she and her family walked the path. 
"The costumes were great too like over the last year everyone was perfecting their costume and makeup game," said Williams. 
There were also lots of events to do instead of the walk, like tours and a band. 
"We didn't do those, but there was a thing called ghost tours, where a group of people went with a tour guide around all the 'haunted' places in Fort Wayne, like the old jail, Carole Lombard Bridge, Lindenwood Cemetary, and some others. I'm pretty sure they tell you some stories and stuff about the places, but it's less history and more spooky fun," said Williams. 
The Zombie Walk was an entertaining time for all the ghouls and humans alike who joined into it, just another way to bring Halloween truly to life.
Leave a Comment
About the Writer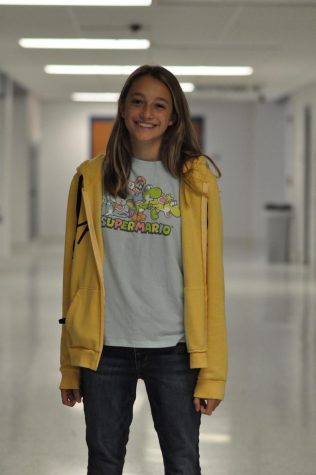 Madison Harrell, Staff Reporter
Madison is a 15 and a freshman, and she is excited about the opportunity that people will get to read her writing through this website. She enjoys reading,...