Students, cafeteria staff impacted by shortages
Students may have noticed some some familiar faces in the cafeteria along with some unfamiliar choices and flavors.
"Why did the ranch change to low-fat ranch?" said sophomore Kaden Riggle.
The answer is a bigger issue with the ongoing labor shortage and the food chain disruption.
The labor shortage has lead the school to hire seniors to work in the lunchroom.
Lunchrooms across the district have faced difficulty in finding adults who are willing to work at the school. To make up for this loss of workers, seniors in Culinary 2 have been hired to work in the cafeterias.
They get paid the student worker rate, which is different from the rate being paid to normal workers. The amount they are paid is undisclosed.
"This started out as an internship, so we were not supposed to be getting paid in the first place. The fact that we're getting paid at all is pretty amazing," said senior Allisson Bell.
Bell works in the cafeteria along with 15 or 16 other students. After they serve the students, they get most of the lunch period to eat.
The student workers have different things that the kitchen staff allow them to do, depending on which cafeteria the students work in. In the freshman center, Bell is allowed to cook food, but in the 10-12 center, she is only allowed to serve.
"Letting me do both serving and cooking makes me more well rounded in the kitchen, which I think is phenomenal," said Bell.
Seeing as working in the cafeterias is supposed to be an opportunity to develop real-world skills and experience, being able to do multiple things is a great way to learn.
Bell, along with many other students, have noticed that some foods and ingredients have "vanished" from the cafeterias and how there are fewer workers.
This shortage of workers has affected more than just the school cafeterias. Across the nation, employees are being fired or resigning from their jobs for various reasons such as unemployment benefits, family needs, and the pandemic stimulus checks.
The lack of workers is causing farms to not be able to send all of their crops to grocery stores on time, stores and packing plants to not be able to put out as many products, and businesses closing down from lack of funds and workers. This means that the food chain is being disrupted, meaning foods and ingredients are unavailable or in short supply, causing businesses, schools and homes to have more limited options in food.
"This is definitely a compounding issue. We currently are working with only 2/3 of our District staff," said food service director Leeanne Koeneman. "This is a nationwide issue not only in school foodservice, but the workforce in general. The shortage of employees in the trucking industry as well as the manufacturing industry are some of the reasons for the food/supply shortages."
This problem has extended down to the culinary department as well. Renee Sigmon, who teaches Culinary 1 and 2, has also noticed the shortages.
"The food chain issues have not only affected food, but also supplies that we use in class. I am able to get most items that I need, but I spend many more hours outside of school time shopping at different stores to get the needed supplies and ingredients," said Sigmon.
The food service department has also looked at many other sources for foods and ingredients. Some commonly used foods from last year have been replaced or are in short supply, such as whole muscle chicken items and fresh produce.  Because those items are in short supply, lesser quality items that other companies use have been put into the food plans for the district. Items such as ranches and yogurts have been switched to low-fat options, or completely different brands entirely.
"We have had to spend an exorbitant amount of time allocating substitutions for the various out of stock items each week. While we are able to find alternatives to the menued items, we are unable to find many disposable items including food containers, forks, spoons and disposable trays," said Koeneman.
Finding substitutions for foods can take time, and since there's so many students at Carroll, it gets even harder to feed everyone.
"This year has definitely been much harder on our staff than last year. Unlike retail restaurants we are not able to close our lobbies or limit what we offer each day," said Koeneman. "We were granted some leniency from the state and federal guidelines regarding our program. This has helped when we are unable to allocate certain vegetable subgroups, like baked beans."
View Comments(1)
About the Contributor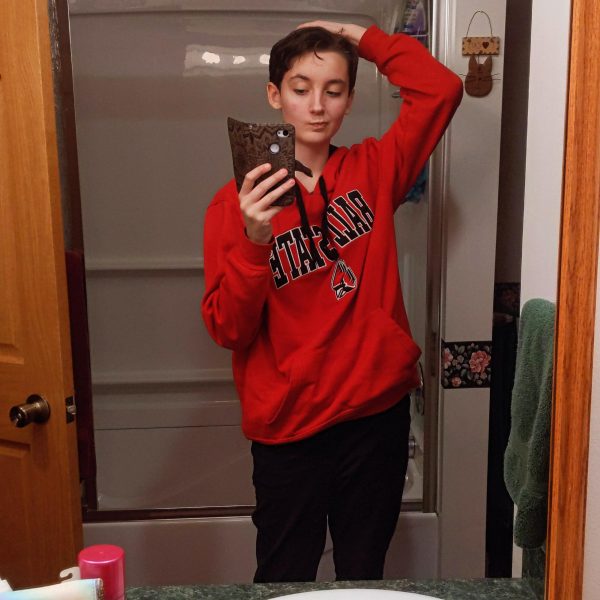 Gwen McCleary, Co-Editor
Hi, my name is Jack, and I'm a senior. I'm a writer on the Charger Online, a songwriter, and a person who's too fruity for homophobes to handle. I'm also...