The Hidden Powers of a Small Town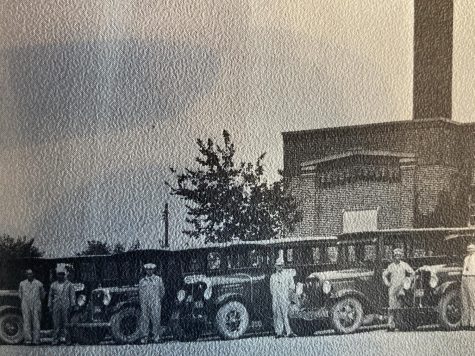 Arcola.  A town in northern Indiana, built upon plentiful soil and cornfields. A town tucked away, full of friendly people, tractor pulls, fire department cookouts, and an elementary school that has a textbook full of history within its hundred-year-old walls. The town of Arcola has much more history and heritage than meets the eye, and it takes a careful hand to be able to gingerly unfold the origami of origin about the quaint little farm town.
The town was named to commemorate the Battle of Arcola. 
For instance, for the Arcola centennial, a poem written by Arther Franklin Mapes encompasses the true coziness of the days when the town was new. 
"Where once stood great hardwood forests, home of Indians and wild game; 
Stands the village of Arcola, and it bears an Indian name. 
If we pause and just look backward, through the veil of changing years
Of the stalwart pioneers, we can see the clustered cabins,
With the candlelight agleam, just as true, and just as vivid,
As an early settler's dream. Those were the days of toil and hardship,
As the forests turned to cornfields and each farm was fenced with nails,
But let pictures of old Arcola, as it was in days of yore,
With its Stove Hill, and its Smithy, its old banker shop and Stone; 
And there was that old Ciden Mill where the kids stopped after school,
And could drink a glass of Cider, so sweet and freak and cool. 
Oh, it's fun to just remember, how it always was a thrill,
During winter days when skating on the pond means on Iile Mill. 
The livery stable, the wagon shop; the horses all have gone,
Yet the frame church stands there on the hill, and the willowed creek flows on.  
The two-room school has vanished, now only memories remain,
Of the old days at the depot when folks waited for a train. 
Folks remember when the cornshucks stand like teepees in the gloom,
And how summer wind brought fragrance, of the clove fields in bloom. 
We pay homage to Arcola, knowing changes never cease;
Its history gives it honor,
And its heritage is……. Peace.    
Many people still consider Arcola a farm school, a small school that is too little to add any benefit towards the larger schools it filters into. They think that because it is so small, only sending between 30-50 kids to the middle schools.    
This is so far from the case. This school and town should never be forgotten, it has meaning to the people that not only attended the school but also to the few hundred people that live in the area. Arcola's importance should not be decided based on how many kids it sends to the middle schools.  
Odd that those people make such a statement, as Arcola memorabilia has its own place in the Carroll Fieldhouse trophy case alongside Huntertown memorabilia. For instance, letterman jackets and sweaters boast white and green fabrics with the large, vibrant letter A's (Arcola Aces), and a cheerleading sweater that was worn by alumni Irene Green in 1964 and 1965 that still has all of its original patches and has a banner that was waved at those sports games. Bronze and silver trophies hold engraved dates that proudly share 1964, 1967, and 1968 basketball tournament winnings, as well as black and white photos naming the teams that took home those achievements.   
However, the school's history goes back farther than 1964; Arcola (as in the town) itself began when Yellow River road was created in 1831. At that point, it was just a path used by settlers and pioneers, but a large part of Yellow River road became Eme road, which cuts directly through the town and connects to (eventually named) Arcola road. This was a large crossroads used quite a bit, therefore causing this little village to pop up, giving the area even more attention. 
Over time, people began to flock to the area, for the open space and kind people.  
"Arcola has so much history," said Kathleen Perfect, the current principal of Arcola Elementary, "and I'm so very glad that there are students here that are still a part of Arcola's continually growing history." 
Mrs. Perfect has been there for 34 years, and she was there to see all kinds of changes come to Arcola in that time. 
"When I was hired here 34 years ago, Mr. Ray Hopper was the principal. Arcola has been through a lot as a school, as it has a 100-year history, and they have gone from mascot to mascot over the years" said Mrs. Perfect. 
Arcola has transitioned through three mascots during its time as a school. 
"When the school was a high school, they were the Aces. Then, I'm not positive exactly when they were changed to the Stars, but that happened most likely when the school was changed from a high school to an elementary. Finally, while I was there, the students voted and changed it to the Eagles. Originally when the Eagle was first changed to the mascot his name was Ace in honor of the old mascot, but more recently when all the elementary schools in the area remastered their mascots, Ace's name was changed to Spirit."
The Arcola mascot isn't the only thing that has changed in the past years, however. The school itself, most likely sometime shortly after 1980, was turned from a school that taught grades 1-12 into a school that taught solely kindergarten through fifth grade. This school taught tens of thousands of kids over the generations of it being open, the people that taught and drove busses touched hearts that stayed with people over all this time. 
"I remember the fun times we had back then," said Judy Causey, an Arcola alumna who graduated in 1963, "like for a fundraiser one year, we played donkey basketball. Live donkeys were brought into the gym, and they were mounted by either a teacher or a student, and the two teams of five had to work together to score baskets. That was very fun and interesting for everyone, players and students alike." 
The students were also in charge of their own money when it came to field trips, teaching everyone valuable skills about teamwork and responsibility. 
"If our class wanted a senior trip, as freshmen we started working together and through fundraising, we were responsible for gathering all the necessary money," said Causey. 
To pay for their trip, Arcola students started raising money as freshmen by hosting car washes, working in the field at Hilger's Farm. Causey's senior class raised money to visit Washington D.C. 
"We even got to tour the White House," Mrs. Causey said. "I'm sure we were able to do that thanks to the class size."
"The clubs and organizations that we had band, choir, twirlers, pep club, driver's club, GAA, student council, FFA, and FHA," said Mrs. Causey, "and the subjects were English, art, music, home ec, science, social studies, health, commerce, and speech. That was it. I always liked typing and home economics. Home ec was a more hands-on class with baking, sewing, etc. which I enjoyed."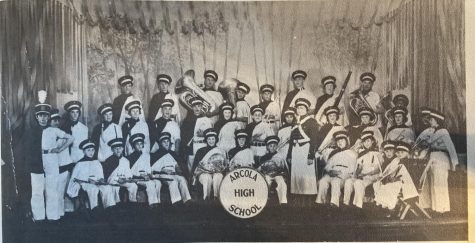 Based on Mrs. Causey's recollection of her time at Arcola, their classes and clubs were different from what they are now, but not different by much. People need to realize that this town and school have meaning and that there is so much valuable history not just within the walls of the buildings, but within the hearts and minds of the people who have gone through the school. The students and alumni are the histories, and if the school stops teaching kids, then the history will slowly die off until no one remembers the name Arcola.  
 The history is rich with this school. That's why it's so important to learn and attempt to understand at least a small portion of it, so the community's importance can be recognized. Sometimes, that rich historical value can be found in the buildings that are still there from when the town was older. 
Most if not all of the original buildings are gone, except for the school of course. The red brick school building is the oldest in that town, but there are a couple of structures that are up there with the school. The Arcola volunteer fire department has been around since 1957, so not super long ago but it has had its fair share of years. The department is a volunteer fire station, run by the Arcola Lions Club, and it hosts a fundraising fish fry and chicken BBQ twice a year.  
The Arcola Post office has been around just about as long as the town itself, as the service itself was established in 1858, but the building hasn't been there quite that long.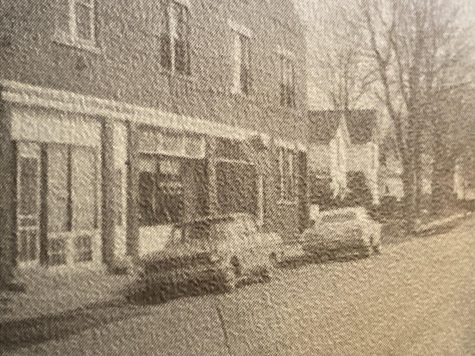 The buildings in Arcola reach into the past, but what about the future? What's in the future for the elementary school in Lake township?  
"Arcola will stay going strong for a decent while," said superintendent Dr. Himsel, "as it still has quite a bit of room for growth. A few years or so ago, we had about 170-180 kids on average a year, but now more recently we have as many as 200 kids." 
Even though Arcola is a small school, it still has plenty of room for growth. 
"That school can hold about 300 kids at max, so there is still plenty of room for more growth before the thought of expansion would be considered," said Dr. Himsel. "So there isn't and won't really be anything new going on for Arcola for a while."
The school also has an impact that some people don't necessarily recognize. 
"It has a huge impact. When I first started here, there were rumors that Arcola should be shut down. Those rumors were completely false. A school like Arcola is incredible, it's one of those places that is so beneficial to the community of Lake Township," said Himsel. 
Arcola has been around for so many years and based on Dr. Himsel's interview, it will stay around for a decent time to come.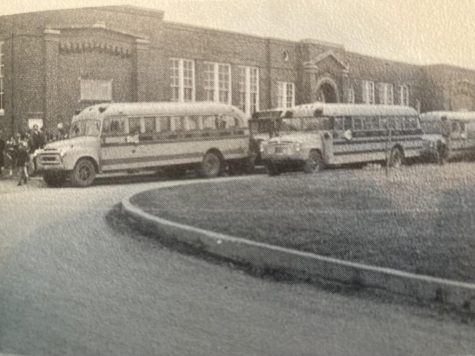 A school like this changes someone. It makes memories, as well as connects people who will continue to stay connected throughout their lives. People take their kids to schools that the parents have connections to, and it makes the school like a family for everyone involved. It allows for more than a learning experience, as the people there become less like administrators and a bit more like friends. The community and town built around this school rely on it, as the school is what has built Lake Township into the place it is now, as Arcola brings the people to the town, and then shows them what it is like to be an Eagle or an Ace, and it truly shows them what kind of impact that a small, tight-knit school can have.  
"Arcola is a secret to NACS, it's one of those places that create unique experiences for all the people who go through it," Himsel said. "Without a school like that to bring it together, Lake Township would be a completely different place. Arcola is just amazing, but the people who went there already know that."
Leave a Comment