Springer finds meaning on football field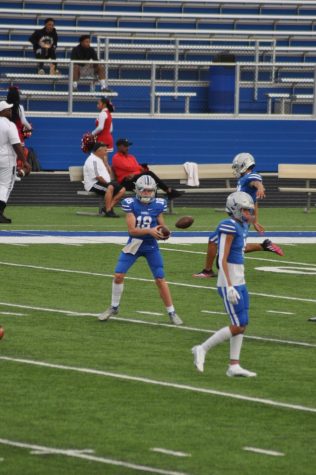 Junior Quarterback, Ethan Springer is prepared to throw and show out this season. 
Last season Springer started on the Junior Varsity squad. But is now ready to make the jump and get more Varsity reps. Springer expresses gratitude for his dad getting him to play the sport he loves. 
"My dad got me into football. He's taught me about every sport I played."
Ever since, Springer has been a top tier threat on the football field. Football can bring an abundance of gifts. Such as opportunities on and off the field. One of the greatest things that can come from sports is the bonds you create with your fellow teammates. 
After Owen Scheele passed away in June 2022, Springer was devastated.
"Owen was one of my good friends," said Springer. "I'd known him for a while and it was just super sad. I remember seeing him the week before and then he was just gone. I couldn't even really say goodbye. That was probably the saddest moment in my life."
Springer believes that Owen would want them to keep doing their best and play to the best of their abilities this season.
"I know Owen would want us to play normally and not try to do too much. Just play within ourselves and have fun," said Springer. "Because like we always said, at the end of the day it's just a game. It's not life or death."
The goal this season hasn't changed. Springer and the team still mourn his loss, but remain focused on the task at hand.
"As a team I feel if our goal isn't winning the State Championship then I shouldn't be playing," Springer said.
Leave a Comment