Art sparks joy in teachers and students alike
When given a chance and a blank slate, artists create.
Whether it's visual, performance, or literary art, the arts are widespread and long lasting. The importance of art is often understated, but looking around, one can see art everywhere—on  posters pinned to walls, music playing in the background, and words printed neatly in books.
Junior Jarina Amornarthakij has quite a lot of years of experience under her belt when it comes to art. She began drawing at 5 years old to pass the time, and got more serious about it in middle school. Her main medium is digital art.
"I was following a lot of artists that were more digitally inclined—like, mainly digital art, and I was only following a handful of traditional artists." Amornarthakij said. "And I thought I wanted to try getting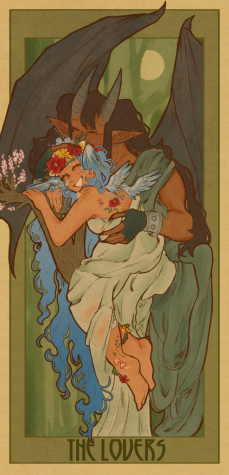 more into digital."
She started with the program Paint Tool SAI, but eventually switched to Clip Studio Paint. Digital art programs have features that make the creation process easier—transform tools, undo tools, and various tone correction options being a few examples. Because of that, she found the change from traditional to digital to be fun and effective. 
She has a love for all kinds of art, though. She often carries a sketchbook with her wherever she goes, just in case inspiration strikes or she has a chance to draw. 
"Nowadays [art has] become my form of coping, and it's a hobby that I enjoy. And I take, like, breaks from studying to do any art, to be honest," Amornarthakij said. "And since I can't really pull out my tablet and plug in all the ports for a 30 minute break, I just do traditional."
According to NPR, art can be incredibly beneficial for mental health. It can lower stress levels and help your focus–Amornarthakij can attest to this.
"I think it also, like, helped my self esteem just a little bit," Amornarthakij said. "It's just a way for me to connect with people who do share that like for art, I suppose."
While she would rather not share her social media accounts, her art is something that is beloved by many. She would, however, advise against posting your art if you're a beginner. People online are often overly rude towards beginner artists, and this treatment can discourage them from creating.
"No matter how good your art is, [posting on social media] is always bound to do something," Amornarthakij said. "I had to teach myself to not care about numbers, because in the end it's my art, and I like what I do."
With technology advancements and robust art programs, digital art has become much more popular, showing up everywhere on social media. Of course, there are still people who specialize in physical art.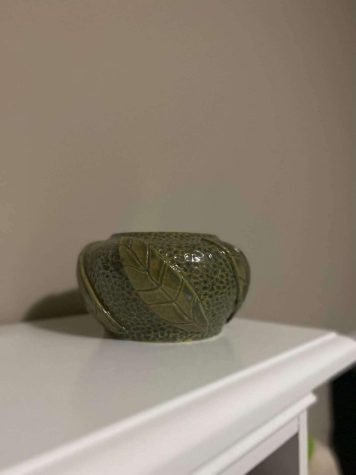 Junior Lan Nguyen sculpts and paints. She took Intro to 3-D Art in freshman year, and took Ceramics the year after. She also had her work displayed during Fine Arts Night in the 2021-2022 school year. She loves ceramics for the final product, but Nguyen also finds the process itself fulfilling.
"I think ceramics is a huge challenge for me. To make an excellent product, we need to have a lot of patience and consistency," Nguyen said. "I spent a lot of time on practice ceramics and it was worth it."
NPR also mentioned that modeling clay is one of the best mediums to work with for health, as you have to use both sight and touch to create something. Clay is something tangible, but tricky to work with at times. 
"Ceramics will train you to take every step carefully because it is very easy to make a mistake if you are not focused," Nguyen said.
At home, Nguyen paints—partly because she can't do ceramics there. She cites art as both helpful and relaxing, and claims that painting gives her a chance to unwind, especially on stressful days. It serves as a good creative outlet for any emotion, though, and it also gives people a way to connect. In Nguyen's case, it gives her a chance to spend time with her family.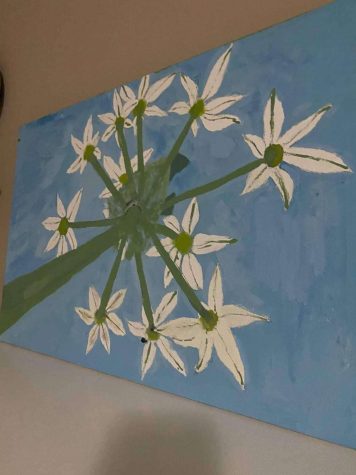 "Since my grandpa come over to live with my family, I have had a lot more opportunities to do art because he is a very creative painter," Nguyen said. "Art connected me with my family, my friends, and my own self."
And now, music: something people listen to on the daily.
English teacher Michael Schaffner makes music as a hobby, mainly playing guitar. His work can be found on Soundcloud and Bandcamp under the name Impressionable States, and it's a recommended listen for post-rock, ambient, and black metal fans.
He commends music as a good form of self-expression. With the amount of people who proudly post their Spotify Wrapped summaries and spend hundreds of dollars on concert tickets, it's unsurprising that music is well-loved by many listeners—but what about its creators? 
"[Music] allows me to say so much without ever speaking a word," Schaffner said. "The interesting thing is that no matter what I say with music, someone might hear something else—something they need to hear, or perhaps it doesn't speak to them at all."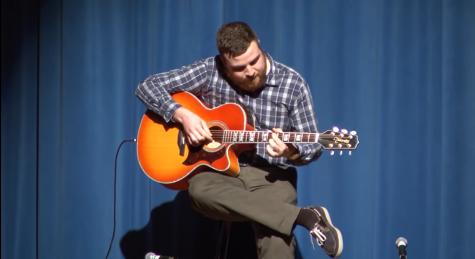 Performance art is different from visual art in that it does not have to deal with looking at something, but instead listening to something. Even without knowing the lyrics (or without lyrics at all), music can be impactful and meaningful. For example, films and video games without soundtracks would feel empty.
"…It's still the case where I can hear music from someone I couldn't have a conversation with due to a language barrier and we'd still have similar emotional reactions to what we hear," Schaffner said. "That's why it's my favorite medium."
It's undeniable that art in general is universal. In fact, both Amornarthakij and Schaffner used that word—which proves that point further, really. It appears in every culture, and everyone is able to make a connection with it as long as they want to. 
Art is accessible. All you need is paper and a pencil. Even if you're not interested in making visual art, there are people and resources that can help you along the way. Amornarthakij suggested that everyone try out at least one form of art in their life, just to have fun and make connections.
"You don't have to do fundamentals first. You don't have to learn anatomy first," Amornarthakij said. "You should have fun."
It can seem intimidating to some when they see complicated art pieces. It takes a lot of time and effort to get there, especially if you actively want to be an artist. Qualifying art as "good" or "bad" is entirely subjective and sometimes reductive considering the medium. However, making "bad" art is often how you get to making "good" art. 
"Just do it," Amornarthakij said. "[You shouldn't] care that you don't have an art style or it's 'bad,' because we all started from a 'bad' starting point. No one immediately knows how to draw, like, the Sistine Chapel. You just have to keep drawing and keep drawing and keep drawing."
All this considered, it is clear that art is important to many people, whether it be through the connections they can make or the joy they find in simply creating.
Art does not come from some secret innate talent that you're born with. It is simply part of the human experience, and the human experience isn't perfect. Silly doodles on a napkin or a simple beat made on BeepBox can often bring just as much (or even more) joy, both to yourself and others.
"I think we all find the world to be a noisy, chaotic place from time to time," Schaffner said. "Sometimes it makes more sense when we make our own noise, chaotic or otherwise, in response."
Leave a Comment
About the Contributor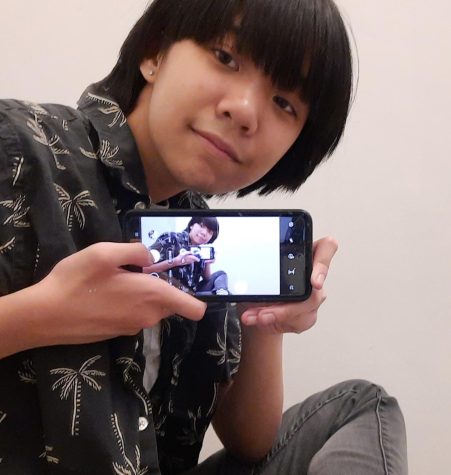 Shep Pablo, Staff Reporter
Shep Pablo is a junior with a love for art, writing, and vocaloid. They're in the house like carpet, and they think history is fascinating. Shep's favorite...