State tournament tips off Tuesday, Chargers face Legends
Only 2 teams enter Sectional 5 with winning record
The boys basketball team (12-9) faces SAC foe North Side (13-8) on February 28 in sectional quarterfinals of the 2023 IHSAA 4A state tournament at the Charger Fieldhouse in the only sectional matchup with two winning teams.
The IHSAA Sectional Pairings were announced on February 19 on the IHSAA Champions Network. There were some good draws and there were some bad draws.
The Class 4A Sectional 5 draw showed us that in terms of overall records, the winner of Tuesday's second quarterfinal matchup with the Legends and Chargers should go on to win the Sectional Title.
On Tuesday February 28th, the first quarterfinal matchup features a NE8 rivalry matchup between Dekalb (6-14) and East Noble (3-18). Two teams who have struggled this season, but have a chance to make it to the title.
In their first matchup, Dekalb edged out a 52-51 overtime win over the Knights on the road.
Tuesday's quarterfinal should be a good one as well, with the winner set to face Northrop (4-17) in the Semi-Final on Friday Night.
Speaking of Northrop, they drew a first round bye into the Sectional Semi-Final.
The Bruins didn't have the ideal season, despite Senior Dalman Alexander averaging close to 17 points this year.
Although it was a rough regular season, all Northrop needs is one win to get back to their second straight sectional title.
Tuesday's second quarterfinal matchup features the two teams who sport the best record in Sectional 5.
Carroll and North Side is already being deemed the Sectional Championship in the first round.
They met up on February 7th, at the same place (Charger Field House) and Carroll escaped with a 69-63 victory.
The difference in that game and Tuesdays game? North Side gets their shooter Jaxson Fugate back.
It should be a good matchup, a highly anticipated rematch from 3 weeks ago on gameday.
The winner of Carroll/North Side will play Snider in the second Semi-Final on Friday Night.
The Panthers have had its worst year under head Coach Jeremy Rauch. They won 1 game in the SAC against Bishop Luers.
Despite a down season, Snider (3-19) needs a mere one win to make it to the title, where they will look for back to back championships.
While the sectional isn't what it usually is, it's the post season. It's Indiana High School Basketball. Did I mention it's March? Well, technically it starts on the last day of February, but the point of "March Madness" still implies.
Leave a Comment
About the Contributor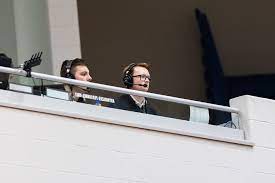 Landen Traylor, Staff Reporter
Landen is a Senior at Carroll High School, and serves as the Student Leader and Play by Play Commentator for the Charger Sports Network, which he has spent...