Boys improve season, finish 4th in SAC
From 2-21 to 12-11 in one year; Boys Basketball Season Recap
The Carroll Chargers Boys Varsity Basketball team finished their season with an overall record of 12-11, and a 6-3 SAC record which placed them at 4th.
Last season, Carroll went 1-8 in conference play, and had an overall record 2-21 (which is one of the worst seasons in Carroll history).
If someone told you that they would finish top 5 in the conference before the season started, you probably would dismiss it.
But after the buzzer beating win against a top 10 Norwell Knights team in the first game, you could just tell that this season would be different for Coach Abbott and his squad in year 2.
After dominating East Noble on the road by 29, and putting up 98 points; Carroll would drop 3 straight games by a total of 5 points.
52-51 @ Concordia (3 free throws as time expired)
62-60 vs Columbia City (3/4 court shot in overtime at the buzzer)
66-64 @ eventual SAC/Sectional 6 Champion Wayne (Generals scored with 2 seconds left in OT)
They would head into Christmas Break with their heads held high though, as they ran Hamilton Southeastern out of their own gym 69-46 (it was a tough year for the Royals against Carroll).
After the break, Carroll defeated Dwenger, Dekalb, Luers, and New Haven, before falling to Fishers on the road by 6 points despite leading in the fourth quarter.
The Chargers dominated South Side at home, before faltering to the #2 team in the state Penn Kingsman (who has a Mr. Basketball candidate in Marcus Burton). Carroll held their own for a while but fell 88-64.
On a 3 game road trip, they went 2-1 defeating Snider and Huntington North but falling to Yorktown.
Then, came the SAC matchup that would decide their fate, North Side. Carroll knocked them off 69-63 at home taking sole possession of 4th place.
Their 12th and final win of the season was an 84-57 victory @ Northrop.
After the Northrop game, they played the toughest stretch of games arguably in the entire state and lost all 4.
57-41 vs 4A #9 Carmel
69-55 vs Homestead
74-62 vs North Central
60-49 @ Warsaw.
Heading into the Postseason, Carroll had lost 4 straight games, and drew North Side in the Sectional 5 Quarterfinals.
The rematch was the absolute opposite from the first matchup, with North Side controlling the game from the jump.
The Legends led 21-6 at the end of the first, and 38-16 at half.
North Side ran Carroll out of the gym and knocked them out of the tournament 79-48.
While it wasn't what Coach Abbot had hoped for at the end of the season, with 5 straight losses, he is very optimistic about year 3 with stars Jaxon Pardon and Cannen Houser returning for their Senior seasons, and Sophomore's Drelyn and Dereon Truesdale and Jaiyre Sampson set to return for their Junior seasons.
Year 2 showed what a Coach Abbott led Charger squad is capable of.
Year 3 is bound to show us a total turnaround.
Leave a Comment
About the Contributor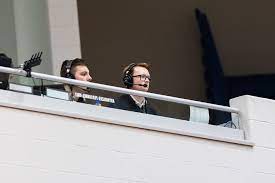 Landen Traylor, Staff Reporter
Landen is a Senior at Carroll High School, and serves as the Student Leader and Play by Play Commentator for the Charger Sports Network, which he has spent...