MLB Opening Day: Contenders/Pretenders
Will the Astros repeat? Were the Phillies a fluke? A lot of questions to answer this season.
With March, you usually think of Basketball and March Madness. Shamrock Shakes and Ireland.
Well, if you're like me, with your team knocked out and your bracket busted, you're looking forward to Opening Day for MLB on March 30th.
Last year was an odd year for Major League Baseball, with no Spring Training due to the MLBPA lockout, which also delayed Opening Day.
Despite the drama in the off-season, one thing remained the same and that was how amazing the sport can be.
Albert Pujols, Adam Wainwright, and Yadier Molina get back together for one final year for the Big 3 in St. Louis.
Aaron Judge hitting 62 home runs in the regular season.
The Mets going from 1st in their division to losing in the Wild Card.
2022 was quite the year for Baseball. But one question lies ahead: Who will be the contenders and Pretenders this year?
We'll start with the Pretenders, and likely the bottom 3 teams in the league this year:
Cincinnati Reds (It look like their front office took the off-season quite literally and made 0 moves to better their historically bad team from last year)
Colorado Rockies (This is going to sound harsh, but they just do not have the talent to compete at a high level)
Washington Nationals (It's hard to believe that just four years ago, this team won the World Series. They now do not have anyone from that team on the current roster).
Now while those will likely be the 3 bottom dwellers, there are a lot of other teams who could find themselves close to the bottom: Royals, Red Sox, White Sox, Tigers, Athletics, Rangers, Marlins, Diamondbacks, and the Giants.
There are a few teams that I have to put a question mark by for now, because quite frankly none of us ever know what kind of team we are going to get:
Los Angeles Angles- Outside of two of the best players in Baseball (Trout and Ohtani), this team has proven time and time again that they just can't compete at a high level. At one point last year, their owner debated selling the team.
Chicago Cubs- The Cubbies lost their star Catcher Willson Contreras to their biggest rival, St. Louis. But they finally did something in the off-season to get back to the 2016 caliber team, signing Tucker Barnhardt, Cody Bellinger, Brad Boxberger, Dansby Swanson, and Trey Mancini. They have the talent, but do they have the depth to go on a run?
Baltimore Orioles- Last year for Baltimore, it was their best season in a very long time and even made a playoff push but were beat out by the Rays by 2 games for a Wild Card spot. The question is, can they do it again?
Pittsburgh Pirates- Pittsburgh has been through it these last few years, and if you don't believe me, look up, "rundown between first and home" and you will know exactly what I am talking about. But they showed signs of life last season going 62-100, but the way they played and the upcoming talent has some fans expecting it to be a good season… and for them, that would be maybe getting 70 wins.
New York Mets- With star relief pitcher injured for the year, New York went from favorites to 3rd place in a blink. Nobody ever knows what to expect out of Buck Showalter's Mets, but they did resign Mad Max Scherzer and Hall of Fame Pitcher Justin Verlander.
Minnesota Twins- The Twins are one of those teams who start off hot every single year, but by July are fighting to stay alive. We just simply cannot tell what is in store for Minnesota this year.
Milwaukee Brewers- The Brewers lost everything in the off-season, but Craig Council is one of the best managers in the league and last year his team went through so many injuries and lost their 10 game lead over St. Louis but still made a competitive run for the playoffs. It will be interesting to see how Council does with one of his least talented teams.
Atlanta Braves- What a time to a Brave. Well, at least in the middle of the year. The Braves always seem to get off to a slow start, but by July are leading the division handedly. The question is, how will they start this year, and if they start slow, can they bounce back in their loaded division?
Now it's time to take a look at the World Series Contenders:
Philadelphia Phillies- The Phillies made a magical run to the World Series last year but fell short to the Houston Astros. They return their core hitting and elite pitching, and needless to say all eyes will be on Philly this season in their loaded division.
New York Yankees- The Yankees were the best team in the league all season long last year, and were bounced in the ALCS by the Astros. This is a year where the Yankees need to get over the hump and get back to the World Series. There is simply too much talent on this team for that not to happen.
Los Angeles Dodgers- Whether we like it or not, the Dodgers are the Dodgers and will always be a contender for as long as Dave Roberts is their Manager. And guess what? He still is.
Cleveland Guardians- What a ride it was for Cleveland last year, upsetting the Rays in the Wild Card and taking the Yankees down to the wire. They return their hitting and pitching that carried them last year, and honestly are my favorite to win their poor division this season.
St. Louis Cardinals- The Redbirds return MVP Paul Goldschmidt, Gold Glover Nolan Arenado, HOF Pitcher Adam Wainwright, and so many others return healthy this season including Ryan Helsley who had the fastest pitches last season. They also replaces HOF Catcher Yadier Molina with All-Star Catcher Willson Contreras. The Cardinals were World Series favorites last year, but were swept in the Wild Card at home to Philly and only recorded 8 hits the entire series. They are going to need every single player in the 9 man rotation to step up and hit this season, as that what St. Louis' downfall last year.
Whether it is the team that hits the best, or pitches the best, this MLB season is bound to be one for the ages…
Leave a Comment
About the Contributor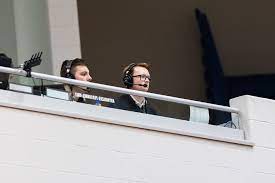 Landen Traylor, Staff Reporter
Landen is a Senior at Carroll High School, and serves as the Student Leader and Play by Play Commentator for the Charger Sports Network, which he has spent...