Charger Softball Shows Struggles Through 4 Games
Carroll has been shutout in both of their losses thus far.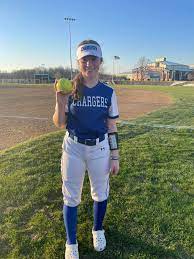 After starting the year with two straight cancellations; the Carroll Charger Softball team is in the full swing of things as they played 4 games in 5 days this past week and went an even 2-2, including two shutout losses at home.
They faced 2A #2 Eastside on Friday Night and were no-hit by Natalie Lower. The Chargers had one base runner the entire game that reached on error, but was thrown out caught stealing.
Senior Laney Conner went the entire 7 innings for the team in the loss, only allowing 3 hits and 1 ER. The 2 main issues were the lack of hits/base runners and the teams' 4 errors.
Carroll was also shutout at home in their second game of the season to Homestead; which ended a 10 game home winning streak dating back to 2021.
In the game, Carroll struck out 12 times and only put up 4 hits in the ballgame and left 10 runners on base, running themselves out of the inning twice.
Meanwhile, Emilia Garcia allowed 3 runs off of 4 hits, and struck out 4 batters through 3 innings, and then Laney Conner came in and allowed 2 runs off of 2 hits and struck out 6 batters in 4 innings. Once again, it was the baserunning, lack of the bats, and the 3 errors that cost the Chargers an early loss.
The team avenged their loss to Homestead with a 23-1 win @ Warsaw the very next day recording 13 hits and only striking out twice.
Freshman Isabella Rapson got her first Varsity start and tossed a 3 strikeout no hit 3 innings, before Freshman Taylor Danley came in for her first Varsity action. Danley sat down 4 batters, walked 2, allowed 1 hit and 1 run. Danley also stepped up to the plate and went yard for the Chargers in her first at bat.
The team opened their season with a sloppy 15-5 win over Garrett, in a game that could have ended in the fifth inning.
Laney Conner got the ball on Opening Day and went the entire way giving up only 2 ER, struck out 12 batters, and allowed only 1 hit. Conner walked 7 batters through her 7 innings.
Carroll recorded 10 runs in the ballgame and were walked 13 times compared to just 4 strikeouts and they left 10 on base.
So through 4 games this season, there is a common denominator for the Carroll Chargers: Baserunning, lack of hits/runners, and errors.
We will see how they respond to a 2-2 start as they have another busy week @ Northrop Tuesday, and at home against Huntington North and Bellmont Wednesday and Thursday.
Leave a Comment
About the Contributor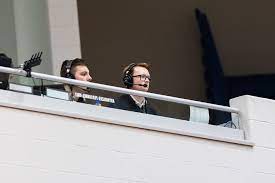 Landen Traylor, Staff Reporter
Landen is a Senior at Carroll High School, and serves as the Student Leader and Play by Play Commentator for the Charger Sports Network, which he has spent...