Students mix it up, meet someone new
Hannah Harper, Social Media Editor/ Photography Editor
November 8, 2017
Mix It Up was the first of many RAKtivist events throughout the year, and was first created by an organization that both Mr. Taylor and Mrs. Wisehart saw and wanted to implement at Carroll. It was put into place because of kids not having a place to sit or not having someone to eat with at lunch. Some kids were worried about the day going in, but came out with a positive experience to keep in their memories.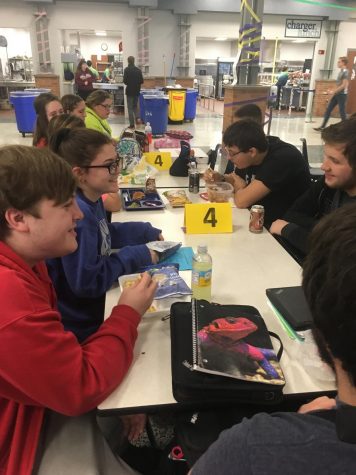 "I was nervous going in, but I got to meet three boys who were really nice and fun to talk to," said Junior Bethany Kaylor. "I wish more people got involved because it was a very interesting experience, and I never would've met those people otherwise."
Senior and RAKtivist President MaKayla Hansen said overall, she feels like the event went really well, even though some of the students were nervous and reluctant.
"We tried not to be too forceful with making people get involved," said Hansen. "Some didn't want to participate, but others were excited to get involved."
The day was planned for months in advance, and though it was mostly the RAKtivists making cards, signs, starting conversations, decorating, and putting up tables, some kids outside of the group came to help out, and Hansen said that without many different people pitching in, they wouldn't have been able to put the event on.
With over hundreds of kids in a lunch period, it was a challenge to put together a system where people had a way to put everyone at a different table. The idea to really "Mix It Up" was to have different colors and coordinating numbers make each table a mix of different kids walking into the cafeteria. Each leader of the tables had a different colored paper with numbers also on many cards handed out when kids walked into the cafeteria.
"I loved my group leader, she was super nice and so welcoming to everyone and she made it super fun and enjoyable," said sophomore Olivia Hoeppner. "I liked the music and I felt like it made a really good conversation starters, so it was really easy to talk to everyone."
The next RAKtivist event is set for Monday, November 13. Get ready for World Kindness Day!