Volleyball is looking to kill the competition on Thursday and football is looking for the sweet taste of victory vs. the Spartans of Homestead.  Homestead here at Carroll is always a well-attended game for both programs as the Spartans rival the Chargers.  These games are the ones that get circled on the calendar every year, regardless if the teams are perfect or winless anything can happen vs. Homestead.  Last year, for example, volleyball traveled to the brand new Spartan Arena and beat them 3-0 on their senior night.
Volleyball returned home after a 9-game road trip and beat Concordia Monday 3-1.  Led by seniors Brenna Ginder, Maggie Deturk, and Olivia Gisslen, the team is ready to return home and has big games this week against Blackhawk who was the 1A State Champion last year.  That comes on the heels of a hard-fought loss vs. 4A State runner-up Yorktown and a loss vs.#3 Bellmont.  That being said, Thursday is Senior Night, and the entire program is ready to support these 3 seniors.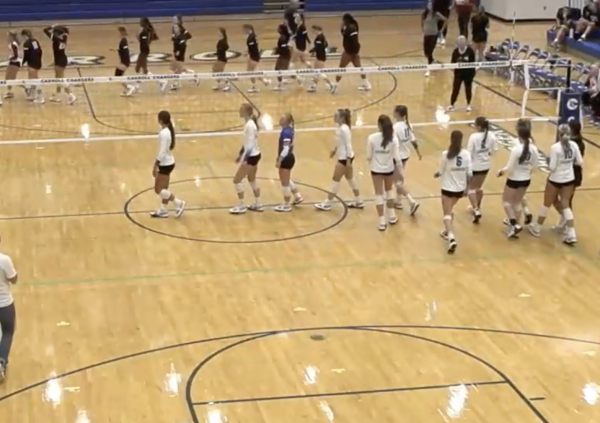 Heading over to the gridiron on Friday, the Chargers take on Homestead in what could be a close game.  Last week, the Spartans beat the #1 team in 5A Snider by a Field Goal in overtime, which the Chargers lost to by 3 two weeks ago.  The Spartans have been the definition of inconsistent this season. After keeping Carmel within a score, they got blown out by Noblesville 42-0 who hasn't had a winning season in 8 years.  They bounced back with a beatdown of Wayne and Northrop before losing to Dwenger 2 weeks ago. Sparty has had no trouble scoring points thus far, averaging 24 points a game.
As for the Chargers, it has been a season of ups and downs for the team.  Although the record is 4-2, what has been on the field hasn't looked quite that good.  The season started with a road loss at HSE in which Junior QB Jimmy Sullivan threw two interceptions, both of which were returned for a TD. The Chargers lost by turnovers in this one.  Week two was a good bounce-back game. Week three was a glorified practice vs. South Side 78-6.  Week 4 saw the Chargers pull away from a pesky Dwenger team and win 40-13.  Week 5 was a bit of a train wreck at Snider, with the turnover bug biting Jimmy hard with another two pick-sixes to the same cornerback in 5 plays to end the half.  The team didn't recover and fell after only giving up 13 points on defense.  The Chargers looked for a bounce-back game vs. Wayne and were able to win 17-10 in a low-scoring defensive contest.  Jimmy's first two throws were intercepted and he only attempted 4 more passes all game with a final stat line of 3/7 for 19 yards, 1 TD, and 2 INTS.  While the passing attack was stymied by the Generals, the ground game, led by Braden Steeley, Nate Starks, and Eli Neuhauser racked up 200 yards and a touchdown.
Moving to this week's matchup, this game means just a little more to Jimmy because he used to go to Homestead before he transferred in after the tragic passing of Owen Scheele.  Last year saw Carroll thrash the Spartans 51-7 which all the players said felt good.  "It Feels good to beat a rival" Mason Irmiter Said after last year's game.  This is a new year, but the expectation is still the same: beat Homestead and try to make it to Lucus Oil in November.
Prediction: Homestead 31 Carroll 28