Among the new clubs this year, a corrupt, dark energy radiates. Powerful warriors fight for life or death. Us mortals have no clue of the incredibly epic club we have been graced by. That club: Yu-Gi-Oh Club.
Senior Chase Sweet teamed up with Club Sponsor Mr. Seth Cureton in room 246 this year to form the Yu-Gi-Oh Club. They meet during A-Rotation on Wednesdays during Activity Period and are working on making meetings after school.
Members may bring in their own cards to play with, or Mr. Cureton will give you a pre-built deck for you to use. There is also a raffle held every time the club meets. Club members are picked to win a reward, usually a rare card or a pre-built deck.
But what is Yu-Gi-Oh? Yu-Gi-Oh was a Japanese manga in 1996 that was turned into a card game later in 1999. There was also an anime adaptation in 1998, and the official North American Yu-Gi-Oh cards were released in 2002.
The goal of Yu-Gi-Oh is to defeat your opponent by draining their life points, or health to 0 with monster, spell, and trap cards. The card game is played in turns, and can be played with up to four people, but is usually played with two.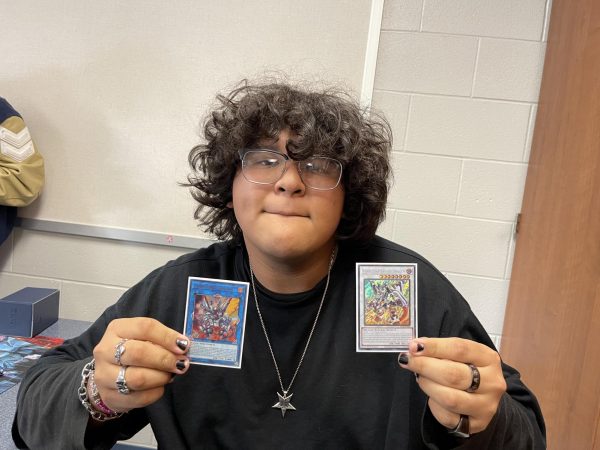 Chase Sweet, leader of the club, has been a fan of Yu-Gi-Oh since he was 5. His first experience with Yu-Gi-Oh was the Yu-Gi-Oh TV Show. Ever since, Chase has been collecting Yu-Gi-Oh cards and Merch, obtaining upwards of 2000+ cards & 3 official decks. In July of 2022, he played at a local tournament in Ohio at Refined Gaming LLC, where he qualified as a finalist but couldn't continue due to his tight schedule.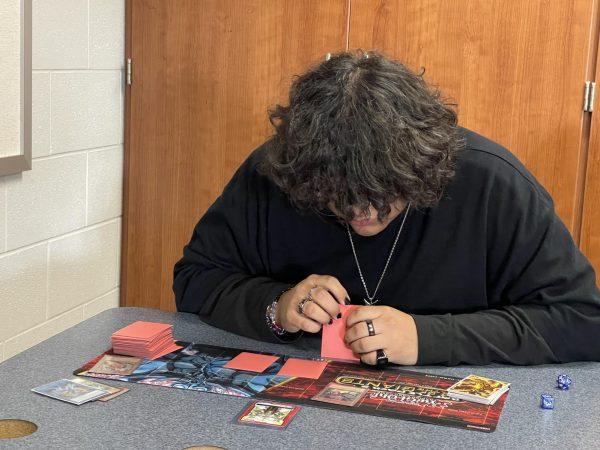 "My main encouragement to start the club would probably be my friends Ethan and Declan," says Chase Sweet.
Chase isn't the only one that picked up Yu-Gi-Oh at a young age. Mr. Cureton was only 8 when he picked up Yu-Gi-Oh as a hobby, collecting cards until high school. Mr. Cureton has since tried to drop the hobby, even offering some of his cards during the raffle.
Many of the pre-built decks and cards given away during raffles and supplied to the club are from his collection, but some have come from donations, including Mr. Zhao, sponsor of the Magic The Gathering Club.
He was hesitant to sponsor the club, but after some consideration, he decided to sponsor the club to connect with Yu-Gi-Oh once more.
"Chase was very convincing," said Club Sponsor and English teacher Seth Cureton.
Many members of the club have enjoyed being able to play Yu-Gi-Oh with others during school hours.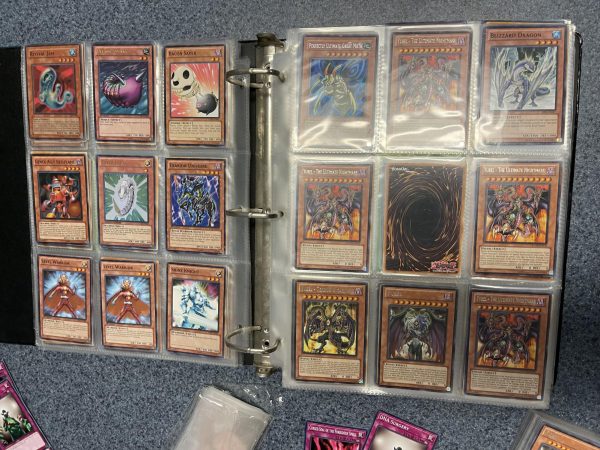 "Being able to see how the other players do their way of playing and learning their methods," has been one of the best parts of Yu-Gi-Oh Club for Senior Javi Salazar.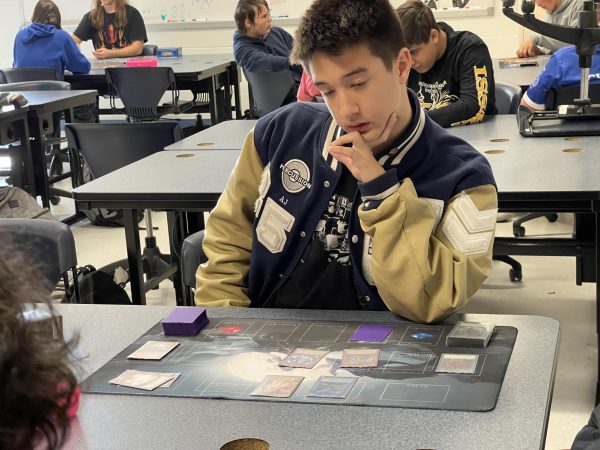 The Yu-Gi-Oh Club will be available next semester and plans to continue next school year under new leadership. Mr. Cureton is also accepting donations of Yu-Gi-Oh cards for the club's pre-built decks and raffle giveaways. Students can sign up for the club if spots are available next semester.
The Yu-Gi-Oh Club welcomes new members and encourages competitive and casual play. If you think you can handle the intense battles, deadly monsters, and destructive spells, this club may be for you.